Friday's Jobs Report Will Be a Turning Point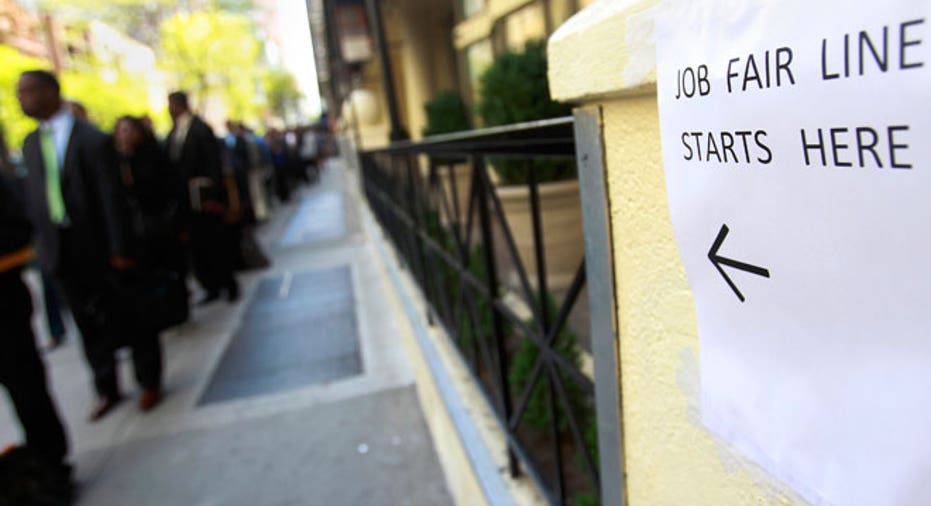 Friday's jobs report will be a turning point regardless of what the numbers show.
The knee-jerk conclusion should the numbers once again be disappointing will be that any hope for a broad-based economic recovery in 2012 has been extinguished. On the other hand, if the numbers are stronger than expected it will likely re-energize the optimism and momentum that seemed to be gaining steam earlier this year.
"As numbers go it's probably not the one that best expresses what's going on in the economy."
Either way, rightly or wrongly, the report will be closely watched -- as closely watched as any piece of data so far this year.
Bill O'Grady, chief market strategist at Confluence Investment Management, believes too much emphasis is put on the monthly labor report. But it can't be helped, especially in an election year.
"As numbers go it's probably not the one that best expresses what's going on in the economy. But if you're a politician it's your bread and butter," O'Grady said.
The economy is without a doubt the central issue of the upcoming presidential election in November. Sharp swings in a widely-distributed number such as the unemployment rate are easily exploited by political candidates and their parties.
O'Grady said the economic recovery is more complicated than politicians would have us believe. Job creation represents one small element in the broader recovery, but politicians (and the media) latch onto that data because it's easily understood and the message hits home with voters.
"Voters are much happier usually when they're employed," O'Grady deadpanned.
Economists are predicting the addition of between 165,000 and 175,000 jobs. Anything short of that will likely have a negative impact that will ripple through the economy. The opposite will hold true if the government numbers surpass the forecasts.
The stock markets will play an important role in how consumers interpret the numbers. If stock markets plunge on lousy numbers consumers are likely to respond by tightening their belts. Conversely, if stock markets soar on a solid labor report the boost will provide an injection of much-needed consumer confidence.
Psychology is important here because consumer spending accounts for 70% of the U.S. economy.
The March jobs report was a momentum killer, revealing that just 120,000 jobs were created that month. The disappointing March numbers broke a string of three straight monthly reports in which more than 200,000 jobs were added, a temporary surge that helped push the unemployment rate down to 8.2%, its lowest point more than three years.
In March, the unemployment rate actually fell to 8.2% from 8.3% but for all the wrong reasons. The number was lower because thousands of Americans have stopped looking for work and are no longer counted as part of the work force, which means they aren't included in the monthly data.
Labor market data heading into Friday's report has been mixed. The private sector added just 119,000 jobs last month, according to a report released Wednesday by payroll processing firm ADP, which always releases its figures a few days ahead of the government's labor report. The ADP numbers were viewed as a disappointment and further evidence that economic growth is weakening rather than strengthening.
On Thursday, data revealed that the number of new claims for unemployment benefits filed last week had shown the biggest decline in a year. That better-than-expected number offered a counterpoint to data suggesting labor markets are weakening.
John Ryding, chief economist at RDQ Economics, believes investors may have placed too much emphasis on last month's jobs report. Still, it's impossible to ignore the significance of Friday's report.
"The markets wanted to extrapolate a trend from one data point last month," Ryding said. "Obviously tomorrow is a big report and we are looking for an increase of 175,000 payrolls."
Job growth, while important, won't be enough to lift the economy on its own, however. Other factors will play equally significant roles but those factors don't resonate as much with voters, said O'Grady.
Deleveraging, for example.
"We're in the midst of a very atypical recovery. We're trying to recover from a financial crisis, which means a huge amount of deleveraging," he said.
Meanwhile, as consumers are trying to wind down their debts U.S. fiscal policy is trying to encourage borrowing to spur growth. But the two work against each other.
"You're going to have slow growth until you get the deleveraging done," said O'Grady. "No one knows when that will be, but it will occur."