Fox News Poll: SCOTUS Pick Gorsuch Would Be Confirmed By Nearly Half of Voters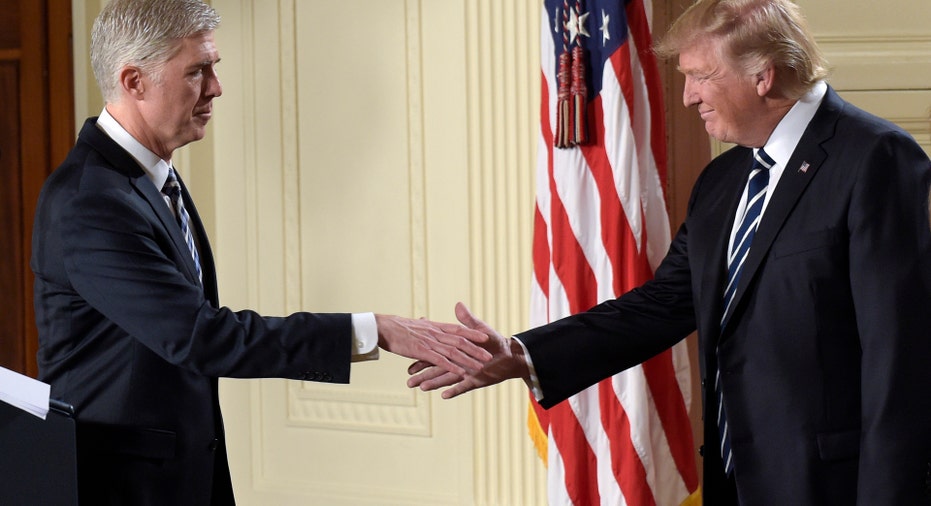 It looks like Judge Neil Gorsuch would have an easier time making it to the U.S. Supreme Court if voters -- rather than U.S. Senators -- had to confirm him.
That's according to the latest Fox News Poll of registered voters nationwide.
President Donald Trump nominated Judge Gorsuch to fill the vacancy created by Justice Antonin Scalia's death.  If Gorsuch is confirmed by the Senate, it will likely be a razor-thin victory.  Yet voters give him a 12-point edge.
The new poll, released Wednesday, finds that by a 49-37 percent margin, voters would confirm Gorsuch.  Fourteen percent are undecided.
Not surprisingly, 82 percent of Republicans would vote to confirm him compared to just 17 percent of Democrats.  For independents, a majority supports Trump's nominee (54 percent).  There's a gender gap as well, as 57 percent of men vs. 42 percent of women are in favor of Gorsuch.
The support for Gorsuch's confirmation (49 percent) is higher than the 39 percent received by President Obama's nomination of Elena Kagan in May 2010.  However it is a touch lower than the 53 percent who supported Obama's nomination of Sonia Sotomayor in July 2009 and the 51 percent who were behind President George W. Bush's selection of John Roberts in July 2005.
Senate confirmation hearings are expected in March.  Democrats have threatened quite a fight, and 42 percent of voters endorse the idea of Senate Democrats doing "everything they can" to block any of Trump's nominees they don't like.  Of course most Democrats agree with that strategy (75 percent) -- and they're joined by one-third of independents (33 percent) and even a handful of Republicans (10 percent).
"Democrats are at the very least giving their elected leaders permission to fight Trump's nominees while many will be demanding they do anything to slow the administration," says Democratic pollster Chris Anderson, who conducts the Fox News Poll with Republican counterpart Daron Shaw.  "And with the sense that blood is in the water after General Flynn's forced resignation, that demand could increase."
The poll also asks voters which of the three branches of government they trust the most.  Hands down it is the judicial branch at 45 percent.  The other two trail far behind:  26 percent trust the executive branch the most and the legislative branch comes in at 13 percent.  Ten percent don't trust any of the branches.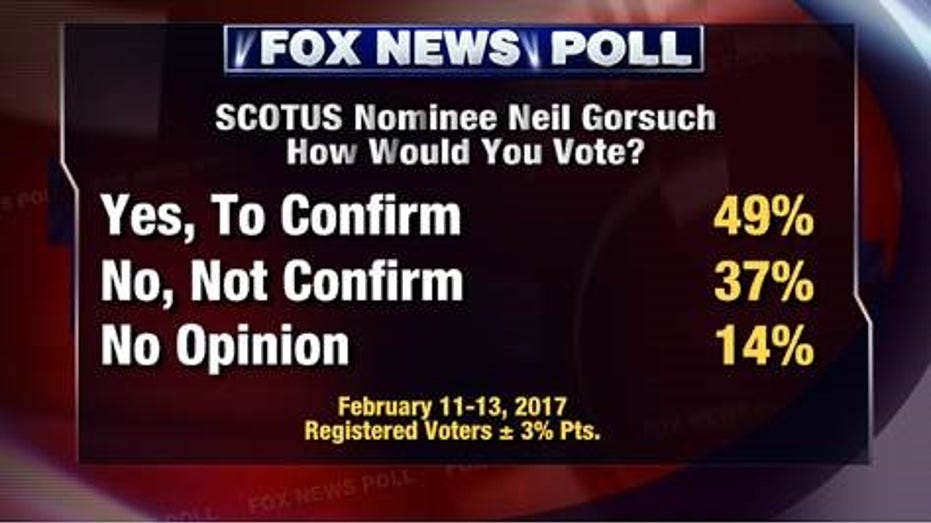 Sentiment hasn't changed much since the early days of the Obama administration.  At that time, 43 percent of voters trusted the court the most, 27 percent the president, and 15 percent Congress (April 2012).
The number picking the judiciary is up from 33 percent when the question was first asked in 2005.
"The judiciary generally, and the Supreme Court particularly, are seen as relatively competent and non-partisan," says Shaw. "That makes President Trump's response to the opinions on the district and appellate judges' rulings on his immigration order a gamble politically."
Around half of voters think the Supreme Court's decisions are "about right" ideologically (47 percent).  That's up from 34 percent who felt that way in 2015 -- and up from the previous high of 46 percent in 2010.
Thirty-one percent feel the court's decisions are "too liberal."  That's down significantly from 45 percent in July 2015, soon after rulings on same-sex marriage and the 2010 health care law (Obamacare) were handed down.
Only about one in five voters say the court is "too conservative" (18 percent).
Pollpourri
Americans are used to cameras in big criminal trials -- what about televising the Supreme Court?
The poll finds 68 percent of voters feel it's a good idea to allow television coverage of the nation's highest court.  Plus, majorities of independents (74 percent), Democrats (73 percent) and Republicans (61 percent) agree.
The Fox News poll is based on landline and cellphone interviews with 1,013 randomly chosen registered voters nationwide and was conducted under the joint direction of Anderson Robbins Research (D) and Shaw & Company Research (R) from February 11-13, 2017.  The poll has a margin of sampling error of plus or minus three percentage points for all registered voters.