Fox News Poll: Clinton Edges Trump by Two Points One Month Ahead of Election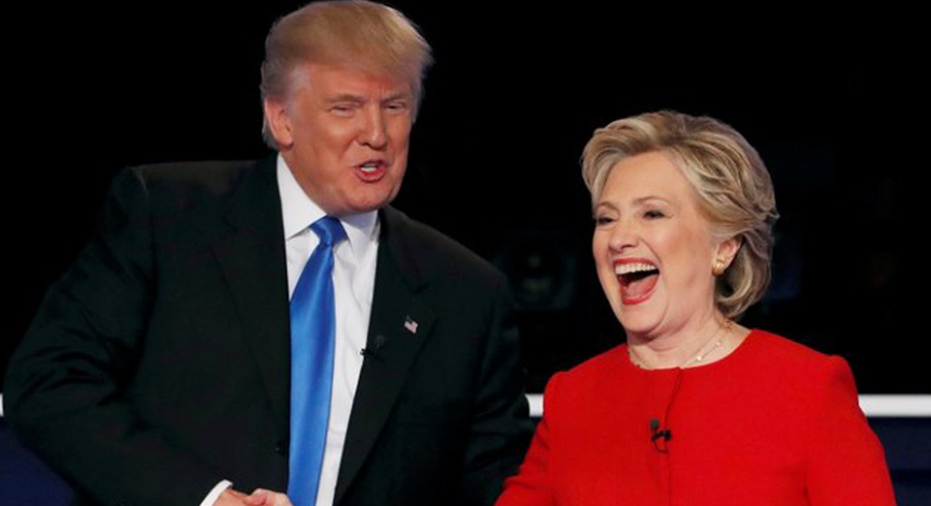 Hillary Clinton is ahead of Donald Trump by 44% - 42% in a new national Fox News Poll.  That's a two-point edge among likely voters for Clinton.  She was up by three points last week (43% - 40% ) and by one point in mid-September (41%-40%).
Third-party candidates Gary Johnson (6%) and Jill Stein (2 %) are in single digits.
In the head-to-head matchup, Clinton tops Trump by 48% -44%.  It was 49% - 44% last week.  Her lead is within the poll's margin of error in both the two way and four-way race.
The GOP nominee has the advantage in interest and enthusiasm.  Among those backing Trump, 57% are "extremely" interested in the election, and 70% support him "strongly."  Among Clinton backers, it's 50% "extremely" interested and 57% "strongly."
Trump is preferred among men (+9 points), whites (+16), voters who attend religious services regularly (+17), and whites without a college degree (+21).
Clinton's the choice for women (+12 points), voters under age 35 (+16), and non-whites (+55).
Independents are divided:  Trump 39% vs. Clinton 35%, and another 11% for Johnson.  Last week, they favored Trump by 12 points.
Eighty-seven percent of Democrats back Clinton and 84% of Republicans go for Trump.
Clinton bests Trump among first-time voters by 46% -32%, with Johnson taking 14%.
"I think it's pretty clear that Clinton has a slight edge here," says Republican pollster Daron Shaw. "Still, Trump is very much within striking distance largely because his backers are more enthusiastic, and also Johnson and Stein are drawing more support from voters who might otherwise lean toward Clinton."
Likely voters trust Clinton over Trump on handling race relations (+23 points), foreign policy (+17), immigration (+6), and nominating the next Supreme Court justice (+4).  They prefer Trump on terrorism (+1 point), the economy (+5), managing tax dollars (+5), and ISIS (+11).
Majorities of voters still dislike the candidates:  54% of likely voters have an unfavorable view of Clinton, while 57% view Trump negatively.  GOP vice presidential nominee Mike Pence receives the best ratings of the four candidates tested, and his favorable rating is up five points among likely voters since last week.  More on that later.
Who has the knowledge to be president?  Sixty-seven percent say Clinton has it, while only 41% think Trump does.  In addition, 63% say Clinton has the temperament to serve effectively, compared to just 38% for Trump.
The candidate ratings on being honest and trustworthy are more evenly matched -- and much lower:  33% say Clinton is vs. 36% Trump.
Among Democrats, 69% think Clinton is honest, 94% think she has the right temperament to be president, and 94% say she has the knowledge.
Among Republicans, 71% think Trump is honest, 76% feel he has the temperament, and78 % say he has the knowledge.
Meanwhile, by a nine-point margin, voters feel confident Clinton would have good judgment in a crisis: 54% confident vs. 45% not confident.  Trump's underwater by 10 points on this measure (45% -55%).  Forty-six percent are "not at all" confident Trump would have good judgment in a crisis.  Thirty-three percent feel that way about Clinton.
That matters.  Judgment is a top trait voters say will influence their presidential pick.  Being a strong leader (21%), having good judgment in a crisis (20%), and bringing change (19%) are the three most important candidate characteristics.  Next is someone who "tells it like it is" (14%) and has the right experience (13%).  Eleven percent want someone who "cares" about people like them.
Full Text: Fox News Poll
"After the first debate it looked like Clinton might take a meaningful lead," says Democratic pollster Chris Anderson, who conducts the Fox News Poll along with Shaw.  "That hasn't happened, probably because so many voters view her unfavorably personally.  But unless Trump can close the gap on perceptions of temperament and judgment, he remains at a distinct disadvantage in a close race."
Most voters are unhappy with Uncle Sam.  Half are "dissatisfied with the way the government is working" (49%).  Some 27% are "angry."  Angry voters are more than three times as likely to favor Trump over Clinton.
Clinton's ties to the Obama administration are a mixed bag.  President Obama's job rating has been 50% or better since June.  Currently, 52% of registered voters approve, while 47% disapprove of the job he's doing.
On the other hand, her closeness could hurt her on the economy.  By a 15-point margin, registered voters say it feels like the economy is getting worse rather than better (52% -37%).  And that 52% who say the economy is getting worse is the highest since 2011.
Pollpourri
Twice as many voters say news about Trump's tax returns makes them less likely to vote for him.  It's the reverse among Republicans -- three times as many say the tax news makes them more likely to support him.
Trump's "crooked Hillary" nickname is sticking.  Fifty-two % of registered voters think it's accurate, up from 49% who felt that way in June.
What about Clinton tagging Trump "a fraud"?  Forty-eight percent agree with that, up from 43%.
All in all, 55% think Clinton will win in November.  That's far more than the 33% who think it will be President Trump.  Nine out of 10 of those backing Clinton think she'll win, while 7-in-10 Trump supporters think he will.
The poll was conducted Monday through Thursday evenings.  The voters contacted Wednesday and Thursday were asked about Tuesday's vice presidential debate.  By a 54% -34% margin, more think Republican Mike Pence won than Democrat Tim Kaine.  Indeed, only about half of Democrats feel Kaine won.
Maybe VP debates do matter.  After a week of increased attention on the bottom of the ticket, Pence's popularity is up and Kaine's is down.  Among likely voters, Pence had a net rating of +11 points last week (42 favorable vs. 31 unfavorable).  Now he's at +14 points (47% -33%).
At the same time, Kaine lost ground and his unfavorable rating increased by nine points.  He had a net +12 last week (40 favorable vs. 28 unfavorable).  Now he's at par, with equal numbers viewing him positively and negatively (37% -37%).
The Fox News Poll is based on landline and cell phone interviews with 1,006 randomly chosen registered voters nationwide and was conducted under the joint direction of Anderson Robbins Research (D) and Shaw & Company Research (R) from October 3-6, 2016.  The survey includes results among 896 likely voters.  The margin of sampling error is plus or minus three percentage points for results among both registered and likely voters.