Fox Business Poll: Trump maintains large lead in South Carolina primary race
Haley sees an uptick, while support for DeSantis is down slightly
Support for former South Carolina Gov. Nikki Haley is up 4 points while Florida Gov. Ron DeSantis is down 3 in the latest Fox Business survey of South Carolina Republican primary voters.  Former President Donald Trump maintains a large lead in the first in the south contest, despite the race narrowing.
The survey on the GOP nomination race in the Palmetto State, released Wednesday, has Trump up 28 percentage points over his nearest challenger, a 6-point decline since July.
Trump won the South Carolina primary in 2016 by 10 points over Marco Rubio and Ted Cruz.
Today, 46% of Republican primary voters back Trump, down a touch from 48% this summer. His nearest opponent is Haley with 18% support, up from 14% since July.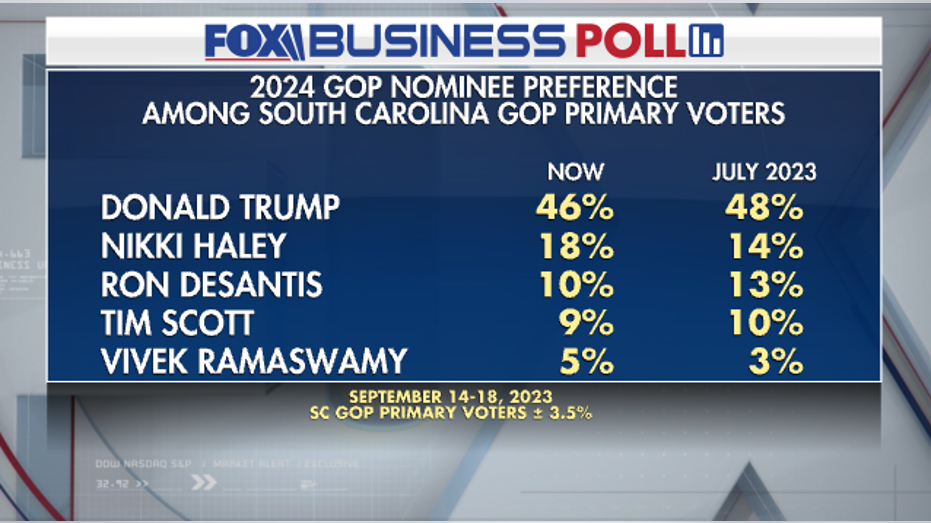 DeSantis is next with 10% support, 3 points lower than his July showing, while South Carolina Sen. Tim Scott receives 9% (-1) and businessman Vivek Ramaswamy gets 5% (+2).  Every other candidate is below 5%.
Trump sees relatively larger declines among millennials (-10) and baby boomers (-9), with smaller losses among those who regularly attend worship services (-4), college educated voters (-3), and women (-3).  And where Trump sees erosion, Haley enjoys slight gains (+7, +8, +2, +7, and +3 respectively).
Still, almost 9 in 10 Trump backers (86%), say they "strongly" support him, while just 6 in 10 Haley supporters feel that way about her (57%).
Voters think Trump's indictments are more likely to hurt his chances in 2024 (34%) rather than help (23%).  Another 41% say they make no difference.
FOX NEWS POLL: VOTERS SPLIT OVER BIDEN IMPEACHMENT INQUIRY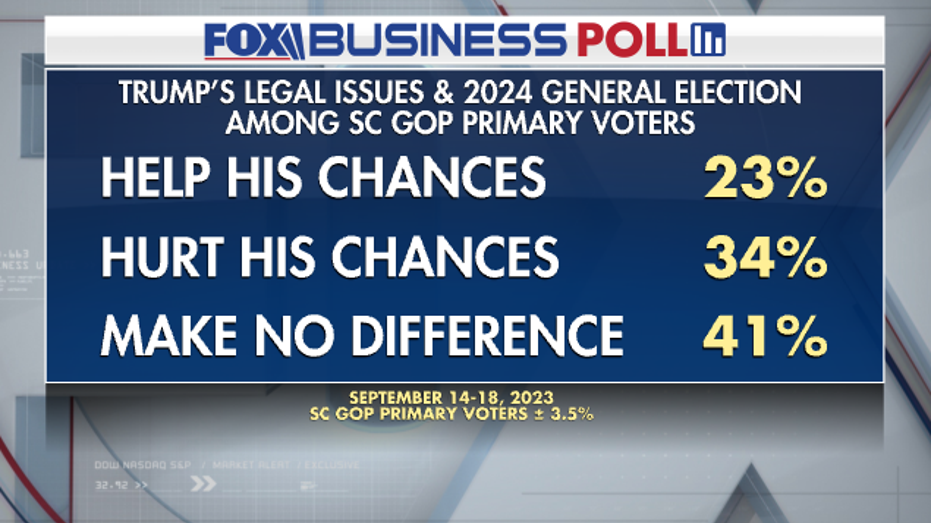 Haley leads Trump by 12 points among those saying his legal issues will hurt him, while those who think the legal issues will help go for Trump by 67 points.
The poll also asks voters their second-choice candidate and if Trump weren't in the race, GOP primary voters would favor Haley (27%) over DeSantis by 5 points (22%).  They are followed by Scott (14%) and Ramaswamy (11%) -- the only other candidates reaching double digits.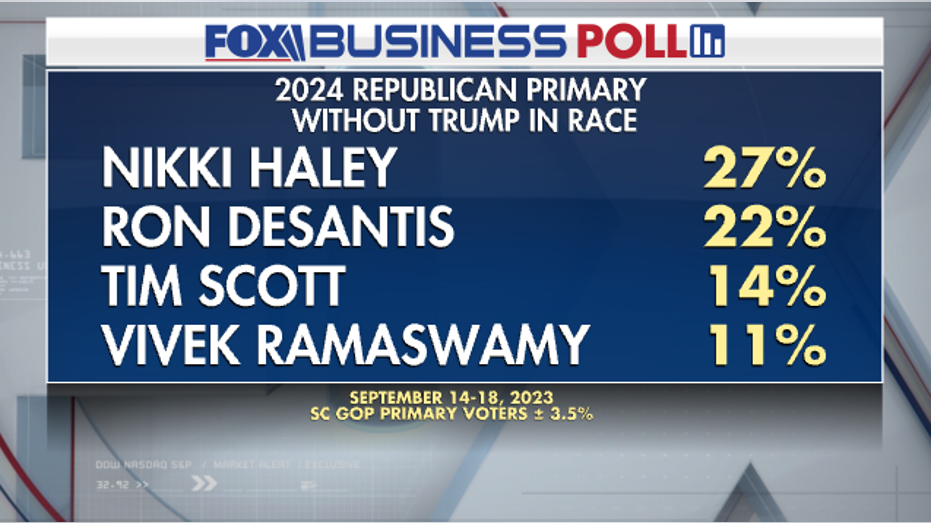 "While none of Trump's rivals are within striking distance in South Carolina," says Democratic pollster Chris Anderson who conducts Fox surveys with Republican Daron Shaw, "Haley is emerging as a highly viable alternative for voters growing concerned about Trump's mounting legal troubles."
When asked how they would react to specific candidates as the GOP nominee, there is a solid increase in the share saying they would "definitely support" Haley (+14 points since July) and a small decline in her "never support" number (-3).
"Haley's budding coalition in South Carolina is illustrative of what she probably needs to do more broadly," says Shaw. "Her hope is to be acceptable to conservatives while exciting more moderate Republicans and independents, who see her as strong and experienced but without Trump's baggage -- and threading that needle is tricky, at best."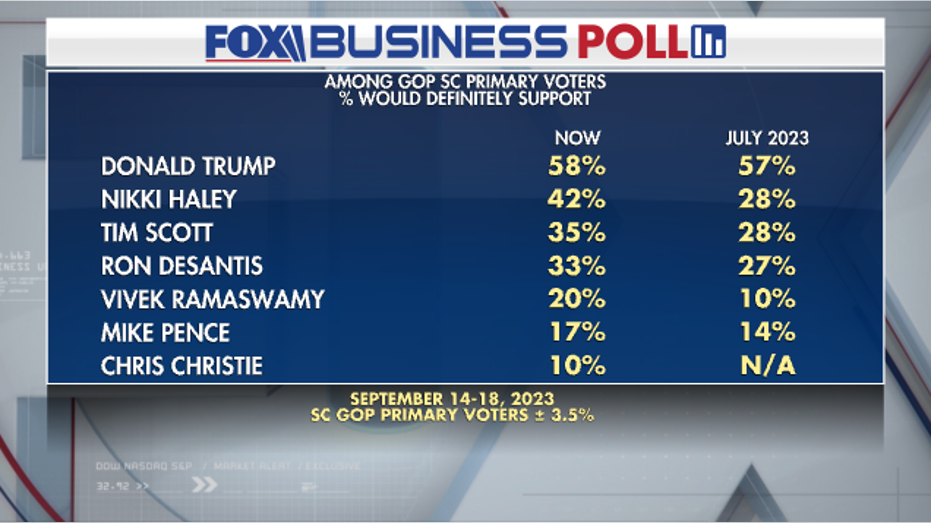 Among all Republican candidates, Trump has the highest number saying they would definitely support him (58%, held steady since July).  The remaining candidates on this measure, in order, are Scott (35% for a 7-point increase since July), DeSantis (33%, +6), Ramaswamy (20%, +10), former Vice President Mike Pence (17%, +3), and former New Jersey Gov. Chris Christie (10%, he wasn't asked in the July poll).
More voters say it's extremely important the candidate they vote for can defeat Biden in November (65%) than say it's imperative they share their views on the issues (56%) -- and Trump wins both groups by over 40 points.
DESANTIS ON CEO CRITICISM OVER DISNEY FIGHT: 'WAS THE RIGHT THING TO DO'
Moreover, almost three-quarters of voters (72%) think it is likely Trump will be able to defeat Biden in the presidential election including 45% who say it is "extremely" likely – more than double the number who feel that way about any other candidate.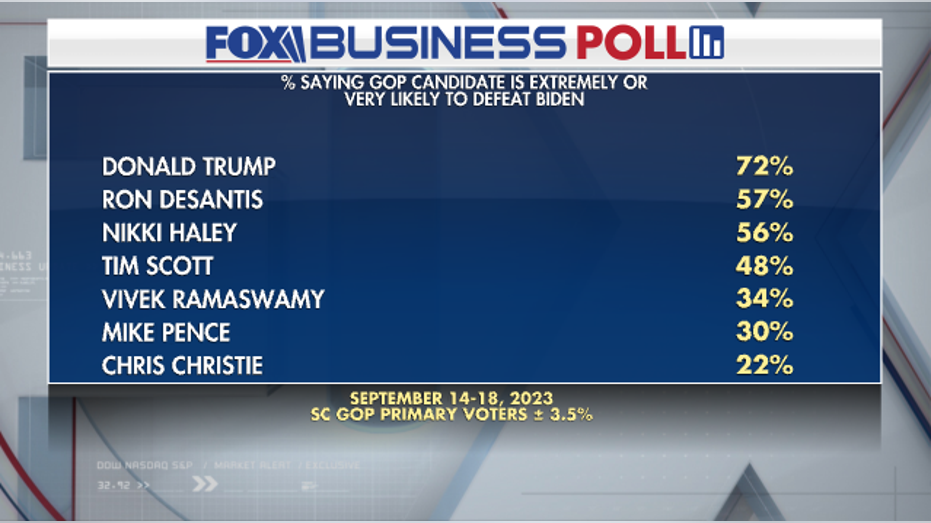 Almost 6 in 10 think it's likely DeSantis (57%) and Haley (56%) can unseat the current president.  Scott (48%), Ramaswamy (34%), Pence (30%), and Christie (22%) are all under 50% on this question.
CLICK HERE TO READ MORE ON FOX BUSINESS
Economic issues are by far the top concern for primary voters as half say they will be most important in deciding their nomination vote (49%).  Immigration issues are next at 15% followed by foreign policy/defense issues at 12%, social issues at 11% and populist issues at 6%.
Fox Business Channel is set to host the second Republican presidential primary debate September 27 at the Ronald Reagan Presidential Foundation and Institute in Simi Valley, California.
CLICK HERE FOR TOPLINE AND CROSSTABS
Conducted September 14-18, 2023, under the joint direction of Beacon Research (D) and Shaw & Company Research (R), this Fox Business Poll includes interviews with South Carolina registered voters randomly selected from a statewide voter file and spoke with live interviewers on landlines and cellphones. Respondents were screened to identify 809 likely participants in the 2024 South Carolina Republican primary. The poll has a margin of sampling error of plus or minus 3.5 percentage points.