Fox Business Poll: Trump leads in Iowa, as DeSantis and Scott round out the top 3
Iowa's caucus kicks off the GOP nomination process
An early read on the race for the Republican nomination in Iowa shows former President Donald Trump the clear frontrunner -- and then there is a sharp drop off to the rest of the field. 
Trump leads by 30 points in a Fox Business survey of Iowa Republicans, as likely caucus-goers prioritize electability and see him as the one who can win in 2024.  
Here are the numbers: 46% of likely GOP caucus-goers back Trump, putting him in a category all his own. The next tier is Ron DeSantis at 16% and Tim Scott at 11%. 
From there, it's Vivek Ramaswamy at 6%, Nikki Haley at 5%, Mike Pence at 4%, and Chris Christie and Doug Burgum at 3% each. Asa Hutchinson and Francis Suarez receive 1% apiece, while Larry Elder and Will Hurd get less than 1% each.  
DESANTIS ASKS STATE TO INVESTIGATE AB INBEV FOR FAILING SHAREHOLDERS BY PUSHING 'RADICAL SOCIAL IDEOLOGIES'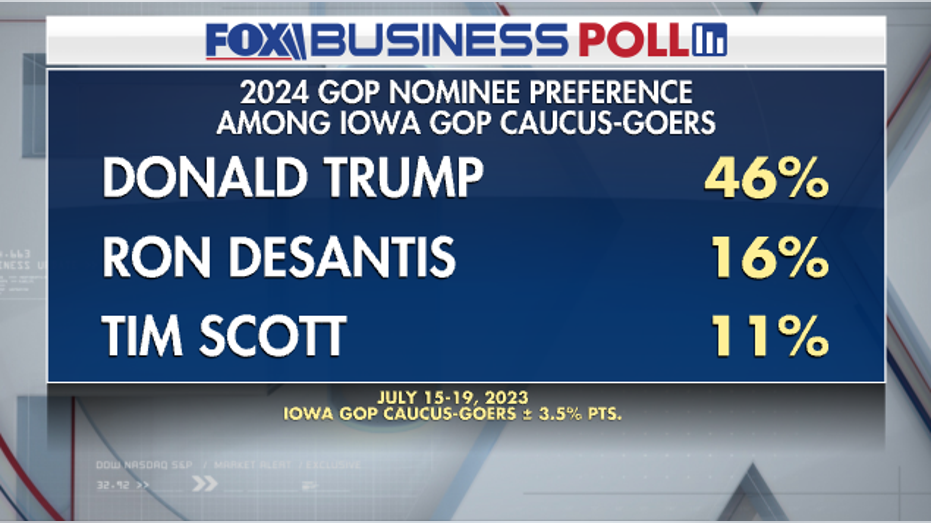 Education is the biggest differentiating factor in support. Some 57% of those without a college degree favor Trump compared to 33% of those with a degree. DeSantis garners 20% among college grads, followed by Scott at 13%.
Scott's best groups include college-educated women, voters ages 55-64, and women over 45, while DeSantis gets high support from men with a college degree, men under age 45, conservatives, and those who regularly attend worship services. Some of Trump's best groups are voters under age 35, those without college degrees, very conservatives, and voters who rarely attend religious services.
WHO'S IN AND WHO'S ON THE SIDELINES — YOUR GUIDE TO THE 2024 GOP PRESIDENTIAL NOMINATION RACE
There is no gender gap in candidate preference, and support among White evangelical Christians also aligns with the overall results.  
The largest share of Trump backers say DeSantis is their second choice. For those favoring DeSantis, it's Trump and Scott.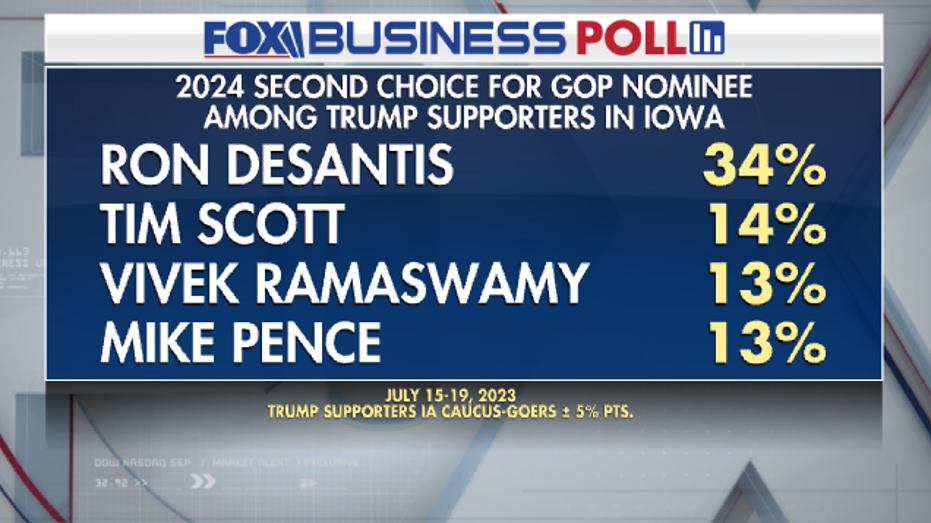 Scott has the most opportunity to grow, with the fewest, just 12%, saying they could never back him. He also has 25% who want more info about him before deciding.
"Scott has a decent hand in Iowa," says Democratic pollster Chris Anderson, whose company Beacon Research conducts the Fox Business survey along with Republican Daron Shaw. "Nearly 9 in 10 caucus-goers are open to him, and he is drawing about equally from moderate Republicans as from the most conservative, meaning different types of voters are seeing things they like in him."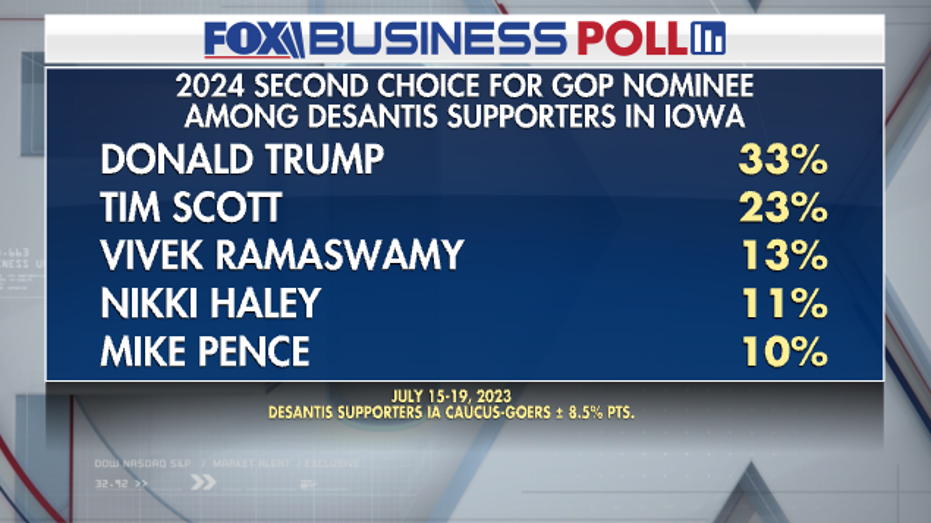 Pence gets the unwelcome distinction of having the largest number, nearly 4 in 10, saying they couldn't support him. Roughly 2 in 10 feel that way about Trump, Haley, DeSantis, and Ramaswamy.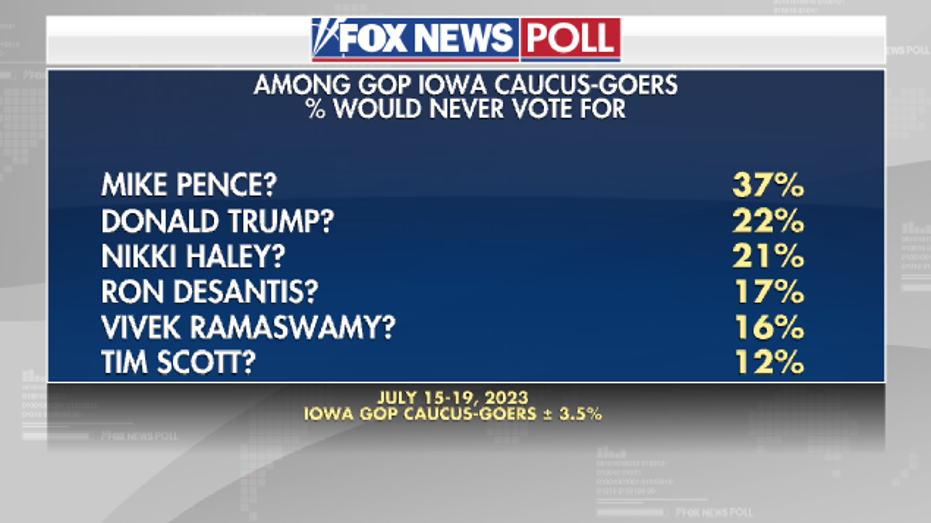 By a 10-point margin, more say defeating President Joe Biden is extremely important to their candidate choice (66%) than say the same about supporting one who shares their views on issues (56%).  
Trump is the preferred candidate either way. He leads by 36 points among those saying agreement on issues is extremely important and by 34 points among those prioritizing winning.  
Who can win? Forty-five percent say Trump is the most likely to beat Biden, nearly double the number who pick DeSantis.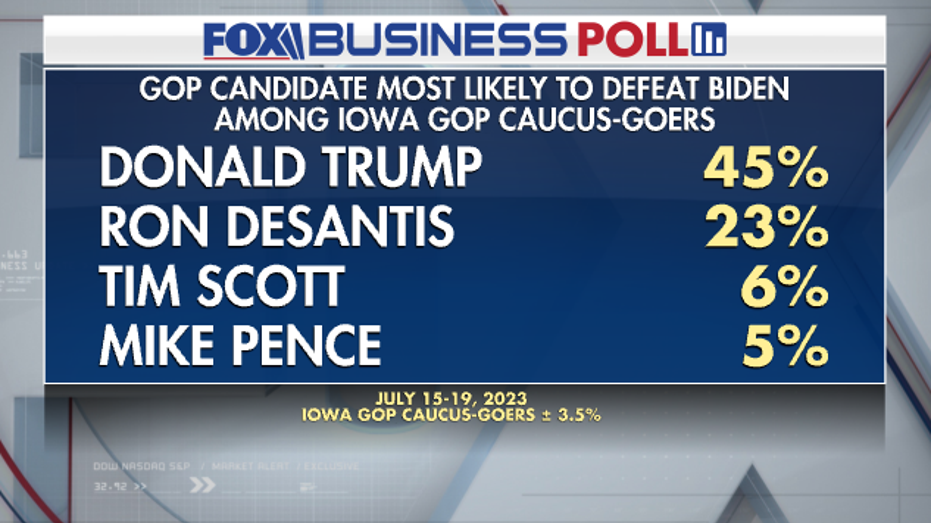 Overall, when choosing their candidate more GOP caucus-goers prioritize economic issues (41%) than immigration (15%), social issues such as abortion and gender in school and sports (15%), foreign policy and defense (12%), or populist issues such as corruption and corporate activism (9%). 
Meanwhile, twice as many think skipping a presidential primary debate shows a candidate's weakness (59%) rather than strength (27%).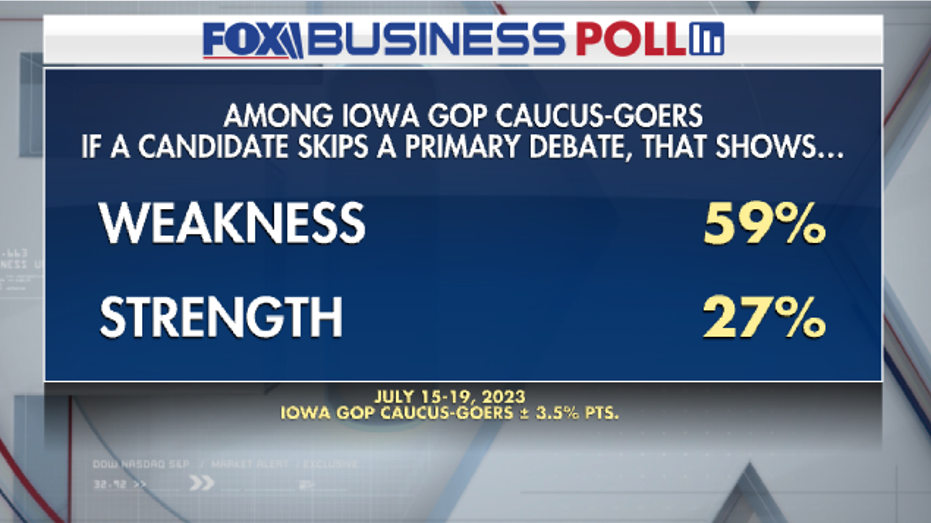 CLICK HERE TO READ MORE ON FOX BUSINESS
Fox News will host the first Republican presidential primary debate of the 2024 cycle in Milwaukee on August 23. 
In 2016, Trump came in second in the Iowa Republican caucus, trailing Texas Sen. Ted Cruz by just over three points.  
CLICK HERE FOR TOPLINE AND CROSSTABS
Conducted July 15-19, 2023, under the joint direction of Beacon Research (D) and Shaw & Company Research (R), this Fox Business Poll includes interviews with Iowa registered voters randomly selected from a statewide voter file and spoke with live interviewers on landlines and cellphones. Respondents were screened to identify 806 likely participants in the 2024 Iowa Republican caucuses. The poll has a margin of sampling error of plus or minus 3.5 percentage.
Fox News' Victoria Balara contributed to this report.