Former Illinois Gov. Blagojevich Found Guilty of Corruption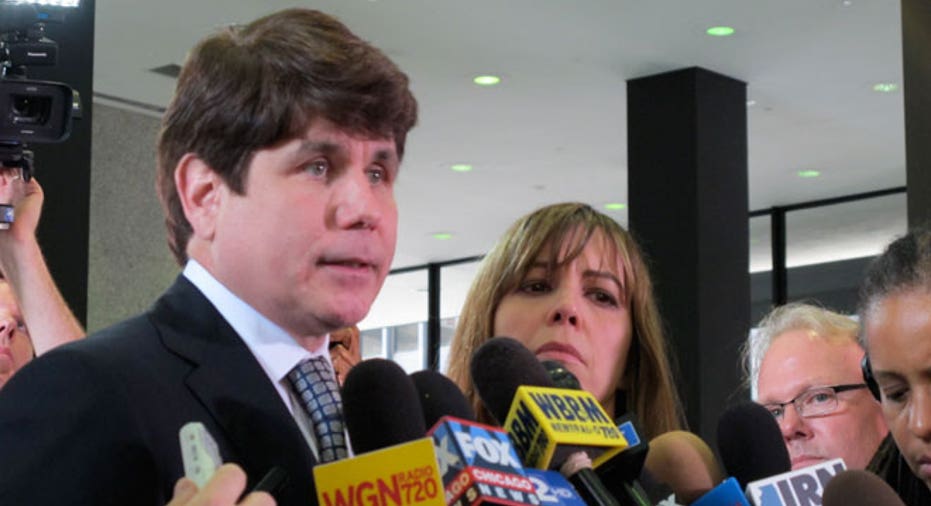 A jury convicted disgraced former Illinois Governor Rod Blagojevich on Monday of corruption for trying to trade the U.S. senate seat once held by President Barack Obama for financial and political gain.
Blagojevich, a two-term Democrat thrown out of office in 2009, was found guilty on 17 of 20 counts by the jury of 11 women and one man. Several of the convictions call for prison terms of up to 20 years, though he is likely to receive a lesser penalty.
The conviction of the flamboyant Blagojevich, 54, contrasted with the inconclusive end to the former governor's first trial in August 2010 when jurors deadlocked on 23 of 24 counts against him. He was convicted of lying to investigators, and prosecutors opted to retry him.
In seven days on the witness stand, the effusive Blagojevich insisted he was merely engaged in political gamesmanship but did not intend to sell the Senate seat or anything else. Instead, he said he was attempting to gain leverage to advance his policy agenda.
Prosecutors argued Blagojevich was clearly seeking to extort campaign contributions and other benefits in exchange for official acts.
After exhaustive testimony, Judge James Zagel finally instructed defense lawyers to get their client to shut up.
Zagel ordered Blagojevich to remain in the Chicago area until he is sentenced.
Key evidence in the case was profanity-laced FBI recordings of Blagojevich speaking with aides and political associates. Blagojevich apologized to the jury for the cursing, but his tirades, along with his full head of hair and pricey wardrobe, made him the butt of jokes.
When the charges against Blagojevich and his top aide were announced in December 2008, the case threatened to taint the Obama administration.
Blagojevich instructed aides to seek from the incoming administration either a Cabinet post, an ambassadorship or another high-paying position for him in exchange for naming Obama aide Valerie Jarrett to the Senate seat.
Former White House Chief of Staff Rahm Emanuel, Chicago's new mayor, testified that the incoming administration never offered Blagojevich anything.
Jarrett withdrew from consideration and Blagojevich subsequently appointed former Illinois Attorney General Roland Burris to fill the seat vacated by Obama when he became president. Republican Mark Kirk won the seat in the 2010 mid-term election.
Obama and Blagojevich also shared a friendship with Antoin "Tony" Rezko, a Chicago businessman and political fund-raiser who was convicted of bribery related to his unofficial role filling state jobs in Blagojevich's administration. Rezko did not testify at either of Blagojevich's trials.
Blagojevich was a local prosecutor before marrying the daughter of a powerful city alderman who eased him into Congress as a U.S. Representative for Chicago's North Side. Blagojevich later feuded with father-in-law Richard Mell, who may have fueled the federal investigation by saying the then-governor had put state jobs up for sale.
Blagojevich was the first Democrat to be elected Illinois governor in 30 years in 2002, succeeding Republican George Ryan who would be tried and imprisoned for corruption.
After his dramatic arrest by FBI agents, Blagojevich broke an unspoken rule of silence often followed by defendants by protesting his innocence and granting extensive television interviews.
He presented little in the way of a defense as the state legislature impeached, and then threw him out of office on January 29, 2009. His estranged lieutenant governor, Democrat Pat Quinn, was sworn in and won a full term in 2010.