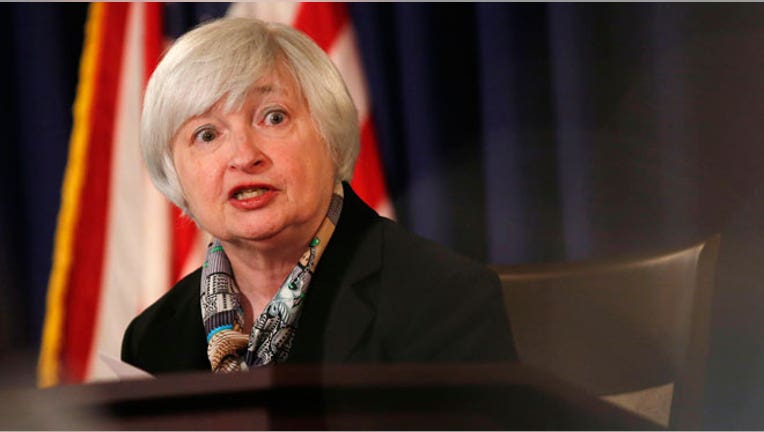 The announcement due Wednesday at the end of the Federal Reserve's two-day meeting should be as predictable as April showers bringing May flowers.
Unless something extraordinary occurs, the policy-setting Federal Open Market Committee will approve another $10 billion reduction in monthly bond purchases and reiterate the Fed's position that interest rates will remain at their current near-zero range for the foreseeable future.
The FOMC statement that will be released Wednesday is certain to remind market participants that the Fed will maintain its accommodative policies for as long as the economic recovery remains susceptible to setbacks.
"The April FOMC meeting will probably be a quiet one compared with the March meeting, with no press conference or Summary of Economic Projections to be released. We anticipate that the Fed will want to make relatively few changes to the statement, especially in the monetary policy paragraphs," Goldman Sachs analysts said in a note to clients.
No surprises are in store and markets are expected to respond in kind, possibly with some cheering for the persistently dovish language.
A Little Too Dovish?
At the same time, others are concerned the Fed may be a little too adamant about remaining dovish.
"In their statement on Wednesday, the FOMC will likely go to some lengths to avoid any suggestions that their dovishness is waning for fear of triggering a spike in long-term interest rates," said David Kelly, chief global strategist at JPMorgan Funds.
"However, the general warming up in the economic data, while welcome news to the Fed, does make their current projections of a delayed and soft takeoff for the federal funds rate seem both unwise and potentially unsustainable," Kelly added.
In other words, if the economy continues to gain momentum without suffering any more significant setbacks, the Fed may have to rethink its commitment to hold interest rates at their current range of 0-0.25% for a "considerable time," to use the Fed's own wording.
The concern is that a surging economy combined with very low interest rates could lead to runaway inflation very quickly. Economic growth would mean more jobs and increased demand for workers would push wages and consumer prices higher. Low interest rates that make it easier to borrow and increase the amount of money circulating through the financial system would only add to inflationary pressure.
Still, the Fed has seemed determined to emphasize its dovish stance ever since newly installed Fed Chair Janet Yellen made what appeared to be a gaffe last month during her first press conference.
No Reason to Stray
Yellen, in response to a reporter's question, suggested that interest rates could start moving higher "six months" after the central bank's bond purchase program ends likely in the fall. That would have meant interest rates would have started to move higher in the spring of 2015, well before such a move had been predicted either by markets or the Fed itself.
Yellen has since clarified – in some detail – that interest rates aren't likely to be raised until the Fed meets its dual mandate of full employment and price stability, which she most recently defined as an unemployment rate of between 5.2% and 5.6% and inflation in a range of 1.7% and 2%.
Neither of those thresholds are likely to be reached until the latter part of 2015, and even then the Fed has offered no guarantees that it will start raising interest rates.
The Fed tried once before to set a threshold target -- a 6.5% unemployment rate -- for possibly raising interest rates only to have it backfire on them when the threshold was approached well before it was expected.
In sum, the recent economic data -- labor markets, housing, manufacturing, etc… -- have  provided no reason for the Fed to stray from its course established earlier this year of gradually tapering bond purchases and offering assurances that interest rates will stay low and accommodative policies will remain in place just in case the numbers start to slip.
That's the message the FOMC will convey on Wednesday.