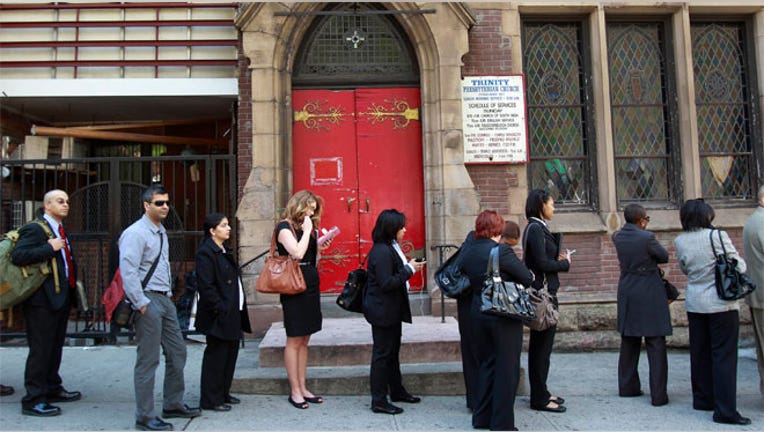 The U.S. economy contracted at an annual rate of 1% during the first quarter, according to revised data released Thursday by the Commerce Department. It marked the first time in three years that productivity and growth have shrunk.
Economists had predicted the weak quarter, suggesting the setback is temporary and primarily a result of an unusually harsh winter. And the downward revision in growth came as no surprise to U.S. stock markets, which barely acknowledged the report.
Congressional Republicans, meanwhile, said the first-quarter reversal in economic fortunes is a sign that the Obama administration's economic policies aren't working.
The 1% decline in gross domestic product (GDP), a measure of all goods and services produced in the U.S., was even more than the 0.5% dip economists surveyed by Thomson Reuters had forecast. It's the first time output has fallen since the first quarter of 2011.
An original estimate released earlier this month had reported that the economy had grown by 0.1%, or hardly at all.
"The president promised the American people an economy 'built to last,' but instead he's got us caught in a game of Chutes and Ladders: one step forward, two steps back," House Speaker John Boehner (R-Ohio) said in a statement. "Americans asking 'where are the jobs?' deserve better than this new normal of fits and starts."
House Majority Whip Kevin McCarthy (R-Calif.) added in a statement, "It appears that the imperceptible recovery has now dipped into another economic downturn. This Administration has done more to hinder than promote growth. The American economy does not wallow for six years on its own."
McCarthy said "pro-growth policies" need to be passed, specifically citing the easing of regulations on businesses and approval of the Keystone pipeline to create jobs and increase domestic energy production.
"It's time for new policies that will free America's economy so it can return to its former strength," McCarthy said.
Salim Furth, a senior policy analyst at the Heritage Foundation, said legislation passed since the financial crisis of 2008 -- notably the Dodd-Frank banking reform bill -- has forced lending restrictions on banks, curbing their ability to make loans to small businesses. That's cut into growth by impeding hiring, he said.
Furth acknowledged that elements of first-quarter weakness were one-time events, but suggested the weak quarter points to larger flaws in the economic recovery.
"We're definitely not escaping from the troth," he said. "What it looks like to me is an economy being held back by bad policies."
Other analysts said the sharp first-quarter dip could result in an even sharper rebound during the second quarter.
The dissipation during the first quarter of an accumulation of inventory that grew during late 2013 should sharpen demand for products in the current quarter. The scaled-back inventory "reduces a potential drag to the economy and will bolster growth for the remainder of 2014," said IHS Global Insight's chief U.S. economist Doug Handler.
Handler said a rebound from weakness in other weather-related categories of GDP, such as construction activity, will also help growth in the second quarter.  He predicted that growth this quarter will bounce back to around 3.5% and will remain in the 2.5%-3.0% range for the second half of the year.
Chris Williamson, chief economist at research firm Markit, said the setback in the "otherwise ongoing robust recovery" was likely temporary and will probably lead to a "strong rebound" in the second quarter.
However, the first-quarter GDP anomaly will likely confuse forecasts being used by the Federal Reserve to determine the timing of raising interest rates, Williamson predicted.
"Frustratingly, policymakers will therefore have to wait until the second half of the year to get a true reading of the underlying growth momentum and, most importantly, an idea of when the economy will be able to cope with higher interest rates," he said.
The government did not provide details on the impact of the weather, but it's been estimated that the cold and storm may have shaved as much as 1.5% from GDP growth.
Businesses accumulated $49.0 billion worth of inventories during the first quarter, much less than the $87.4 billion estimated last month.
U.S. labor markets, while still not back to pre-financial crisis strength, have shown significant signs of momentum the past two months, with the number of jobs created each month averaging well over 200,000. The unemployment rate is at a five-year low of 6.3%.
That trend is expected to continue through the second quarter.
Meanwhile, a decline in exports was not as sharp as projected, and import growth was stronger. However, that resulted in a trade deficit that slashed 0.95 percentage point from GDP growth. A measure of domestic demand that strips out exports and inventories expanded at a 1.6% rate, rather than a 1.5% rate, indicating underlying strength in the economy.
Consumer spending, which accounts for more than two-thirds of U.S. economic activity, increased at a 3.1% rate. It was previously reported to have advanced at a 3% pace.