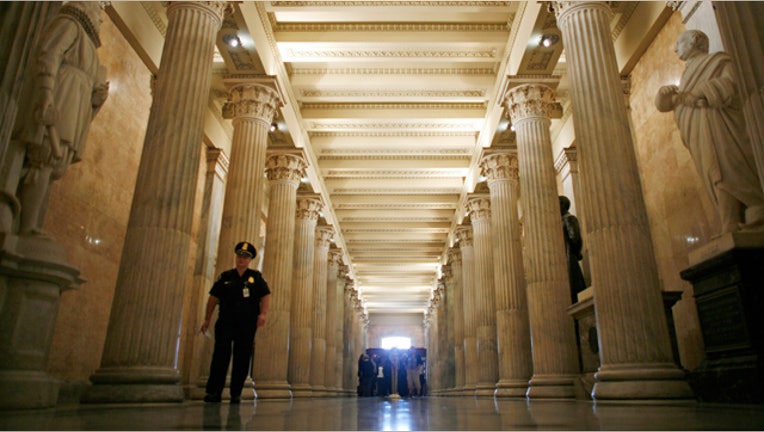 Fitch Ratings affirmed its "AAA" credit rating on the U.S. on Friday, but the ratings company kept a "negative" outlook on the world's largest economy amid concerns about the prospects of future reductions to the budget deficit.
The move by Fitch, coupled with a similar decision by Standard & Poor's, underscores more positive sentiment about the U.S. fiscal picture thanks to the sequester and strengthening economy.
However, the ratings moves could ease pressure on Washington to continue trying to fix the country's bloated budget deficit ahead of a crucial battle on the debt ceiling.
Fitch said its affirmation of the highest credit rating is based on its current assessment that the "economic recovery is gaining traction as headwinds from private sector debt deleveraging ease." In particular, the ratings firm pointed to the housing rebound and "gradual decline" in the unemployment rate.
Likewise, Fitch sees diminishing risk from the financial sector in the wake of the 2008 financial crisis.
On the fiscal side, Fitch cited Washington's ability to halve the federal budget deficit since 2010, saying the deficit is "now approaching a level consistent with debt stabilization." The latest medium-term fiscal projections imply federal gross debt stabilizing at around 74% of gross domestic product, which is below the 80% threshold needed for the country to keep its "AAA" rating.
However, Fitch said it decided to keep its negative outlook because these still-high levels of public debt render the U.S. economy "vulnerable to adverse shocks" and require further belt-tightening to avoid deficit and debt increases later this decade.
A downgrade from Fitch could come if Washington fails to raise the federal debt ceiling in a "timely manner," the firm said, warning that such an outcome could hurt "investor confidence in the full faith and credit of the U.S."
Other events that could spark a downgrade include a government shutdown in the fall, political developments that suggest long-term deficit reduction is unlikely and medium-term economic and interest rate shocks.
On the other hand, Fitch could upgrade its outlook on the U.S. to "stable" if Washington avoids a debt-ceiling crisis, makes progress on fiscal reform or enjoys positive political and economic developments that "enhance confidence in the long-run sustainability of public finances."
Interestingly, Fitch said its latest medium-term fiscal projections do not incorporate "potential upside benefits" from the shale-gas boom in the U.S. nor downside risks tied to the eurozone.