Fiorina Attacks Clinton, Huckabee Eyes Obama, Santorum Wants to Be Googled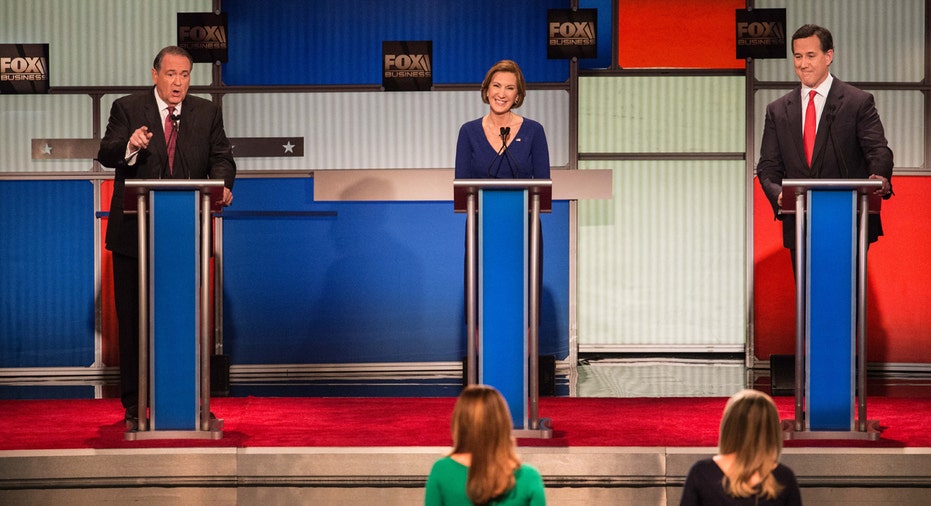 GOP candidate Carly Fiorina came out firing in her first undercard debate, attacking Hillary Clinton right of the bat in her first question about the state of the economy.
"Unlike another woman in this race, I actually love spending time with my husband," says Fiorina, while saying the "state of the economy is not strong" citing women in poverty and men out of work.
While former Arkansas Governor Mike Huckabee goes after President Obama's optimism in the State of the Union address saying he should have stood in line at the layaway counter at Wal-Mart (NYSE:WMT) around Christmas. And, former Pennsylvania Sen. Rick Santorum attacks Democrats and addresses climate change.
"For every dollar of GDP, China creates five times as much pollution as we do here. You want to lower global climate change, bring those jobs back to America and let American workers do that job with less pollution," says Santorum.
While discussing the situation in the Middle East, North Korea, and Afghanistan, Fiorina goes after Obama this time citing his foreign policy failures, including the overnight detention of ten U.S. sailors in the Persian Gulf. She says if the U.S. doesn't respond, we will get into "more bad behavior."
"I will be a Commander-in-Chief who will lead," she adds.
Santorum reacts to questions about the Middle East and Iran by saying that the Iran nuclear agreement should be "torn up" in the first term with the next President.
In a question about Afghanistan, Huckabee referred to the country as the "land of the Flintstones" and said that radical Islam must be destroyed, calling it a threat to "every civilized person on this Earth."
Fiorina adds that in order to fight radical Islam and the Islamic State, the U.S. "must stand and lead" and needs a coalition in the Middle East.
"Boos" from the audience where heard when moderator Trish Regan notes that the majority of Americans are in favor of universal background checks on gun purchases.
Fiorina opens by calling Obama's action on expanding background a "lawless executive order," while Huckabee calls the executive actions "unconstitutional" and "insane." The former Arkansas Governor refers to Department of Justice's "Fast and Furious" program during the beginning of the Obama administration, in which he described it as the U.S. supplying guns to Mexican drug gangs.
"The President keeps pushing ideas that have never worked," says Huckabee. He also goes on to say that the President of the U.S. needs to "protect America" and that Obama cares more about protecting the image of Islam than keeping his country safe.
Santorum then attacks Obama's positive job creation record saying the "numbers just don't add up" and that Obama has taken job away from "hardworking" Americans who are struggling the most. The conversation then pivots to immigration, adding the Obama and other Democrats want to bring in more immigrants.
In closing remarks, Santorum says he a "fighter" and that he's taken Clinton on before while they both served in the Senate.
"Go and Google (NASDAQ:GOOG) Rick Santorum and Hillary Clinton you'll see a five-minute debate. I'll let you decide who won the debate," he said. "I'll tell you who won, I know I'm out of time, I'm going to take some of Rand Paul's time here for a second." While Huckabee, like Santorum, says he fought the "Clinton machine" too and says America needs a different kind of leadership today.
"Not people who spend their whole life running from one office to the next, and living off the government dime. I got involved because I got sick of what I saw."
Fiorina ends on a shout-out to her husband as her campaign "eye candy" and says that people will pay to see a debate between her and Clinton.
"And that's because you know I will win. And that's important. We've got to start by beating Hillary Clinton," she says.