Fed's Yellen Defends Regulatory Role, Raises Stress Test Changes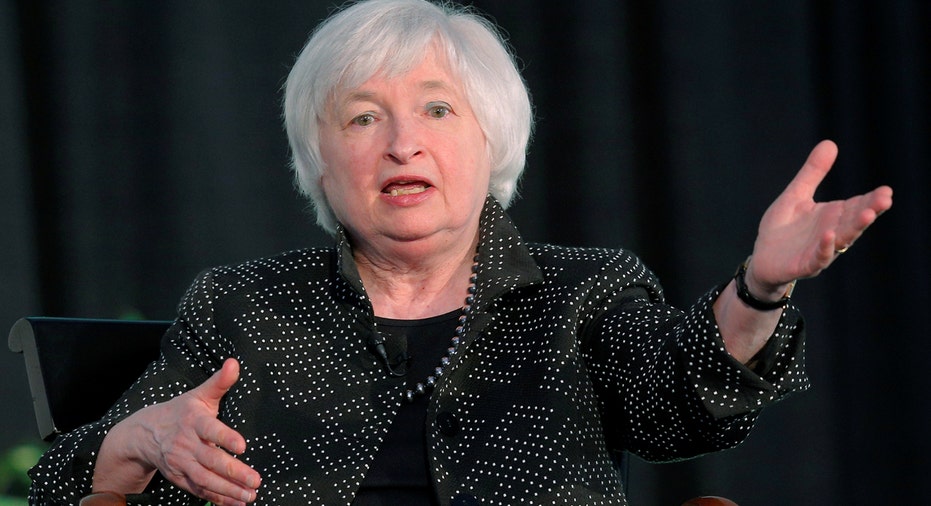 Federal Reserve Chair Janet Yellen was thrust into the election-year boxing ring during a congressional committee hearing on Wednesday, defending the central bank's regulatory role, taking and landing punches on Wells Fargo and other banks considered too big to fail, and addressing accusations of political conflicts of interest.
At a House of Representatives Financial Services Committee hearing, Yellen also provided details on the changes the central bank is considering making to the annual stress tests it gives U.S. banks. It would move to a more risk-sensitive, firm-specific approach that "would result in a significant aggregate increase in capital requirements" for the eight largest U.S. banks, she said.
She told the committee that the Fed was reviewing whether the largest U.S. lenders are complying with banking rules in the wake of the Wells Fargo scandal in which the bank settled charges that it opened as many as 2 million unauthorized customer accounts.
"I think it is very important that senior management be held accountable," Yellen told the House panel.
The Dodd-Frank Wall Street Reform law enacted in 2010 expanded the Fed's authority over banks, giving it the ability to break up those considered "too big to fail" and requiring it to monitor for institutions' weaknesses that could wreak havoc across the country's financial system.
Republicans have said those powers go too far, and the central bank's resulting regulations have dried up liquidity, imposed excessive costs on small banks, and crippled banks' ability to lend. Recently, the committee approved legislation crafted by its Republican chairman, Jeb Hensarling of Texas, to curb the Fed's regulatory role as part of a revamp of Dodd-Frank.
Democrats, meanwhile, are pushing the Fed to take full advantage of its authority, with some on Wednesday pressing Yellen to break up Wells Fargo & Co, recently ensnared in a scandal over creating phony accounts in real customers' names.
Yellen demurred on intervening in Wells Fargo, but said the Fed has initiated a review of all the large banks and is concerned about compliance across the board.
CHARGES OF BEING TOO 'COZY'
Republican Representative Scott Garrett also pressed Yellen over media reports that Fed Governor Lael Brainard might take a top job in the next administration if Democrat Hillary Clinton wins the Nov. 8 election.
"The Fed has an unacceptably cozy relationship both with the Obama administration and with higher ups in the Democratic Party," Garrett said.
Yellen said she was unaware of any contact between Brainard and Clinton.
Puerto Rico, currently mired in a financial meltdown, also came up frequently in the hearing, but Yellen said a solution to its fiscal crisis should come from the White House or Congress.
Alongside the stress tests, the largest banks must also provide "living wills" to show how they would wind down operations should they fail, without needing help from the federal government. This spring the Fed said five out of eight of those banks, including Wells Fargo & Co. and Bank of America Corp., did not have credible plans, and gave them until October to make revisions.
On Wednesday Yellen said the Fed stands ready to use its authority to impose higher capital requirements on those banks if problems are not corrected in their wills. J.P. Morgan Chase & Co., Bank of New York Mellon Corp., and State Street Corp. also must resubmit their wills.
Yellen also said Congress may want to consider making small community banks exempt from the Volcker Rule restricting their investments and the compensation limits in Dodd-Frank.
"The risks addressed by these statutory provisions are far more significant at larger institutions than they are at community banks," she said. "In the event that a community bank engages in practices in either of these areas that raise heightened concerns, we would be able to address these concerns as part of the normal safety-and-soundness supervisory process." (Reporting by Lisa Lambert and Patrick Rucker, Additional reporting by Jason Lange; Writing by Lisa Lambert; Editing by Andrea Ricci and Linda Stern)