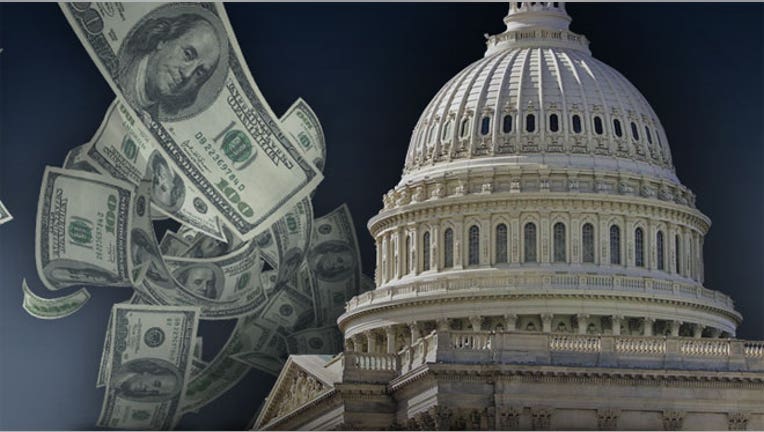 Every two years, before Congress is set to begin its session, the Government Accountability Office releases a list of the federal programs most at risk of fraud, waste, abuse and mismanagement. The GAO, a Congressional watchdog agency, is charged with monitoring the effectiveness of the federal government, whose programs it says cost U.S. taxpayers $3.5 trillion in fiscal outlays.
This year, the GAO has added two new entrants to its list of now 32 programs at risk: Veterans Affairs, and the federal government's information technology acquisitions and operations (to see the entire list of the 32 programs, click here: http://www.gao.gov/highrisk/overview).
The GAO has expanded inquiries into two federal areas "due to evolving high-risk issues": enforcement of tax laws, and federal cybersecurity. It appears the IRS controversy over targeting of conservative nonprofits is not listed in the GAO 's report on its expansion of its inquiry into tax enforcement, though it's not precluded.
But federal workers generally have been ignoring about 9,000 recommendations from the GAO to save taxpayers' money by stopping waste, fraud and abuse in the federal government. The issue has been a problem since at least the 1960s.
This past week, hundreds of federal workers who are members of the American Federation of Government Employees (AFGE) union, as well as their supporters from other public service unions gathered across the street from the Capitol in Washington, D.C. to demand better pay and more respect. At its recent annual legislative gathering, the AFGE employees vowed to combat any Congressional efforts to shrink the federal workforce, cut pay and benefits or weaken unions.
"If I meet one more politician who tells me we need to tighten our belts, I'm going to take my belt off and I'm going to whoop his ass," AFGE National President J. David Cox said. "We are a force to be reckoned with and we are a force that will open up the biggest can of whoop ass on anyone" who votes against the union's interests, Cox added. However, Bureau of Labor Statistics figures show, federal government workers often make roughly $20,000 more annually than private sector workers. The U.S. federal deficit now tops $18 trillion.
The VA is now working to correct its mismanagement of the $55.5 billion health program serving nearly nine million vets, after a year that saw numerous controversies, including the scandal where officials were charged with keeping secret waiting lists that delayed treatment for veterans, and the covering up of bad treatment.
The IRS's tax law enforcement is a perennial on this list, but this time GAO is specifically focused on the IRS's efforts to combat fraudulent tax refunds "due to identify theft." The IRS estimates it paid out an estimated $5.8 billion in fraudulent refunds in tax year 2013 due to identity theft. Overall, the tax gap, the IRS says, is now veering in on $390 billion—that's the amount the IRS says is owed, but not collected.
When it comes to the government's costs for information technology, the GAO again sees routine overruns and scheduling delays. It says: "Although the executive branch has undertaken numerous initiatives to better manage the more than $80 billion that is annually invested in information technology, federal IT investments too frequently fail or incur cost overruns and schedule slippages while contributing little to mission-related outcomes."
Privacy of taxpayer information, as well as federal worker information, is now a key area of concern. "The number of reported security incidents involving (personal identifiable information) at federal agencies has increased dramatically in recent years," the GAO says. It's still unclear whether the GAO will be probing identity information leaks in the health exchanges or on Healthcare.gov, a site whose costs have now ballooned to over $2 billion.
Lack of imagination was a problem before 9/11 and before the financial collapse, where officials didn't see what could possibly happen. The GAO has already found the same at the Dept. of Homeland Security (DHS), which it says has now only taken "preliminary steps to begin to understand the cyber risk" in federal facilities.
The GAO warned: "no one within DHS is assessing or addressing cyber risk to building and access control systems particularly at the nearly 9,000 federal facilities protected by the Federal Protective Service (FPS)." Translation: Federal workers are not vetting federal facilities in danger of cyber attacks. The GAO says: "DHS has not developed a strategy, in part, because cyber threats involving these systems are an emerging issue." (for more, see here: http://www.gao.gov/products/GAO-15-6).
Hacks into the federal government are a serious concern, the GAO warns. Last fall, the US Postal Service network said it was the victim of a hack that exposed the Social Security numbers, birthdates, home addresses and other information on more than 800,000 current and former postal employees, including top directors and regulators (customers credit and debit card information was not affected.)
And last December, Veterans Affairs was hit by a data breach that put more than 7,000 veterans at risk of identity theft. A patient database managed by an outside vendor, the third-party telehealth network, may have exposed the information; the contractor alerted the VA to the potential security flaw, which has since been corrected. The vendor said that only vendor staff and VA workers could have accessed the information.
Is there room for hope? The GAO says since 1990, it has removed more than a third of the programs it had initially red flagged as high risk because it saw improvements. But its standards for giving out gold stars seem a bit dubious. A program can get pulled from the GAO list if the agency under scrutiny shows "leadership commitment," a "capacity" to fix the problem, an "action plan," "monitoring efforts, and "demonstrated progress.
Bottom line: Bureaucrats are giving report cards on bureaucrats.