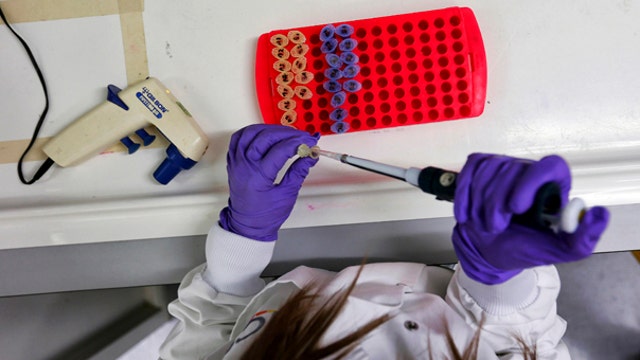 The Endocrinologic and Metabolic Drugs Advisory Committee of the Food and Drug Administration met earlier this week to consider the medical merits of two injectable drugs to lower LDL (low-density lipoprotein) cholesterol.
And the news was promising.
The FDA recommended the approval of Praluent (alirocumab) on Tuesday. The Committee voted 13 to 3 that Sanofi (NYSE:SNY) and Regeneron (NASDAQ:REGN) had sufficiently established the LDL cholesterol or bad cholesterol lowering benefit of Praluent exceeds its risks in one or more patient populations.
Meanwhile, on Wednesday, the Advisory Committee voted 11 to 4 that Amgen's (NASDAQ:AMGN) drug Repatha appears safe and effective and should be approved for patients with high cholesterol.
Both drugs are essentially designed to interfere (or be an inhibitor to) with an enzyme called PCSK9 and allow the liver to do its LDL-lowering job better.
According to the Centers for Disease Control and Prevention (CDC), nearly 74 million adults or about 32% of the adult population have high low-density lipoprotein (LDL) cholesterol. Having high levels of LDL can lead to plaque buildup in your arteries and result in heart disease and stroke. In fact, people with high cholesterol have twice the risk of heart disease compared to people with normal levels.
Conversely, HDL cholesterol or "good" cholesterol absorbs cholesterol and carries it back to the liver, which flushes it from the body.
Regarding the new drugs, School of Medicine's Dr. Devi Nampiaparampil told the Fox Business Network: "I think this is very promising, it seems to lower the bad cholesterol called LDL by about 50% -70%, which is huge, a very dramatic difference from the statins."
She also noted that the scientists looked at the life-saving benefits and they seem to cut heart attacks and strokes in half too.
This could be a "game changer" for people who either can't tolerate side effects such as muscle pain and damage, liver damage, digestive problems and increased blood sugar from the current drug offerings such as Lipitor, Mevacor, Crestor and Zocor, or patients who can't lower their cholesterol levels with statins alone.
"The deliberations today addressing the potential approval of a PCSK-9 inhibitor place us at the precipice of a new era in cardiovascular disease risk prevention. Breakthroughs in science have yielded this novel route by which we can dramatically lower LDL cholesterol levels – especially in our most challenging patients," said Dr. Clyde W. Yancy, former president of the American Heart Association.
"Importantly, cost issues must be acknowledged, but having another option that addresses a known important risk factor in heart disease may usher in a new day in cardiovascular medicine," noted Yancy.
So, what about cost issues?
Dr. Nampiaparampil said "the cost is the biggest problem here. The estimate is that it is going to be about $10,000 a year, so that's the biggest barrier in my mind. It depends on your insurance, but with generics, statins could be $1000 or less per year.
The final approval decision for Praluent is scheduled for July 24, while the determination for Repatha is slated for August 27.