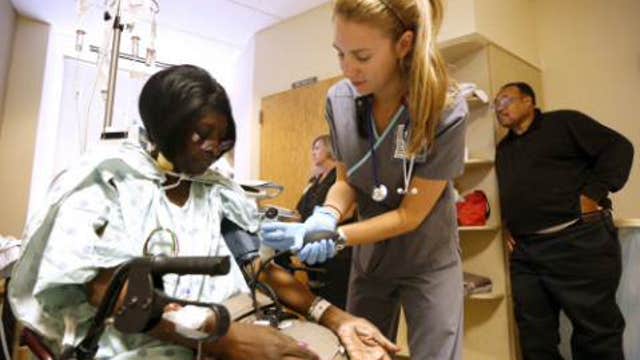 FOX Business will be doing live interviews all day today with chief executives from GlaxoSmithKline, Humana, Onyx Pharmaceuticals, AthenaHealth and others at the second annual Forbes Healthcare Summit at Lincoln Center in New York City, where more than 200 health-care industry executives are gathering.
Forbes editors note that health-care systems around the world face seismic shifts over the next 10 years -- aging populations, fiscal pressures, rising costs, and increasing patient expectations. Companies, health providers and governments face pressure like never before. But the Forbes folks note that patients now lead the revolution in healthcare, they are now more empowered than ever before.
So what does that mean for the world's biggest health companies?
I will be speaking with Sir Andrew Witty, CEO of British drug maker GlaxoSmithKline (NYSE:GSK), Dr. Tony Coles, former chairman and CEO of Onyx Pharmaceuticals, which Amgen (NASDAQ:AMGN) bought for $10.2 billion last August. I'll also be talking to Bruce Broussard, CEO of Humana Inc. (NYSE:HUM), and Jonathan Bush, CEO of AthenaHealth (NASDQ:ATHN). I'll also be speaking to Joseph Herring, chairman and CEO of biotech company Covance (NYSE:CVD) as well as Dr. Andrew Sussman, president and chief operating officer at the MinuteClinic unit at CVS Caremark (NYSE:CVS).
News is breaking fast and furiously at these companies as the health care landscape is changing rapidly. Since an estimated 30 million uninsured are pouring into the system due to health reform, business and delivery models are changing with lightning speed.
That includes fast-food health care. For example, CVS Caremark spokesmen indicate to FOX Business that more people, especially the younger and uninsured, are getting health care from walk-in clinics in retail stores, such as pharmacy, discount, or grocery chains, as well as shopping malls, often requiring no appointments, with little to no waiting time.
Services are typically limited to vaccinations or treatment of minor acute conditions like ear, throat or urinary tract infections, the most common illnesses treated. Urgent care and retail clinics are popping up across the country, and studies show they provide less costly treatment than doctor office visits, with no apparent adverse effect on quality of care or delivery of preventive care, according to a recent study published in the Annals of Internal Medicine.
About 1,400 retail clinics now operate in the United States, and that number is expected to climb, with an estimated one out of seven children and one out of five adults likely to use them in the near future, says the Annals of Internal Medicine.  The number of patients treated at these clinics rose more than 10-fold between 2007 and 2009, studies show.
CVS Caremark also says it is leading the way with "MinuteClinic," with 725 retail-based medical clinics operating in 27 states and the District of Columbia inside CVS/pharmacy stores. People can walk in seven days a week, including weekday evening hours, and get care with no appointment required from board-certified nurse practitioners and physician assistants who specialize in family health care. They can diagnose, treat and write prescriptions for common illnesses, CVS says in a statement.
New and more effective versions of drugs are also being introduced like never before. For instance, GlaxoSmithKline just announced new trial data for its malaria vaccine which show the drug could be the world's most clinically advanced malaria vaccine to date, protecting young children and infants from malaria up to a year and a half after vaccination. The company, one of the world's largest pharmaceutical and health care companies, intends to file for regulatory approval based on these data.
Glaxo is also leading the way in across-the-board data transparency. Glaxo has signed up with the AllTrials campaign, which is pushing drug companies to make their detailed clinical research data public. That includes all unfavorable and favorable drug trial results. Ben Goldacre, head of the AllTrials campaign, and author of the book Bad Pharma, which takes the drug industry to task, called it "a cartwheel moment."
In July 2012, GlaxoSmithKline agreed to pay the U.S. the largest settlement to date, $3 billion in fines, and plead guilty to criminal charges for improperly marketing its antidepressants for unauthorized use and for not reporting to the U.S. its safety data about a best-selling diabetes drug. The settlement involved the company's Paxil, Wellbutrin, Avandia and other drugs, among other things, including marketing the use of Paxil for children. A warning was later added to the drug that Paxil, like other antidepressants, might increase the risk of suicidal thoughts in teenagers.