Exxon's Rex Tillerson Emerges as Top Candidate for Secretary of State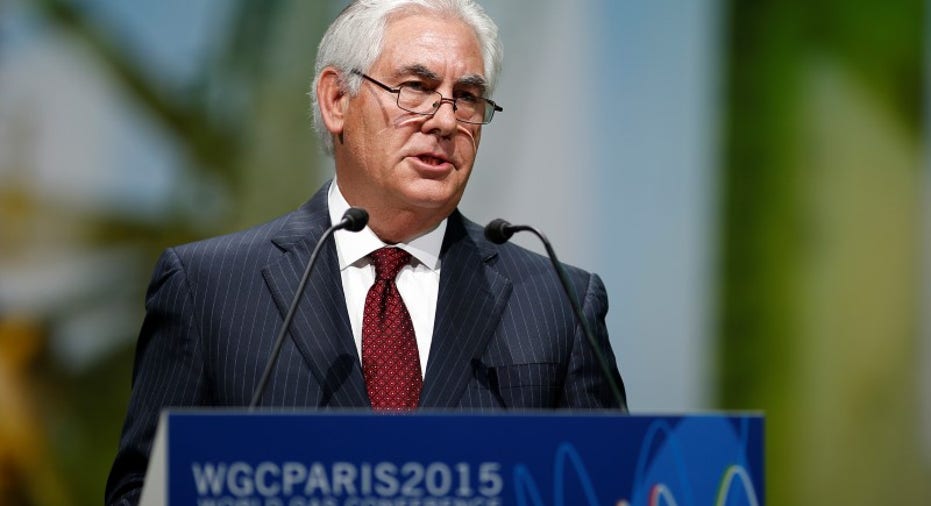 Exxon Mobil Corp. Chief Executive Rex Tillerson has emerged as the leading candidate to become President-elect Donald Trump's pick for secretary of state, according to two transition officials, marking the latest twist in a multi-week search for the nation's top diplomat.
Mr. Tillerson moved ahead of other candidates, including former New York Mayor Rudy Giuliani and 2012 presidential candidate Mitt Romney, who each have had multiple conversations with Mr. Trump about the job. Mr. Tillerson is viewed by some of Mr. Trump's advisers as a mold-breaking pick who would bring an executive's experience to the diplomatic role, a person involved in the process said.
Messrs. Trump and Tillerson met on Tuesday and are expected to speak again over the weekend, the person said. Mr. Trump has said he would like to make a formal announcement about his State Department pick next week.
If Mr. Trump selects Mr. Tillerson, it would add a seasoned business executive to a team that already includes three retired generals. As Exxon's CEO since 2006, Mr. Tillerson, 64 years old, could leverage existing relationships with numerous world leaders.
Among those considered for the post, Mr. Tillerson has perhaps the closest ties to Russian President Vladimir Putin, having negotiated a 2012 energy partnership deal with Russia that Mr. Putin said could eventually be worth as much as $500 billion. In 2012, the Kremlin bestowed the country's Order of Friendship decoration on Mr. Tillerson.
This pre-existing relationship with Mr. Putin complements Mr. Trump's push to improve ties between the U.S. and Russia. A number of Republicans have urged Mr. Trump to be wary of working closely with Russia, warning that Russia is trying to expand its influence in a way that runs counter to U.S. interests in places such as Ukraine and Syria.
Exxon has a large global presence, but this could introduce sticky conflicts of interest if Mr. Tillerson is selected. The company explores for oil and gas on six of the world's continents and has operations in more than 50 countries.
Mr. Tillerson, who is slated to retire next year, has a pension worth tens of millions of dollars, a value that could potentially be affected by State Department activities. For example, he could benefit from such potential department actions as the lifting of sanctions on Russia.
The Obama administration and European allies have imposed several rounds of economic sanctions against Russia following its annexation of Crimea in 2014. The Obama administration also has accused the Kremlin of backing militants in eastern Ukraine even after the annexation of Crimea.
As Exxon's CEO, Mr. Tillerson has spoken against sanctions on Russia. Mr. Tillerson's work there dates to when Mr. Putin rose to power after Boris Yeltsin's resignation.
"We always encourage the people who are making those decisions to consider the very broad collateral damage of who are they really harming with sanctions," he said at the company's annual meeting in May 2014.
Mr. Tillerson grew up in Texas and in 1975 joined Exxon, where he has spent his entire career. He has long been closely affiliated with Republican politicians and the Boy Scouts of America, but he has never worked in government.
Meanwhile, Mr. Trump is expected to tap Rep. Cathy McMorris Rodgers (R., Wash.) to lead the Interior Department, according to a person familiar with the matter.
If confirmed by the Senate, Ms. McMorris Rodgers, would lead Mr. Trump's efforts to open up federal lands and waters to fossil-fuel development and reverse environmental policies the Obama administration has pursued.
Since her first election to Congress in 2004, Ms. McMorris Rodgers has risen in the ranks and is the now fourth-highest-ranking Republican in the House and the highest-ranking GOP woman in Congress. She also serves on the Energy and Commerce Committee.