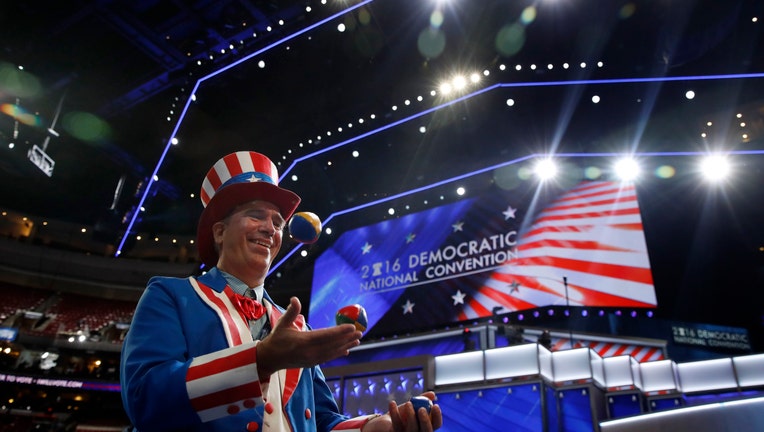 Democratic Party activist and real estate mogul R. Donahue Peebles will be skipping this week's Democratic Convention in Philadelphia after a leak of emails shows party officials openly working to support establishment favorite Hillary Clinton over her grass-roots challenger Bernie Sanders to win the party's 2016 presidential nomination, the FOX Business Network has learned.
The email dump, from the international, non-profit and journalistic organization Wikileaks, shows DNC staffers did not remain neutral during the nomination process that Clinton ultimately won. Rather, they portray a system that was rigged against Sanders as DNC officials openly discussed their support for Clinton and how Sanders could be attacked in certain states because of his religious views.
Peebles, who is weighing a potential run for New York City mayor, told the FOX's Business Network's Cavuto Coast to Coast in an email that he won't attend the event "In light of the recent disclosure of the internal DNC conspiracy to sabotage Bernie Sanders' campaign."
He added: "Although I am not a supporter of Bernie Sanders, I am a very strong supporter of fair play. There is no room in our party for rigging elections."
Peebles is possibly the most high-profile Democrat to openly criticize the party's leadership following the e-mail revelations that has already claimed the job of DNC Chairwoman, Congresswoman Debbie Wasserman Shultz. Wasserman Schultz announced she would resign from the post to join the Clinton campaign. Amid the controversy, she also said she would not gavel the start of the Convention on Monday.
More from FOXBusiness.com…
The leaked emails also threaten party unity at the worst possible time: The open of the Democratic Convention and after a bruising nomination battle between Sanders, a socialist Senator from Vermont, and Clinton, President Obama's former Secretary of State and wife of former President Bill Clinton.
Clinton will face Republican nominee Donald Trump in November in what polls show is a tight race.
The 20,000 leaked emails and documents also include spreadsheets of the names of wealthy donors for appointments to key positions in a possible Clinton Administration, as well as conversations between these donors and Democratic Party officials.
Democratic political consultant Hank Sheinkopf said the Convention could well spin out of control if Sanders pulls his recent endorsement of Clinton, which could cause many of his supporters to stay home, and hand the election to Trump given the tightness of the face so far.
"The man in charge right now is Bernie Sanders," Sheinkopf said. "He commands the situation. He will be the one to move people forward or he won't."
Not everyone thinks the turmoil will last long enough to damage the Clinton campaign. Internet entrepreneur and Dallas Mavericks owner Mark Cuban called the leaked emails a "non-event."
Cuban, who was once rumored to be under consideration as Clinton's VP choice (she ultimately chose Virginia Senator Tim Kaine) , told the FOX Business Network that the emails show "how stupid and arrogant the DNC is."
But Cuban said he doubts Sanders will cause a disruption at the convention because it would help elect Trump.
"If Clinton wins, (Sanders) retains some leverage and she will at least take his calls and advice," Cuban said. "He is smart enough to know that."