EU Leaders Agree on Rescue Package for Greece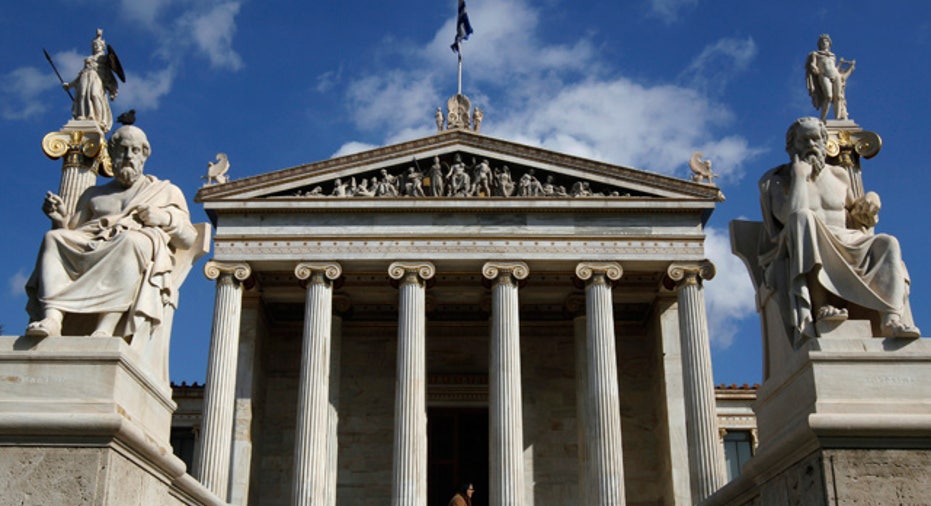 Euro zone leaders were set to give their financial rescue fund sweeping new powers to prevent contagion and help Greece overcome its debt crisis, according to the draft conclusions of an emergency summit on Thursday.
The leaders met in Brussels after the European Central Bank signaled in a policy reversal that it was willing to let Greece default temporarily as part of a plan involving longer official loans at cheaper rates, a debt swap, a bond buyback but no new tax on banks.
Minds have been concentrated by the danger that Europe's debt crisis could engulf the much bigger economies of Spain and Italy. Greece, Portugal and Ireland have already succumbed.
The draft summit statement obtained by Reuters showed the EFSF rescue fund would be allowed for the first time to help states earlier with precautionary loans, to recapitalise banks and to intervene in the secondary bond market.
"To improve the effectiveness of the EFSF and address contagion, we agree to increase the flexibility of the EFSF," it said, listing those three key steps, all of which Germany had previously blocked.
German Chancellor Angela Merkel and French President Nicolas Sarkozy crafted a common position in late night talks in Berlin with ECB President Jean-Claude Trichet.
"I expect we will be able to seal a new Greece programme. This is an important signal. And with this programme we want to grasp the problems by their root," Merkel told reporters on arrival in Brussels.
Dutch Finance Minister Jan Kees de Jager said a short-term or selective default for Greece, long vehemently opposed by the ECB, was now a possibility.
"The demand to prevent a selective default has been removed," he told the Dutch parliament.
According to the draft, the maturities on euro zone rescue loans to all three assisted countries would be extended to 15 years from 7.5 and the interest rate cut to around 3.5 percent from between 4.5 and 5.8 percent now.
The EFSF would be able to lend to states on a precautionary basis instead of waiting until they are shut out of market funding, and to recapitalise banks via loans to governments, even if they are not under an EU/IMF assistance programme.
It would also be allowed for the first time to intervene in secondary bond markets, subject to an ECB analysis recognising "exceptional circumstances" and a unanimous decision.
Germany blocked all these measures when the European Commission proposed them back in February, at a time when the crisis was less acute, EU sources said.
The wider EFSF powers could help deter or minimise any market contagion in case of a temporary Greek default.
In an apparent trade-off for Merkel's new willingness to embrace such bolder steps, Sarkozy dropped a French call for a tax on banks to help fund a second Greek bailout.
The leaders were also set to promise a "Marshall Plan" of European public investment to help revive the Greek economy, in a deep recession due to draconian EU/IMF-imposed austerity.
MARKETS IMPRESSED
The euro and European stocks, which had fallen on talk of a selective default, rallied sharply on news of the draft conclusions. The Stoxx European banking index was up 4.5 percent and the insurance index 3.4 percent.
The risk premium investors demand to hold peripheral euro zone government bonds rather than benchmark German Bunds fell to two-week lows as expectations of a bolder-than-expected Brussels deal took hold.
"It really shows in the 11th hour leadership from the euro zone leaders," said Niels From, chief analyst at Nordea.
But JP Morgan economist David Mackie was more cautious, saying: "The key question is whether the measures in the package aimed at limiting contagion will work. If they don't, more socialisation (of euro zone debt) will be forthcoming."
The 115 billion euro second Greek rescue package would involve both more official funding from the euro zone rescue fund and the IMF and a contribution by private sector bondholders, as well as Greek privatisation revenues.
Senior bankers were present in the corridors of the summit but not at the table, officials said. They included Baudouin Prot of BNP Paribas , the foreign bank with the biggest exposure to Greek debt, and Deutsche Bank chief executive Josef Ackermann, chairman of the International Institute of Finance, which drafted proposals for private sector involvement. Top Greek bankers were also present.
The IIF proposed a "voluntary" exchange of Greek debt maturing until the end of 2019 for 30-year paper and forecast a 90 percent take-up rate. Euro zone and banking sources said the resulting net contribution of 17 billion euros would mean a write-down of about 20 percent on the value of banks' Greek bond holdings.
The new bailout would supplement a 110 billion euro ($156 billion) rescue plan for Greece launched in May last year.
Worried about the impact on financial markets and wary of angering their own taxpayers, euro zone governments have struggled for weeks to agree on major aspects of the plan, especially a contribution by private sector investors.
New IMF Managing Director Christine Lagarde also attended the summit. The global lender has urged euro zone leaders to put more money into their 440 billion euro European Financial Stability Facility.
The proposed expansion of the EFSF's role would have to be endorsed by national parliaments, but diplomats said critical lawmakers in Germany, the Netherlands and Finland were likely to back it since the private sector was sharing the burden.
Even so, Thursday's summit is very unlikely to mark a complete resolution of the crisis, as Merkel herself acknowledged earlier this week.
A second bailout may simply keep Greece afloat for a number of months before a tougher decision has to be made on writing off more of its debt.
Many economists believe the only way out of the euro zone's debt crisis in the long run may be closer integration of national fiscal policies -- for example, a joint euro zone guarantee for countries' bonds, or issuance of a joint euro zone bond to finance all countries.