Etihad Airways gets approval from DHS to carry electronic devices on flights to US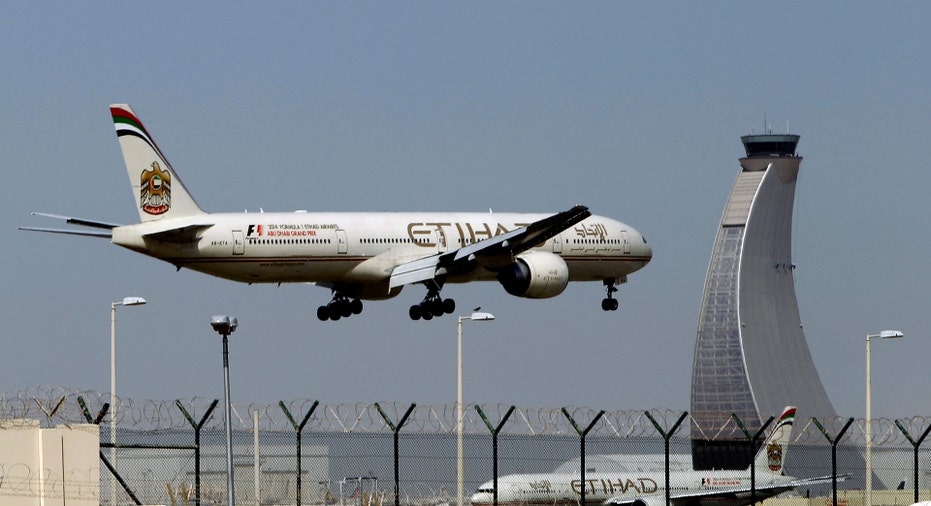 The U.S. Department of Homeland Security (DHS) granted approval to Etihad Airways to allow electronic devices inside cabins of aircraft on U.S.-bound flights from Abu Dhabi.
"This approval is verified with visual confirmation by TSA officials ensuring the measures have been implemented correctly and to the full extent required," Homeland Security spokesman David Lapan told FOX Business, adding that officials from the TSA will continue to regularly "observe operations" at the Abu Dhabi International Airport (AUH).
The airport has U.S. Customs and Border Protection (CBP) facility that allows passengers flying Etihad—the flag-carrier of the United Arab Emirates—to clear customs, immigration and security procedures in Abu Dhabi, instead of having to do so upon landing in America. Abu Dhabi International is the only airport in the Middle East and Africa to host the CBP facility, according to the AUH website.
It is the second-largest airport in the UAE, after Dubai International, with more than 23 million passengers using it for travel in 2015, according to the website, which anticipates the number to rise to more than 45 million within the "next 10 years."
Etihad currently operates 45 flights per week from Abu Dhabi to six destinations in the U.S., including New York and Washington, D.C.
"We commend Etihad for working swiftly to implement these additional measures. Their efforts are a model for both foreign and domestic airlines looking to adopt the new measures," Lapan said.
In March, Homeland Security Secretary John Kelly banned electronic devices from cabins of U.S.-bound flights from 10 airports in the Middle East and Africa, areas of high terrorist activity. Then, in late May, Kelly said he "might" consider increasing the ban to all international flights both into and out of America, during an interview on Fox News Sunday.
More recently, at the end of last month, Kelly's DHS announced new aviation security measures regarding all commercial flights to the U.S. The new steps required by the department include enhanced screening of electronic devices and more thorough vetting of passengers, and will be "both seen and unseen." If airlines refuse to comply with the new rules or take too long to adhere, they could face further restrictions, including banning electronic devices onboard or having their flights to the U.S. suspended.
"Security is my number one concern," Kelly said in a prepared statement to the Center for New American Security in late-June. "Our enemies are adaptive, and we must be too. A number of the measures we plan to put in place can be dialed up or down in a risk-based, intelligence-driven manner. And over the next several weeks and months, we'll work with our partners to ensure these measures are fully implemented."