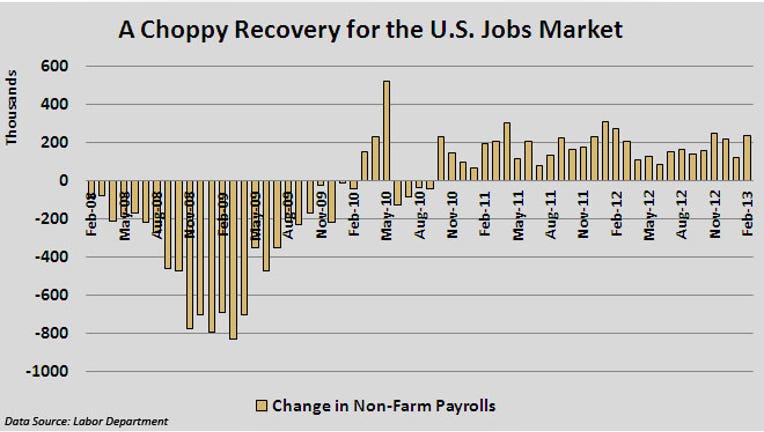 Employers added 236,000 jobs in February, far more than analysts had expected, offering some much-needed momentum to the long-sluggish U.S. labor market.
The headline unemployment rate dropped to four-year low of 7.7% last month, down from 7.9% in January.
Construction jobs led the way, as they have for several months, adding 48,000 jobs in February, according to figures released by the U.S. Labor Department. Recovery efforts from Superstorm Sandy in the fall have provided a lot of work in that sector.
Economists had forecast a gain of 160,000 with the unemployment rate predicted to hold steady at 7.9%.
The report could have gone either way, as some economists had suggested measures taken in Washington, D.C., in recent months could have impacted the report negatively. Sequestration, or $43 billion in mandated budget cuts in fiscal year 2013, kicked in last week, and a 2% payroll tax increase has taken a few hundred dollars a month out of most Americans' paychecks.
Neither seems to have had much impact, however.
With the positive gains in employment, combined with record highs in stock markets, many analysts are going to start calling for the Federal Reserve to pull back on its loose fiscal policies.
But that's not likely to happen any time soon.
"Overall, we think there is a long way to go before the Fed begins considering removing its super accommodative monetary policy," said Aichi Amemiya, an economist at Nomura Securities International.
Fed Vice Chair Janet Yellen said in a speech earlier this week that economic conditions still require an "accommodative" strategy and Fed Chairman Ben Bernanke took a similar position last week in testimony before Congress.
"The surprising improvement in the health of the labour market does not necessarily mean the Fed will start to look at an exit from its asset buying programme any time soon," said Chris Williamson, chief economist at research firm Markit. "A sustained run of stronger job creation than even the nice surprise seen in February is needed to generate a significant further reduction in the unemployment level."
The Fed has all but vowed not to raise interest rates until unemployment falls below 6.5% or inflation rises above 2.5%.
"What these numbers do tell us, however, is that the economy is moving in the right direction and is weathering the storm of various fiscal headwinds it is currently facing with considerable resilience," Williamson added.
In fact, this is the sort of momentum the Fed has been looking for for months, ever since pinning their policies to the struggling housing and labor sectors. The Fed's bond buying purchases, known as quantitative easing, plus historically low interest rates, are designed to stimulate mortgage lending in an effort to kick start the important housing sector.
Once that sector awakens, the impact will be felt across the economy, from the financial services to retail and construction.
The Fed would seem to be in a position to take some credit today for the positive jobs report.
Williamson noted, "These improving trends will reassure policymakers, but caution about the sustainability and robustness of the recovery will no doubt remain the key theme of the Fed's rhetoric."
Analysts say the economy needs to add about 250,000 per month over several months if the U.S. hopes to see that threshold 6.5% unemployment sought by the Fed.
One area of employment that has been consistently scaling back in recent months is government jobs, which fell by 10,000 in February after dropping by 21,000 in January.