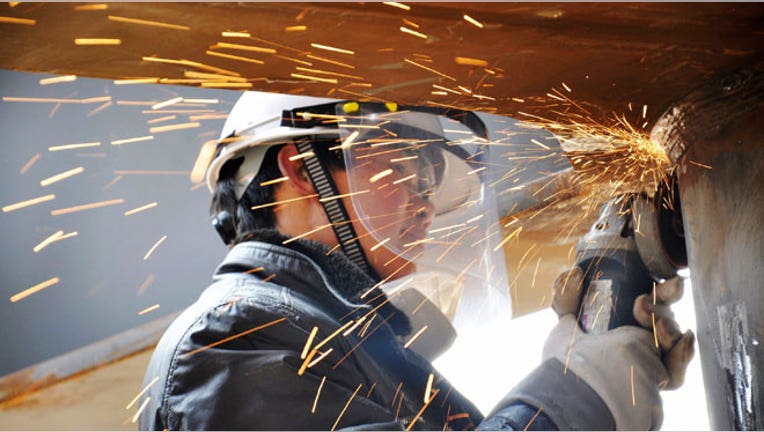 New York business conditions remain moderately expansive this month, according to data released Tuesday by the Federal Reserve Bank of New York, but area manufacturers are more wary about the future.
The Empire State's business conditions index edged down to 7.78 in February from 9.95 in January. The index has cooled since September.
Economists surveyed by The Wall Street Journal expected the latest index to be little changed at 10.0. A reading above zero indicates expansion.
The readings suggests "conditions for New York manufacturers improved modestly for a second consecutive month," the report said.
The New York Fed subindexes were mixed this month.
The new orders index dropped to 1.22 in February, indicating almost flat new demand, from 6.09 in January. The shipments index increased to 14.12 from 9.59.
The employment index slowed to 10.11 from 13.68. The workweek index remained in negative territory, although it rose to -1.12 from -8.42 in January.
Fewer area manufacturers are raising selling prices this month. The prices-received index slowed to 3.37 from 12.63. The prices-paid index edged up to 14.61 in February from 12.63 in January.
"Indexes assessing the six-month outlook, though generally positive, conveyed considerably less optimism about future business activity than in recent months," the report said.
The general business conditions expectations index for the next six months plunged to 25.58 this month from a high reading of 48.35 in January that was the best level in three years. The February reading is the lowest in more than two years, the report said.
New orders expectations dropped to 28.61 from 41.44. The employee expectations index fell to 24.72 from a multi-year high of 31.58 in January.
The New York Fed survey is the first monthly factory report released by regional Fed banks. The Philadelphia Fed will release its survey Thursday.
Economists use the Fed surveys as guideposts to forecast the health of the national industrial sector as captured in the monthly manufacturing report done by the Institute for Supply Management.