Economists: Chances of 4 percent U.S. economic growth this year low - poll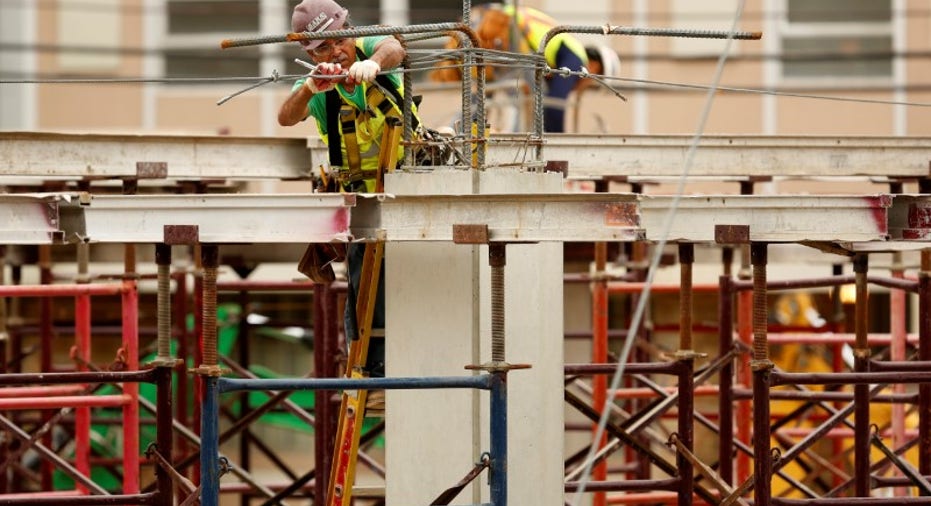 The U.S. economy will get a small boost in 2017 from President Donald Trump's planned deregulation and fiscal stimulus, a Reuters poll showed, but economists said the probability of achieving 4 percent growth was low.
The latest results showed a wide gap between economists, who were criticized for being too optimistic late in the last economic cycle, and market expectations that have sent bond yields and the U.S. dollar soaring and pushed Wall Street to record highs.
Trump has promised sweeping tax cuts for individuals and businesses, infrastructure spending, and deregulation to boost growth, which in the long recovery from the financial crisis has been weaker than in past expansions.
Investors have taken those proposals as a green light to buy stocks since the U.S. election, lighting a fire under financial shares in particular. But it is still not clear when the proposals will actually turn into legislation.
All of the 58 economists who answered an extra question said the likelihood of the Trump administration achieving its aim of 4 percent growth this year was low.
"The markets have gone ahead of themselves," said Ethan Harris, head of global economics at Bank of America Merrill Lynch. "They have not yet fully factored in the degree of the period of uncertainty we are about to enter here, and the risk that some of the policy proposals are very growth unfriendly."
Only two economists polled on economic growth have forecasts of more than 4 percent growth, and not until in the second half.
The consensus is for growth in a range of 2.1 percent to 2.5 percent in each quarter, unchanged since the January poll and barely moved since the poll taken after the U.S. election. Since then, the S&P 500 index has rallied about 10 percent.
The most accurate U.S. forecasters in Reuters polls last year are now predicting the best pace of growth this year to be 3 percent or below. The economy grew at a 3.5 percent annualized rate in the quarter preceding Trump's election victory.
"If we do the math, we can see how hard it would be to get to 4 percent growth," added Bank of America Merrill Lynch's Harris. "Certainly, there are elements of the Trump plan that would be stimulative, but there are others that could cancel those effects out and so the net impact may probably be a small positive."
BOOST TO PROTECTIONISM
A majority of economists said the top risks to the world's largest economy this year were protectionism and a strong dollar, which is up over 3 percent since Nov. 8.
Still, almost three-quarters of a smaller sample who responded to another question said Trump's future fiscal stimulus will underpin the economy and probably outweigh any drag from protectionism.
But the expected burst of government spending has not brightened the prospects for inflation and wages. Pay growth is forecast to average just 2.7 percent this year, down from the 3.0 percent expected in January.
Inflation is not predicted to reach the Federal Reserve's 2 percent target this year. The core PCE price index, the Fed's preferred inflation gauge, is expected to rise between 1.7 percent and 1.9 percent each quarter this year.
Several Fed policymakers have warned that with the economy at a late stage of the recovery cycle any expansive fiscal policy could result in a faster-than-expected pace of interest rate hikes.
Fed Chair Janet Yellen was due to speak to Congress on Tuesday for the first time since Republicans took control of the White House and both houses of the legislature with less clarity on the direction of U.S. economic policy than at any time of her three-year tenure.
The latest poll, including 20 large banks that deal directly with the Fed, showed the Fed is expected to keep rates unchanged at 0.50 percent to 0.75 percent when it meets March 14-15. Only 12 of 105 economists predicted a rate increase at that meeting.
Fed funds futures are pricing in a 13 percent probability of an increase by March. The chance for a June hike is higher at close to 50 percent.
The poll predicted a 25 basis point hike in the second quarter and a follow-up increase in the fourth quarter, taking the fed funds rate to a range of 1.00 percent to 1.25 percent.
(For other stories from the poll)
(Polling and analysis by Shrutee Sarkar and Sujith Pai; Editing by Ross Finley and Meredith Mazzilli)