Economist slams Biden for 'utterly appalling' claim about Bidenomics: 'A nightmare'
Heritage Foundation's EJ Antoni says Biden 'has turned the American Dream into a nightmare'
President Biden touted his economic policies on Tuesday and said that "Bidenomics" is about "restoring the American Dream," which one economist told FOX Business is not in line with today's economic reality.
"The way I look at it, Bidenomics is just another way of saying 'restoring the American Dream,'" Biden said Tuesday, adding that Americans "aren't just finding more jobs," they're finding "higher-paying jobs."
E.J. Antoni, a research fellow in regional economics with the Heritage Foundation's Center for Data Analysis, told FOX Business that Bidenomics has been anything but positive for the U.S. economy.
"Restoring the American Dream?" Antoni said. "That's an utterly appalling claim for an American president to make right now, given the state of the housing market. The American Dream is owning your own home, and the policies of this administration have made that all but impossible for nearly an entire generation of Americans."
BIDEN ADMIN NAMES FIRST 10 DRUGS SUBJECT TO MEDICARE PRICE NEGOTIATION
Antoni said the monthly mortgage payment on a median price home was $979 when Biden took office and is $2,075 today, a 112% increase in less than three years.
"An American family is now paying over $13,000 a year more for the same house," Antoni said. "The situation is no better for renters, who face record prices for their housing, too, with high rents making it difficult to save for a down payment. The Biden administration has turned the American Dream into a nightmare."
In response to Biden's comments on the economy, a social media account for the Republican National Committee responded by pointing out that wages are down since he took office.
"Since Biden took office, prices are up 16.9%, real wages are down ~3%," the post stated. "Mortgage rates are at their highest in 22 years, and Americans have lost $10,000+ paying for the increased cost of living."
BIDEN ADMIN'S LATEST HOME APPLIANCE CRACKDOWN: CEILING FANS
Desmond Lachman, a resident fellow at the American Enterprise Institute, told FOX Business that while wages are up and people are finding jobs, Biden "might come to regret having made Bidenomics the central part of his re-election campaign if indeed the economy succumbs to a recession."
"The key point that Biden is omitting to mention is that his excessively expansionary budget policies helped cause a surge in inflation to a multi-decade high," Lachman said. "That in turn has forced the Fed to slam on the monetary policy brakes, which could be setting us up for financial market strains and a hard economic landing next year."
Lachman said Biden is also "failing to mention the explosion in the country's debt level under his watch, which is going to constitute a strong headwind for the country's long-term economic growth prospects."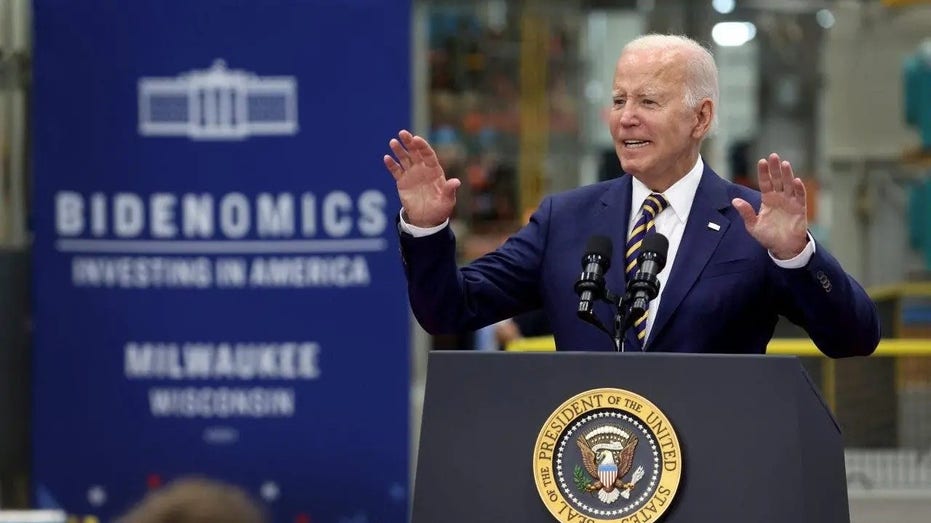 GET FOX BUSINESS ON THE GO BY CLICKING HERE
In a statement to FOX Business, the White House defended Biden's record on the economy.
"Oh no! We lost the Heritage Foundation?" White House assistant press secretary Michael Kikukawa said. "President Biden is growing the economy from the middle out and the bottom up — not the top down — with 13 million jobs created, unemployment below 4% for 18 months in a row, inflation down by more than two-thirds, and wages higher than before the pandemic."
"The American people strongly support Bidenomics: making big corporations and the rich pay their fair share, lowering costs for prescription drugs and insulin, restoring American manufacturing, and rebuilding our roads and bridges. And Americans want to turn the page on Congressional Republicans' failed trickle-down economics, with tax giveaways to rich special interests and cuts to Medicare and Social Security."