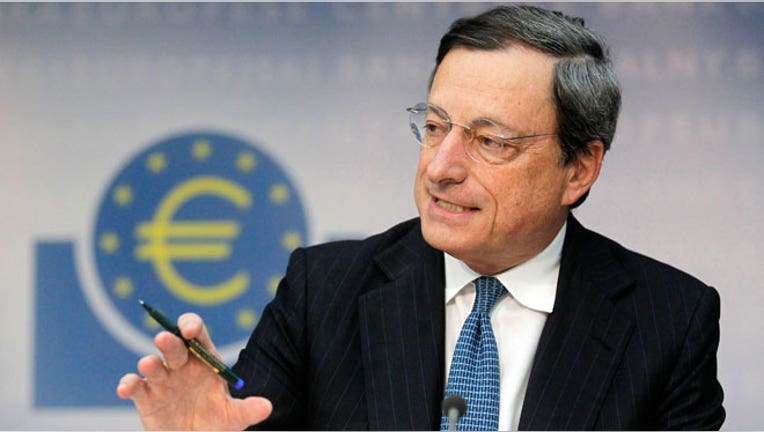 The European Central Bank cut its inflation and growth forecasts for the euro zone on Thursday and its president said things could get worse.
The bank pledged to beef up or prolong its bond-buying programme if the picture indeed darkened further, although no one on bank's Governing Council had argued for it now.
The ECB, which left interest rates unchanged in a widely predicted decision, said the chances of missing its medium-term inflation target had increased due to lower oil prices, weaker growth in China and other emerging markets and an appreciating euro.
Mario Draghi, the ECB president, said the bank's 1 trillion euro-plus asset-buying programme was working smoothly, if slowly, and the policy-making Governing Council was ready and willing to take further policy action but decided it would premature to do so now.
"In particular (the Council) recalls that the asset purchase programme provides sufficient flexibility in terms of adjusting the size, composition and duration of the programme," he told a news conference.
In one small change to the quantitative easing programme, the bank agreed to increase the share of any sovereign bond issue it could buy to 33% from 25%, provided that did not give it a blocking minority among bondholders.
The ECB forecast that inflation would be a mere 0.1% this year, 1.1% in 2016 and 1.7% in 2017, compared with its June projections of 0.3, 1.5 and 1.8% respectively.
It lowered its forecast for growth in the 19-nation euro area to 1.4% in 2015, 1.7% next year and 1.8% in 2017, from June projections of 1.5, 1.9 and 2.0% respectively.
The forecasts, meanwhile, were compiled based on data taken before Aug. 12 and did not take into account the latest sharp economic deterioration in China, which posed "downside risks to the projections themselves", Draghi said.
However, he said the council tended to think the weaker inflation outlook was due to "transitory effects" but would closely monitor all relevant factors.
Draghi confirmed the ECB had cut Emergency Liquidity Assistance (ELA) to Greek banks for the second time in two weeks.
The ECB launched its 60 billion euro ($68 billion) per month quantitative easing programme in March to boost consumer prices after a short bout of deflation. It is due to run until September 2016 but Draghi clearly hinted it could be extended.
The International Monetary Fund argued on Thursday that the ECB should consider extending QE, citing a rise in downside risks to the global economy due to a combination of threats, including China's slowdown and rising market volatility.
Oil prices are down 35% since May, iron ore is near an all-time low, the euro has unexpectedly firmed and Chinese growth, already a worry for the ECB in July, is slowing sharply. One of the bank's favoured gauges of inflation expectations, the five-year, five-year euro zone breakeven forward, has fallen below 1.7% from 1.85% in July.
'WILLINGNESS TO ACT'
A majority of analysts polled by Reuters expect the ECB eventually to extend or increase its asset purchases. Three quarters said the bank has simply run out of tools and that adjusting QE, scheduled to run until next September, is its only viable option.
"Even if it appears too early to expect them to announce additional quantitative easing, central bank President Draghi should consider a more dovish rhetoric in order to prevent inflation expectations from falling further," Credit Agricole said in a note to clients.
Peter Praet, the bank's chief economist, has said markets should not doubt the ECB's "willingness and ability" to act. But comments from other rate setters like Benoit Coeure and Vice President Vitor Constancio suggest the bank will want to take time before taking action and prefers steady policy for now.
EU Financial Affairs Commissioner Pierre Moscovici played down the risks, predicting in an interview with Italian newspaper La Stampa that growth would become more robust.
"We have seen how monetary authorities, above all in China, have reacted well and have the tools to continue to do so," he said in the interview, published on Thursday.
"In such a context we can benefit from low energy prices, growth-friendly interest rates, while reform efforts by European governments are bearing fruit and create better conditions for growth."
Draghi highlighted some of the positive impacts of QE, even though inflation has stayed below  2% since early 2013.
Lending to euro zone firms in July grew at the fastest pace since early 2012, unemployment fell and the composite purchasing manager's index unexpectedly rose, offering a glimmer of hope that growth may be picking up after a lacklustre second quarter.
($1 = 0.8862 euros)
(Additional reporting by Silvia Aloisi in Milan; Writing by Balazs Koranyi and Paul Taylor; Editing by Jeremy Gaunt)