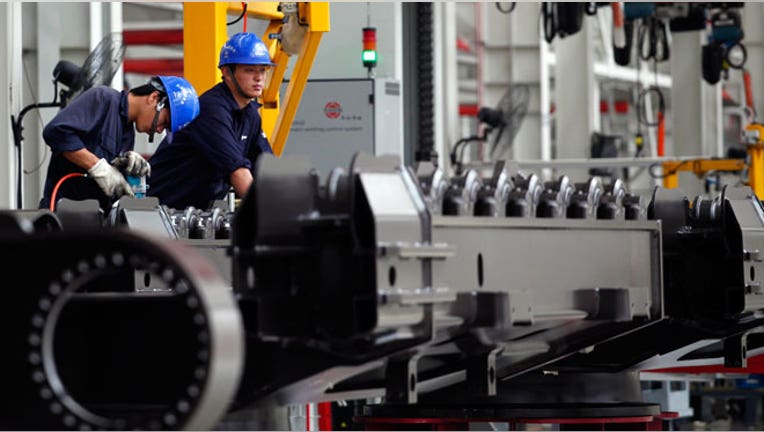 Demand for big-ticket manufactured goods fell last month, but underlying figures suggest business investment is slowly starting to pick up.
Orders for durable goods--products such as power saws and hot tubs designed to last at least three years--declined a seasonally adjusted 0.5% in April from a month earlier, the Commerce Department said Tuesday. March durable goods orders rose 5.1%, an upward revision from a previously reported 4.4% increase.
Economists surveyed by The Wall Street Journal had expected overall orders to fall 0.1%.
Figures for durable goods are volatile and subject to large revisions, but the broader trend suggests demand may be stirring after several weak months. Compared with a year earlier, overall orders declined 1.3% in April.
Last month's pickup reflected a drop-off in orders for aircraft. Excluding the volatile transportation sector, orders climbed 0.5%.
Meanwhile, a key measure of business investment rose for the second consecutive month, suggesting companies are starting to slowly accelerate their investment plans. Orders for nondefense capital goods excluding aircraft--a proxy for company spending on equipment and software--increased 1% in April. The March reading was revised up to 1.5% from a previously reported 0.1%
The year-over-year decline in new orders likely reflects cautious spending by companies in the face of lower oil prices, a stronger U.S. dollar and weak demand overseas. Energy firms in particular have laid off workers and scaled back investment this year. Meanwhile, the stronger dollar is making U.S. products more expensive for customers abroad, which is hurting exporters.
A drop-off in business investment had held back economic growth in recent months.
Nonresidential fixed investment declined 3.4% in the first quarter, compared to a 4.7% pickup in the fourth quarter and 8.9% increase in the third quarter, the Commerce Department said last month. That dragged down the rate of gross domestic product to just 0.2% in the first quarter.
Many economists now believe economic output shrank in the first quarter, though some attribute the expected contraction to unusually severe winter weather and disruptions related to a West Coast port strike.
Other reports point to weaker growth for the factory sector in recent months, suggesting the economy is struggling to rebound after slowing in the early months of the year.
A key purchasing manager's index was 51.5 in April, the same reading as in March, according to the Institute for Supply Management. U.S. industrial production fell for the fifth consecutive month in April, while manufacturing output was flat, the Federal Reserve said earlier this month.