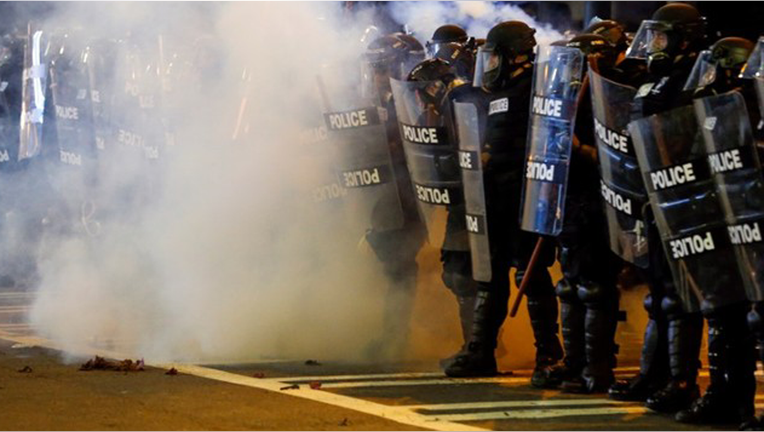 Charlotte's big businesses are moving to keep their employees safe following the second night of violence in the city.
Charlotte, which is the second-largest banking sector after New York City, is moving to keep employees safe and secure.
Wells Fargo (NYSE:WFC), the nation's third-largest bank, said employees who work in the company's uptown Charlotte headquarters are not required to report to work on Thursday due to the state of emergency.
"Team members are being asked to work from home or work from alternate locations if they are able," a Wells Fargo spokesperson told FOXBusiness.com. Employees who are unable to work outside Wells Fargo's offices will not be required to take paid time off.
Fifth Third Bancorp (NASDAQ:FITB) also has asked employees at its Charlotte building to work from home. A spokesperson for the Cincinnati-based company added that Fifth Third closed its branch on Charlotte's Tryon Street. In total, approximately 200 employees were affected.
BB&T (NYSE:BBT) said its regional headquarters in Charlotte is operating under normal business hours, although it gave associates the option to work from home. BB&T's downtown Charlotte branch opened normally but will close early at 3 p.m.
More from FOXBusiness.com
First Citizens BancShares (NASDAQ:FCNCA) closed its Charlotte office on South Tryon Street and its drive-through retail location on South Church Street, according to a spokesperson. Associates who work at those two offices have relocated to other offices in the city.
The No. 2 bank in the U.S., Bank of America (NYSE:BAC), didn't immediately respond to a request for comment. Bank of America is headquartered in Charlotte.
Along with being a major U.S. financial hub, Charlotte is also home to Duke Energy (NYSE:DUK), the nation's largest electric power company. Headquartered in downtown Charlotte, management is telling 5,500 of its non-essential employees to work from home.
"We are watching the situation very closely," Duke Energy's Tom Williams told FOXBusiness.com. Duke oversees 2 million square feet throughout downtown Charlotte as well as 11 nuclear units in and around the Carolinas. While Duke commands its own security force it is working closely with local law enforcement to monitor the ongoing developments said Williams.
Political unrest in communities nationwide has become the norm over the past 12 to 24 months, in most cases sparked by police shootings or arrests of African-American individuals. Last April, riots rocked the city of Baltimore following the death of Freddie Gray, a young black man who died while in police custody.
Along with the human toll, there is an economic impact. Companies in Baltimore including CVS (NYSE:CVS) and T. Rowe Price (NASDAQ:TROW) were forced to close during the unrest.
In the prior year, the fatal shooting of Michael Brown in Ferguson, Missouri, gained national attention. Protestors locally and those that traveled to the area forced police to establish curfews among other methods to maintain order for months following the August incident.