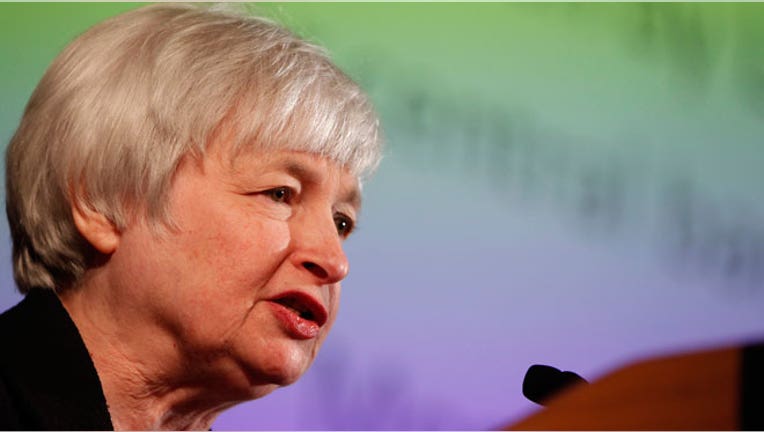 The doves won again at the Federal Reserve's September meeting.
For several weeks over the summer, it seemed the Fed's inflation hawks were gaining traction, and the internal debate within the central bank over when to raise interest rates was moving in favor of those who want to raise rates sooner rather than later.
But a lousy August jobs report probably contributed to a shift in that thinking. In fact, the Fed has said for months labor market statistics will play a key role in determining future Fed monetary policy.
Instead, the Fed's statement reiterated the FOMC's dovish plan to maintain its accommodative policies for the foreseeable future. That move reaffirmed concern for some that raising rates too soon could cause the economic recovery to once again stumble.
Stock markets initially fell after the 2 p.m. release of the FOMC statement, but quickly recovered and shot higher on the overall dovish message the committee conveyed.
Now, the debate  hinges on four words: "For a considerable time."
There have been months of positive economic data in the first half of 2014 ranging from housing to consumer sentiment to labor markets. Because of that, it was widely speculated the policy-setting FOMC might remove those four words from its forward guidance released Wednesday at the end of the Fed's two-day September meeting.
But it didn't. The phrase remained.
Once again the Fed statement read: "The Committee continues to anticipate … that it likely will be appropriate to maintain the current target range for the federal funds rate for a considerable time after the asset purchase program ends, especially if projected inflation continues to run below the Committee's 2 percent longer-run goal, and provided that longer-term inflation expectations remain well anchored."
In other words, the Fed won't be raising interest rates until well after its monthly asset purchase program ends, likely next month. As was widely expected, at the September meeting the Fed kept interest rates at their near-zero range and cut its monthly bond purchases by another $10 billion to a total of $15 billion. The plan for now, it seems, is to end the asset purchase program altogether in October.
No one knows precisely what "a considerable time" means, but a consensus of Fed economists forecasted a rate hike will likely happen in the middle of next year.
By keeping the phrase in its September statement, the Fed is signaling it believes the economy is not yet fully ready for higher borrowing costs. After rates go up, that means it will be more expensive to buy a car or a home, or for a small business to take out a loan to expand.
Yellen and her fellow doves, including new Fed Vice Chair Stanley Fischer, have repeatedly pointed to stubborn slack in labor markets as evidence the economy isn't ready for higher rates. The August jobs report showed weak job creation: Just 142,000 new jobs created last month, compared to estimates calling for 225,000 new jobs. More than that, though, the report also showed no significant gains in wages, or in the number of people who have joined the workforce -- factors that undoubtedly justified Fed concern.
"The labor market has yet to fully recover," Yellen said during her press conference Wednesday following the release of the FOMC statement. "Too many people who want jobs still can't find them."
Meanwhile, Fed 'hawks' such as Kansas City Fed President Esther George and Philadelphia Fed President Charles Plosser have made no secret of their beliefs that rates should go higher sooner – possibly in the first quarter of 2015 -- as a deterrent to asset bubbles and runaway inflation.
Had the phrase been removed from the September statement, the change would have been interpreted as a sign the Fed was growing more hawkish. But that wasn't the case. Not this month anyway. Still, some analysts believe the phrase won't last much longer.
"Time is running quite short, we suspect, on this 'considerable time' language. Specifically, we think that today's message may be the last Fed statement to include that language, which has been included in the last several post-FOMC meeting statements," Patrick Maldari, senior investment manager at Aberdeen Asset Management said.
Maldari went on to say because the bond-buying program is set to conclude in October, the Fed will have to alter its comments at that time.
"The U.S. economic recovery seems to be on firmer ground based on economic releases in recent months, and we believe the Fed is concerned about complacency among investors," Maldari  said.