Donald Trump Weathers Stormy Month on Campaign Trail, WSJ/NBC News Poll Shows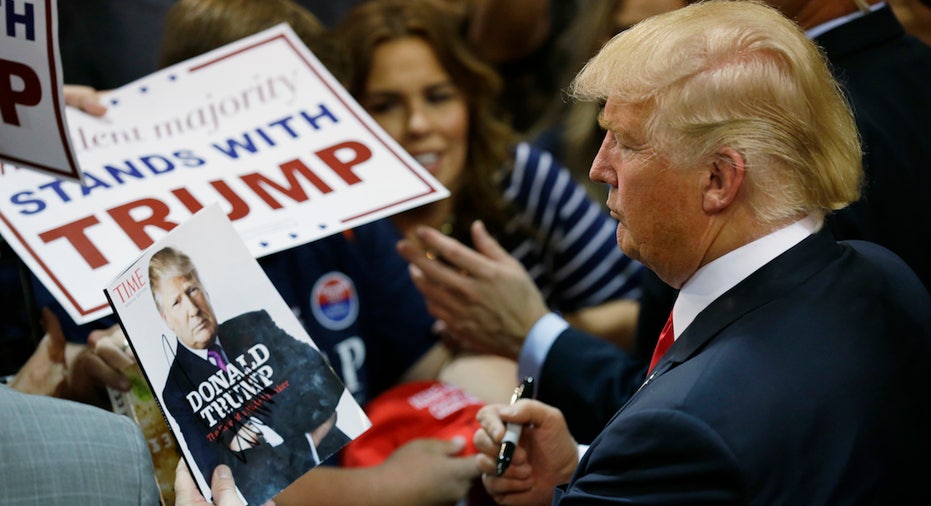 Republican Donald Trump emerged relatively unscathed from one of the rockiest phases of his campaign, lagging rival Hillary Clinton by 5 percentage points but essentially tied when third-party candidates are included, according to a new Wall Street Journal/NBC News poll.
The survey of 1,000 registered voters showed Mrs. Clinton leading 46% to 41% in a head-to-head matchup. Mrs. Clinton's number held steady over the past month, while Mr. Trump's standing dropped by two points since May. The survey was conducted June 19-23, a period of tumult within his campaign.
Mr. Trump over the past week fired his campaign manager and faced criticism from within his own party over weak fundraising numbers and lack of organization. Earlier in the month, he was the target of bipartisan ire for his focus on a federal judge's ethnicity and his reaction to the mass shooting in Orlando, Fla.
"Donald Trump has had the worst month one can imagine, but Clinton's negatives are so high the net impact on the ballot is almost invisible," said Bill McInturff, a Republican pollster who conducted the survey with Democratic pollster Fred Yang.
In a worrying sign for the former secretary of state, her advantage largely vanished when voters also get a choice of third-party candidates.
Mrs. Clinton's lead fell to one point, at 39% to Mr. Trump's 38%, when Libertarian candidate Gary Johnson and Green Party candidate Jill Stein are part of the mix. With both Mrs. Clinton and Mr. Trump saddled with low approval ratings, voters seem to be looking for alternatives. Together, Mr. Johnson and Ms. Stein were the choice of 16% of those who took part in the survey.
A spokesman for Mr. Johnson said the Libertarian ticket expects to be on the ballot in all 50 states. A Green Party spokesman said the party expects to do at least as well as 2012, when Ms. Stein was on the ballot in 37 states.
As tight as the poll numbers indicate the race may be, Mrs. Clinton can point to some heartening signs.
She commanded the support of 78% of people who backed her rival in the Democratic primaries, Sen. Bernie Sanders (I., Vt.). That number could grow to the extent she and other Democratic allies are able to unify the party coming off an unexpectedly competitive primary race.
One holdout for now is Mr. Sanders himself. Though he said he would vote for Mrs. Clinton, he has withheld his endorsement. Last week, his campaign complained that Clinton allies on a Democratic platform drafting committee didn't take a harder stance against a Pacific free-trade pact that President Barack Obama is pushing.
Mr. Trump has made overtures to Sanders supporters, seeing an opening among voters who never warmed to Mrs. Clinton. But the survey showed only 10% of Sanders supporters favoring Mr. Trump.
With the general election in the early stages, voters are deeply divided about the two top candidates. Men and women, whites and minorities, city dwellers and rural voters see Mr. Trump and Mrs. Clinton in starkly different terms.
The survey showed a distinct gender split. Mrs. Clinton enjoying a 17-point lead among women, while Mr. Trump has a 10-point advantage among men.
The Clinton campaign has sought to capitalize on what it sees as Mr. Trump's vulnerability among women voters. After Mr. Trump accused Mrs. Clinton of playing the "woman card" in April, Mrs. Clinton's campaign launched a fundraising appeal, inviting supporters to purchase their very own pink "woman card" suitable for display on refrigerator doors.
Mrs. Clinton's strength is deepest in the cities. She led Mr. Trump by nearly 30 points in urban areas, while Mr. Trump was ahead by about the same margin in rural parts of the country.
The split along racial lines is especially pronounced. Mr. Trump was the choice of only 22% of Hispanic voters, meaning he is running behind the previous Republican nominee, Mitt Romney, who captured 27% of the Hispanic vote in losing to Mr. Obama in 2012.
Mr. Trump has made immigration a focus of his campaign. He has vowed to build a wall on the nation's southern border to prevent illegal immigration. More recently, he has said Gonzalo Curiel, the federal judge presiding over lawsuits surrounding Trump University, has a conflict of interest because of his Mexican heritage. The judge was born in Indiana to Mexican immigrants.
Mrs. Clinton's support among Hispanics stood at 69%.
Overall, Mr. Trump led 49% to 37% among white voters, while Mrs. Clinton led 73% to 16% among nonwhites.
"The fact that Donald Trump had a really bad period and he went down just a few points indicates that it will be difficult for either candidate to break out given the hard-set division in the electorate," Mr. Yang said.
The poll's margin of error was plus or minus 3.1 percentage points.
Write to Peter Nicholas at peter.nicholas@wsj.com
(END) Dow Jones Newswires
June 26, 2016 09:00 ET (13:00 GMT)
Copyright (c) 2016 Dow Jones & Company, Inc.