Donald Trump Attacks Hillary Clinton's Economic Policy in Speech to Home Builders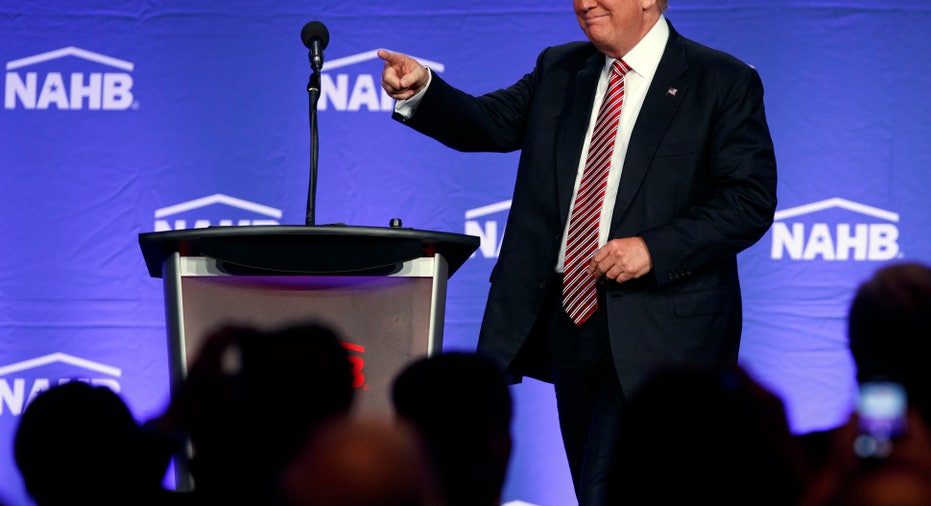 Republican presidential nominee Donald Trump promised a home-building group "big league" tax cuts and "massive" cuts in regulation and said Democratic rival Hillary Clinton would spoil the economy, delivering a prebuttal of her economic policy speech planned for later on Thursday.
Reading off a script at times and holding up a chart that showed home ownership declining, Mr. Trump recited a litany of unfavorable economic data on employment, wages and the costs of government regulation. He said Mrs. Clinton would hike taxes on the middle class, though she has said she will not raise taxes on families earning less than $250,000.
"By the way, she's proposing a big [tax increase] today in her speech, her teleprompter speech," said Mr. Trump, who used teleprompters when he gave his own economic policy speech Monday in Detroit. He added, "Hillary Clinton wants to tax and regulate our economy to death."
Speaking in Warren, Mich., on Thursday afternoon, Mrs. Clinton is expected to attack Mr. Trump's tax cut plan as a boon to his own companies and other wealthy Americans.
Mr. Trump's speech to the National Association of Home Builders comes in the middle of a two-day swing through the nation's largest swing state that began in Sunrise Wednesday night and will end Thursday in Kissimmee near Orlando. Polls show a tight race in the state, which Mr. Trump considers his second home because of his longtime residence and private club in Palm Beach and golf club near Miami.
He said the Clinton campaign was "getting a little bit nervous with the hundreds of millions they're spending on ads."
"I haven't spent anything...That's okay," he said. "We sit back and wait."
The pro-business crowd of hundreds of people was largely subdued except when Mr. Trump decried government red tape and joked about Mrs. Clinton giving short speeches and going home "to sleep." And they responded with hearty applause when he wound down his speech with some personal recollections about his father, who made his fortune in real estate.
"I used to sit at his knee with blocks and listen to my father negotiate over the phone with the plumbers and the sheet rockers and the electricians," he said. "I learned so much, so much, from a home builder. There is no greater thing you can do."
Over the past four years, home prices have recovered at a rate that has surprised most economists and the housing industry, which in turn has driven prices up. But construction of new single-family homes remains mired at historically low levels. And even though home sales have returned to their highest levels since the housing bust accelerated in 2007, many younger households are opting to rent instead of own, pushing the home ownership rate to its lowest level since the 1960s.