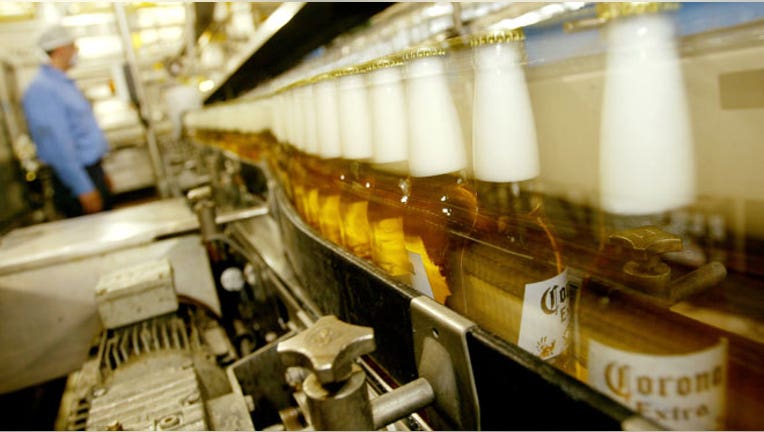 U.S. antitrust regulators filed suit on Thursday to block brewing behemoth Anheuser-Busch InBev's (NYSE:BUD) $20.1 billion deal to take full control of Corona maker Grupo Modelo, fearing the deal will hurt competition and raise prices on consumers.
The proposed transaction would have made AB InBev, already the world's largest brewer, even bigger by marrying its Budweiser and Bud Light brands with Modelo's Corona Extra and Modelo Especial.
The DOJ decision to seek a court injunction to block the deal sent shares of Constellation Brands (NYSE:STZ), which planned to sell its 50% stake in the Mexican brewer to Anheuser-Busch InBev, plunging more than 20% after hitting a circuit breaker.
The U.S. said it believes the transaction would "substantially lessen competition" in the $80 billion U.S. beer market as a whole as well as 26 metropolitan areas across the country. The DOJ warned the combination could result in consumers paying more for beer, having fewer products to choose from and could hamper innovation in the industry.
"We believe the acquisition is a bad deal for American consumers," Bill Baer, assistant attorney general in charge of the DOJ's antitrust division, said on a conference call with reporters. "If you have a very slight price increase as a result of this deal, American consumers are going to pay as much as billions more. It is a pocketbook issue."
The DOJ said that AB InBev and Modelo together control about 46% of the annual U.S. beer sales, leaving No. 2 brewer MillerCoors with about 29% of nationwide sales.
Last June Anheuser-Busch said it would pay $20.1 billion in an all-cash deal to buy the 50% of Modelo that it didn't already own.
"We remain confident in our position, and we intend to vigorously contest the DOJ's action in federal court," AB InBev said in a statement.
Constellation Brands said in a separate statement it is "disappointed" with the DOJ decision as the deal would further establish Modelo importer Crown Imports "as a more independent and competitive entity and solidify its position as a major player in the U.S. beer industry."
Given the DOJ lawsuit, Constellation said it no longer expects the transaction to close in the first quarter, but looks forward to "an expeditious resolution."
Constellation was recently trading down 19.20% to $31.65, leaving it about 10.5% in the red on the year.
Shares of AB InBev also tumbled, losing 6.76% to $87.78 in Thursday afternoon action.
U.S. regulators see Modelo as a "particularly important competitor" in the American beer market because it has been effective at pressuring AB InBev to maintain or lower prices, especially in certain U.S. regions.
The lawsuit cites an internal AB InBev strategic pricing plan that provides the highest possibility of "sustaining a price increase" and "ensuring competition does not believe they can take share through pricing."
The documents acknowledge that Modelo has "put increasing pressure" on AB InBev competitively and is at odds with the larger brewer's pricing strategy.
DOJ officials believe that allowing AB InBev to take full control of Modelo "would eliminate the existing competition between ABI and Modelo, further concentrating the beer industry, enhancing ABI's market power and facilitating coordinated pricing between ABI and the remaining large players."