DNC Donations Scandal May Go Beyond Boston Law Firm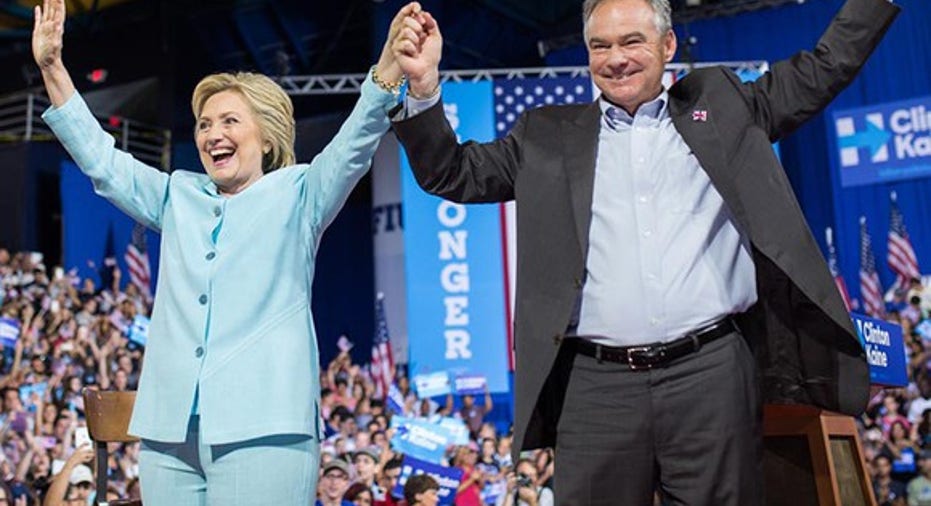 The Democratic National Committee, already engulfed by the WikiLeaks Donna Brazile scandal, is again on the defense Wednesday as some Democratic Senate candidates in tight races scramble to return thousands of dollars in campaign donations following allegations of a massive straw-donor scandal, which Republicans say may be wider than initial reports.
Despite the fanfare, one high profile Democrat, Senator Elizabeth Warren (D-MA), says she won't return the donations until it is proven that they were given illegally.
The Campaign Legal Center, which represents the public interest, confirmed to FOXBusiness.com, it has filed a complaint with the Federal Election Commission over straw-donor practices at a boutique Boston firm, Thornton Law.
Viveca Novak, who reported the story for the Center for Responsive Politics, told FOXBusiness.com this may not be an isolated case and is likely not the only one of employees being reimbursed for contributions to candidates of both parties.
"We've received emails since the story was published that employees at other companies were pressured to make donations and were told they'd be reimbursed," she said. "We always thought it was a much bigger problem, but it is hard to flush out."
The "straw-donor scheme" was first reported by the Center for Responsive Politics and the Boston Globe's Spotlight Team, the investigative arm of the paper that won a Best Picture Oscar for 'Spotlight,' which chronicled its reporting of the Archdiocese of Boston and the cover-up involving numerous sexual abuse cases by Catholic Priests.
A straw donor is a person who illegally uses someone else's money to make contributions under his own name. In this case, according to Novak, the partners at Massachusetts-based Thornton Law Firm were using the company's money to make donations under their own individual names. Campaign finance rules prohibit entities like Thornton from giving more than $2,700 to any singular candidate, but the use of straw donors allows the firms to illegally circumvent this rule.
The small law firm, which boasts just ten partners, was inexplicably among the country's largest dollar for dollar political donors, raising red flags for the Boston Globe's investigative team. Brian Kelly of NixonPeabody, which represents the Thornton Law Firm, said in a statement to FOXBusiness.com, "We would like to make it clear that the Thornton Law Firm has complied with all applicable laws and regulations regarding campaign contributions. Ten years ago, it hired an outside law firm to review how it wanted to handle donations to politicians. It was given a legal opinion on how it should structure its program and then it hired an outside accountant to review and implement the program. It was a voluntary program which only involved equity partners and their own personal after tax money to make donations."
After some digging, the Globe reporters, along with the Center for Responsive Politics, realized that something was in fact off. Between 2010 and 2014, three of the firm's partners gave $1.6M to mostly Democratic candidates. During that same period of time, those same three partners received $1.4M in bonuses from the law firm, in what appears to be reimbursement for their hefty donations.
The Massachusetts GOP has been one of the first to issue a call for an investigation by the FEC into the reports of illegal, hidden donations.
"We did call for an investigation. I think it has raised a lot of questions for voters, and the fact that these Democrats felt it important to return the money certainly indicates that there's the appearance of a problem. It certainly looks that way to voters," Terry MacCormack, Communications Director for the Massachusetts GOP, told FOXBusiness.com.
Republicans argue it could call into question the efficacy of some very narrow Senate races across the country. Democrats have raised more than $276 million for Senate races throughout this election cycle, compared with $256 million raised for Republican Senators.
Senator Elizabeth Warren has reportedly received an estimated $130,000 from the Thornton Law Firm over the past decade. Critics are surprised by her decision to keep the donations.
"Democrat politicians like Sen. Elizabeth Warren have spent their careers decrying hidden money in politics, yet Warren refuses to return the contributions she received in connection with this Democrat fundraising scheme that appeared to funnel hidden money to candidates," Kirsten Hughes, Chairman of the Massachusetts Republican Party, said in a statement.
Senator Warren's office did not immediately return FOX Business' request for comment.
Judith Ingram of the Federal Election Commission tells FOXBusiness.com there is a lengthy process to review these complaints for merit and next steps.