Democrats take a page out of Trump's handbook with new trade policies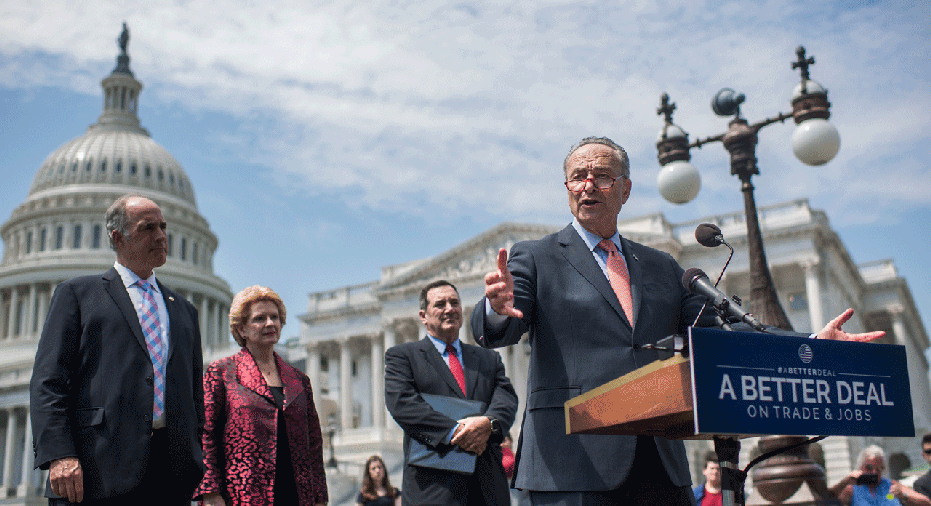 Senate Democrats on Wednesday unveiled a plan to "level the playing field" for American workers by creating new trade deals that put domestic workers first as part of their "A Better Deal" agenda, employing language reminiscent of President Donald Trump's campaign rallies.
"When put on a level playing field, American workers are the most competitive in the world. However, America's trade policies are not working for many working families and small businesses," Wednesday's release read.
From "challenging unfair trade practices by foreign countries, like China" to renegotiating NAFTA to ensure "greater market access for U.S. exports, especially agricultural" to instituting "Buy America requirements for all taxpayer-funded projects" and cracking down on currency manipulation, the Democrats have honed in on many of the issues average Americans appeared to show concern about in the 2016 election cycle where trade is concerned.
While the Trump administration has committed to renegotiating the North American Free Trade Agreement, ordered investigations into unfair trade practices and currency manipulation, Senate Democrats claimed Wednesday the Trump White House has been all talk, no action.
"The problem is President Trump has talked a good game and done virtually nothing on trade but study it," Senate Minority Leader Chuck Schumer (D-N.Y.) said during a press conference on Wednesday. "So we need action and if President Trump wants to work with us to get these things done, good, because we need a better deal for American workers, period."
Last week, the Democrats unveiled their "A Better Deal" economic agenda, which advocates for higher wages, better jobs, lower every day expenses and retraining the workforce to equip employees with the tools they need to succeed in a changing labor market.