Defense Industry Layoffs to Roil Election, Stocks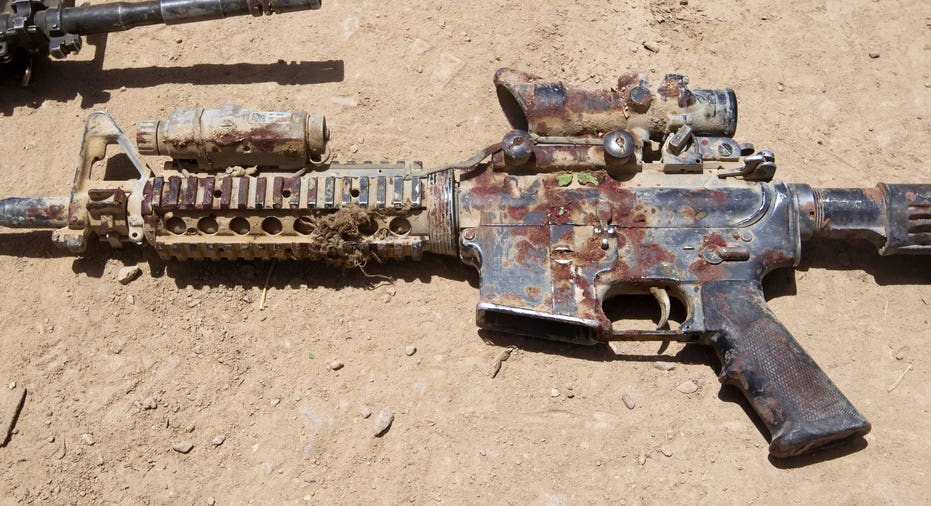 For defense industry workers, the fiscal cliff everyone is talking about may come sooner than expected.
And Moody's Investors Service is warning that cliff won't be good for certain defense stocks, although it maintains a stable outlook on the sector.
Defense companies are preparing for the automatic U.S. budget cuts coming January 2, 2013, an estimated $52 billion per year, or 10% of the budget, over the next decade.
That means the U.S. defense and aerospace industries, which employs about 1 million workers, are already contemplating job cuts, like the job layoffs Lockheed Martin (NYSE:LMT) is now warning about.
Under a 1988 law, the Worker Adjustment and Retraining Notification (WARN) Act, defense companies must notify workers 60 days in advance of plant closings and mass layoffs. That puts those layoffs on November 2, two days before the presidential election.
And that's not counting small business layoffs; Boeing (NYSE:BA) estimates it supports 1.3 million supplier-related jobs. The National Association of Manufacturers warns nearly one million jobs could be lost by 2014.
Automatic across-the-board budget cuts would approximately double the amount of the $487 billion top-line reduction already reflected in defense funding over a 10-year period, with another $52 billion reduction in defense spending coming in the government's fiscal year 2013.
The U.S. is by far the world's largest defense market, representing nearly half of global spending.
U.S. spending cuts "are a credit negative development for the industry," Moody's says. "With the U.S. fiscal deficit still an unresolved (and growing) problem, we remain resolute in our belief that the big cuts in defense budgets have yet to been seen, and may start to show up in the 2014-2015 timeframe after a likely more turbulent-than-normal political environment in 2013."
It adds: "We do not expect a major impact from cuts in defense industry spending until late in our 12- to 18-month outlook period."
Spending for new weapons, research and development programs, and upgrades for older weapons, could get slashed. Moody's estimates that the U.S. military budget "is going to shrink about 25% over the next five years," all in the context of post-World War II highs in spending after the Sept. 11 attacks, and the wind-down of the wars in Iraq and Afghanistan.
Defense budget cuts mean defense stocks could get stung next month, as top executives of publicly-traded defense companies are required by SEC regulations to begin disclosing projected business losses or significant downturns.
Defense companies are expected to downgrade their forecasts in July's quarterly earnings calls, potentially driving down stock prices.
"Defense contractors are grappling with cuts in defense spending in the US and Europe that will curtail margin expansion," Moody's said in a report last month, adding it has a negative outlook on DynCorp International, United Technologies Corp., Orbital Sciences Corp., and GeoEye.
Moody's says defense companies that face the most potential margin pressure are experiencing "operational inefficiencies" which could get worse as "they scale back or wind down programs."
It says: "Contractors will lose economies of scale and also face severance costs and possible charges to earnings" for shutting plants and factories.
"Earnings and cash flow will decline for some contractors as the industry wrestles over a smaller pie," it adds.
However, Moody's notes a silver lining here.
It has a stable outlook for the global aerospace and defense industry due to "positive trends in commercial aerospace," in the face of softening global defense spending.
It adds: "Boeing and Airbus are ramping up production to satisfy record-setting order books that will produce strong operating profit growth over the next 12 to 18 months."
Defense companies with solid commercial operations like Boeing and Textron are in a healthy position, Moody's says.
And it notes: "US military outlays at just north of 40% of estimated global defense expenditures" still "remain near post-World War II highs."
It says it expects the aerospace and defense industries combined will post a decent 6-8% increase in operating profit during its 12- to 18-month outlook period, despite its expectation that global defense spending will be down 5% to 10% through this time frame.
Moody's also notes "the offsetting benefits of rising spending in China, India and the Middle East." The defense sector reports profit margins of about 10% on average, "relatively modest," yet strong, says Moody's.
Defense contractors now are concerned about the degree and timing of future spending cuts, creating lots of uncertainty in the sector. The White House Office of Management and Budget has not yet provided guidance for how sequestration will be carried out, industry execs say.
On top of that, the $613.9 billion defense budget proposal President Barack Obama submitted to Congress in February includes savings "mostly from reductions that had already been identified and modest slowdowns in the progress of some high-profile programs," Moody's adds.
That means "more substantial cuts would not be implemented until 2014 at the earliest."
Moody's says: "One thing is clear: the era of ever-rising US defense spending is over."