Debt Talks Collapse, Republicans Walk Out Over Taxes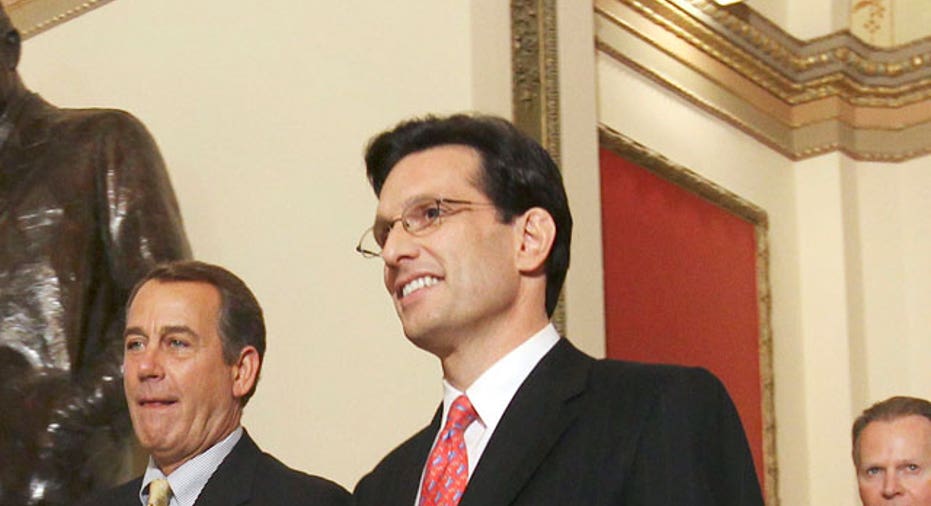 U.S. Republicans walked out of budget talks Thursday, setting up a showdown between President Barack Obama and House Speaker John Boehner over how to extend U.S. borrowing and avoid a looming debt default.
Vice President Joe Biden and a handful of lawmakers had been working on a budget-cutting deal that would allow Congress to sign off on continued borrowing, but Republicans quit unexpectedly after saying the group had reached an impasse over tax increases sought by Democrats.
``It is time for the president to speak clearly and resolve the tax issue,'' said House Majority Leader Eric Cantor, who had represented House Republicans in the talks. Republican Senator Jon Kyl also pulled out.
An agreement would give lawmakers political cover to raise the $14.3 trillion debt ceiling before Aug. 2, when the Treasury Department has said it will run out of money to pay the country's bills.
Default could occur if Congress does not act by then, which could push the United States back into recession and send markets plunging around the globe.
Obama will now probably have to hammer out a deal with Boehner, the top Republican in Washington, and Senate Democratic Leader Harry Reid -- the same trio that took the government to the brink of a shutdown in an earlier budget battle this spring.
``I think it's in the hands of the speaker and the president, and sadly, probably me,'' Reid said at a news conference. No initial meeting has been set, he said.
Biden said his group has always intended to hand the baton to Obama and Boehner.
``The next phase is in the hands of those leaders, who need to determine the scope of an agreement that can tackle the problem and attract bipartisan support,'' he said in a statement.
Boehner said talks could resume if Democrats took tax hikes off the table, but they showed no sign of backing off.
So far, the possibility of default has not affected bond markets as investors focus on other news and assume Washington will ultimately strike a deal -- probably at the last minute.
``This is going to look ugly for the next few weeks,'' said Greg Valliere, a political analyst for investors at Potomac Research Group.
DEAL NOT NECESSARILY OUT OF REACH
Obama and Boehner have tried to establish a personal rapport since this spring's budget battle. The two golfed together Saturday and met at the White House Wednesday.
Cantor, who was building a similar bond with Biden, gave no indication after Wednesday's session that talks had hit a wall.
His withdrawal caught Democrats by surprise, coming as Obama met with House Democratic leaders at the White House before the afternoon's scheduled negotiating session.
``It appears that Cantor has obviously had enough of these negotiations and Kyl followed suit, but there has been progress made. It's not as if nothing has happened,'' Reid said.
Negotiators had reached tentative agreement on more than $2 trillion in cuts covering wide swaths of the federal budget, according to an aide familiar with the talks, affecting health programs, annual spending, benefits like farm subsidies and tuition aid, and automatic limits on future spending.
But Democrats would not relent on taxes, the aide said.
Republicans have said from the outset that any tax increases will not pass the House. Democrats saw an opening, though, after many Senate Republicans supported a move to repeal a tax break for ethanol last week over the objections of anti-tax activists.
In recent sessions, Democrats had pressed to close a wide range of tax breaks, from oil and gas subsidies to breaks that benefit wealthy individuals.
REPUBLICANS MAY NOT HAVE THE VOTES
Republicans may not have enough votes to pass a deal through the House in any case, as many newly elected conservatives feel little urge to compromise.
That means Boehner may have to rely on Democratic votes, and Democrats will insist that tax increases be part of the deal, one lawmaker said.
``I think we walk away unless there's some revenue raisers,'' Democratic Representative Allyson Schwartz said at a breakfast event hosted by Third Way, a centrist think tank.
Cantor and Boehner may need to allow a debt-ceiling vote to fail before they can craft a compromise, budget expert Stan Collender said. That could provide a jolt to markets akin to the failed bank bailout vote of 2008, which caused the Dow Jones Industrial Average to drop 800 points.
``There may need to be a negative market reaction to that vote to get Republicans to move from their current position,'' said Collender, a budget analyst with Qorvis Communications.
Senate Budget Committee Chairman Kent Conrad warned that those sorts of tactics could lead to hundreds of billions of dollars in additional interest costs for the government to reflect the additional uncertainty of investing in U.S. debt.
One Democratic aide said Cantor recognized that tax increases would ultimately have to be part of any deal but that he did not want to be the one to say so.
"Cantor just threw Boehner under the bus,'' the aide said.