Debt Deadlock: Republicans Ditch Talks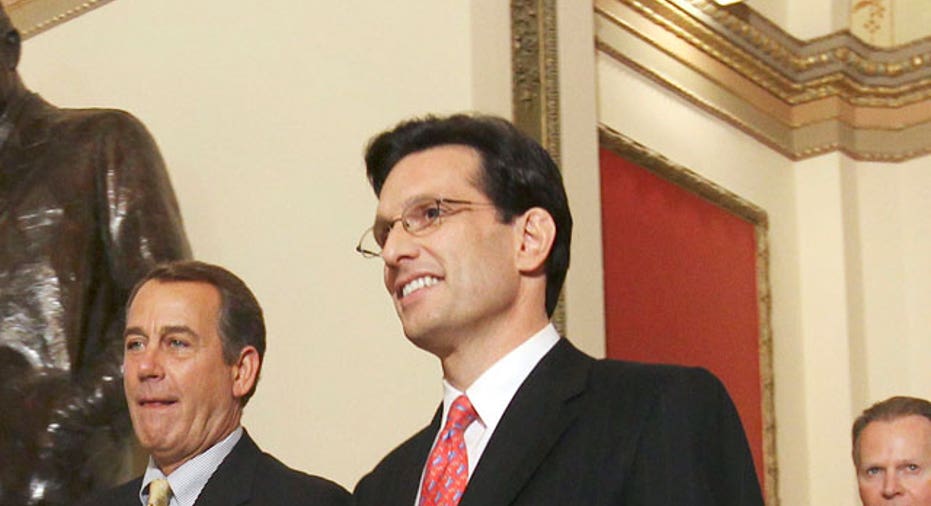 U.S. budget talks hit an impasse Thursday after a both Republicans walked out, throwing doubt on Washington's ability to reach a deal that would allow America to continue borrowing and avoid a debt default.
Representative Eric Cantor, the No. 2 Republican in the House of Representatives, said participants had identified trillions of dollars in potential spending cuts but were deadlocked over tax increases that Democrats want.
"Regardless of the progress that has been made, the tax issue must be resolved before discussions can continue," he said in a statement.
Republican Senator Jon Kyl also left the talks, an aide said.
House Speaker John Boehner said Democrats must abandon any tax increases for negotiations to continue.
"These conversations could continue if they take the tax hikes out of the conversation," Boehner said. He added tax increases could never pass the Republican-controlled House in any event.
Negotiators had hoped to reach a budget deal by next week that would give lawmakers the political cover to raise the $14.3 trillion debt ceiling before the Treasury Department runs out of money to pay the country's bills.
Default could occur if Congress does not act by Aug. 2, pushing the United States back into recession and sending markets plunging around the globe.
So far, worries of a possible default haven't affected bond markets as investors focus on other news and assume that Washington will ultimately strike a deal. But that probably won't come until the last minute, analysts said.
"I just think that at the end of the day that (the markets) still don't believe that anything could remotely happen in that respect," said James Combias, head of government bond trading at Mizuho Securities in New York, of the prospect of default.
The talks are "not dead but they are on life support," said Greg Valliere, a political analyst for investors at Potomac Research Group. "This is going to look ugly for the next few weeks."
Cantor's announcement caught Democrats by surprise, coming as President Barack Obama met with House Democratic leaders at the White House.
Congressional aides said they did not know whether the remaining negotiators, led by Vice President Joe Biden, would go ahead with the next meeting, scheduled for 2 p.m .
Cantor said that Obama must "speak clearly and resolve the tax issue." Aides familiar with the talks have said that a final deal will have to be struck between Obama and Boehner, not their deputies.
Democratic lawmakers reacted cautiously.
"That's too bad," Senate Democratic Leader Harry Reid said when reporters told him the news. Aides were less circumspect. "When the going gets tough, Cantor gets going," one said.
Another said Cantor recognizes that tax increases will have to ultimately be part of any deal but that he didn't want to be the one to say so. "Cantor just threw Boehner under the bus," the aide said.