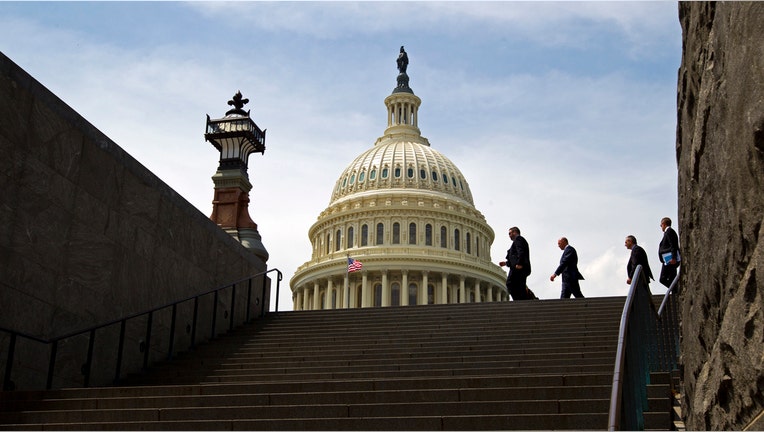 As the deadline to address the debt ceiling continues to loom over Congress, leadership in the House and Senate have been working behind the scenes in recent weeks to come to a consensus and are trying to set up a formal meeting that's expected to take place in early September, Fox Business has learned.
Congressional leadership in both the House and the Senate have been in discussions with each other and White House officials about how to move forward with the debt ceiling but so far have been unable to reach a consensus, according to congressional aides familiar with the matter.
House Speaker Paul Ryan (R-WI), Senate Majority Leader Mitch McConnell (R-KY), House Minority Leader Nancy Pelosi (D-CA) and Senate Minority Leader Chuck Schumer (D-NY) have all been deliberating on how to move forward with raising the debt ceiling and doing so before the Treasury's deadline of September 29.
Even though they have not come to an agreement, the leaders are looking to have a sit down meeting in early September to jump-start negotiations right after the August recess, according to Democrat and Republican aides.  A meeting has still not been scheduled, according to those same sources.
AshLee Strong, a spokesperson for Ryan, told Fox Business that the House is continuing to work with the Senate and the White House on dealing with the debt ceiling. "House Republicans are discussing with the Senate and the administration, and we will act before the deadline," Strong said.
As Fox Business reported last week, Schumer and McConnell met with Treasury Secretary Steven Mnuchin before they left for recess and could not come to agreement on raising the debt ceiling, according to sources familiar with the matter.
Spokespersons for Schumer and Pelosi declined to comment. A spokesman for McConnell did not return calls for comment.
The White House also did not return calls for comment.
The debt ceiling is currently at the limit of $19.8 trillion, which covers the U.S. Treasury to borrow money from the public and government agencies. If Congress can't extend the debt ceiling in time, the United States will be unable to pay its bills, which could trigger a global financial crisis.
The White House has publicly supported the idea of having a clean debt ceiling hike before the deadline.
Budget Director Mick Mulvaney, told reporters last week the administration wants to see a clean hike with no conditions of spending cuts as part of the deal after insisting for months that he wanted to see spending reforms as part of a final decision.
Mnuchin has also recently insisted that raising the debt ceiling needs to get done before the deadline and should be a clean hike in order to come to an agreement as soon as possible.
Still the chances of both chambers of Congress coming to an agreement by the end of September are continuing to dwindle.
According to a Wall Street Journal survey of economists, there's a 22% chance the government will shut down at the end of next month and a 17% chance the Treasury will skip making payments on its obligations including government payrolls and Social Security checks.
More from FOXBusiness.com...
While it's clearly imperative to raise the debt ceiling on time, Congressional battles on how to move forward could have a significant financial impact on the average taxpayer. According to research done by the Federal Reserve earlier this year, the debates in 2011 and 2013 in Congress that nearly lead to lawmakers failing to come to an agreement forced interest rates to rise and cost taxpayers $250 million each year.
Maya MacGuineas, President of The Committee for a Responsible Federal Budget, stressed the importance of coming to a consensus on the debt ceiling as soon as possible in an editorial for The Hill. "There are nations that both officially and unofficially use the greenback, and many others peg the value of their money to U.S. dollars. So why, under any calculation, would a politician risk or even threaten to risk this standing by refusing to raise the debt ceiling and chance default on U.S. obligations?" MacGuineas said.
It's still unclear if this will get done in time as Congress returns to work in September and has only 12 working days to figure out a solution for what could be a major catastrophe for taxpayers.