Davos CEOs more bullish in short-term, politics clouds future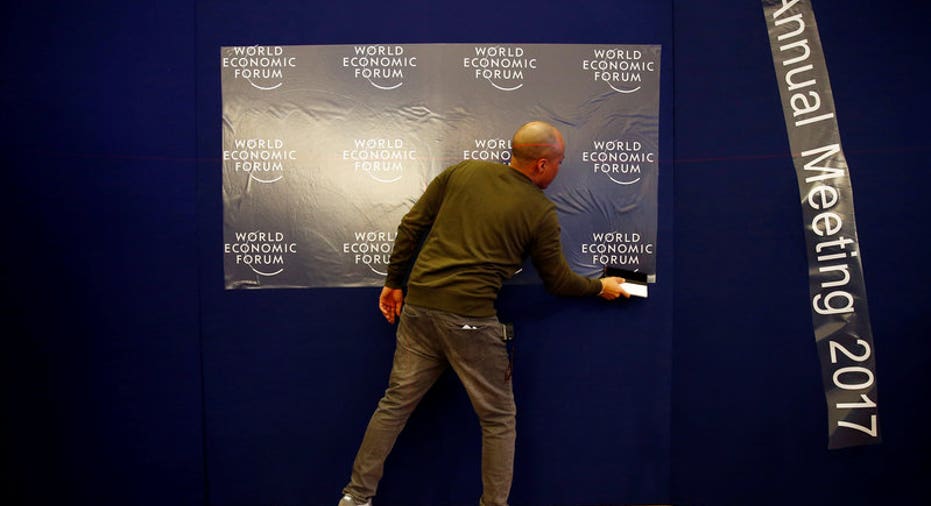 DAVOS, Switzerland (Reuters) - Global chief executives are more confident about the economy and the near-term prospects for their companies than they were a year ago, although the impact of recent political upheavals tops their list of longer-term concerns.
A PricewaterhouseCoopers (PwC) survey of nearly 1,400 CEOs released on Monday, on the eve of the annual World Economic Forum in Davos, found that 29 percent expected global economic growth to pick up in 2017, up from only 27 percent last year.
The survey found 38 percent were very confident they could increase revenue growth in the next year, up from 35 percent at the same time last year, which was a six-year low.
Last year's outlook was particularly gloomy due to two years of falling oil prices and slowing growth in China, as well as uncertainty about the next U.S. president, Bob Moritz, PwC's global chairman, told Reuters.
Although Donald Trump's election is a dramatic shift, some bosses expect business-friendly policies like corporate tax cuts and lighter-touch regulation, and are more optimistic about their own ability to navigate the immediate unknown.
"They are more concerned about more things, as the world has become more complicated. The risks that they are worried about are longer-term risks," Moritz said, adding that the survey only reflected the next 12 months, which is too soon to feel the full implications of a Trump presidency or "Brexit".
The International Monetary Fund on Monday lifted its forecast for U.S. economic growth in 2017 and 2018 based on President-elect Donald Trump's tax cut and spending plans, but said this would largely be offset by weaker growth in several key emerging markets.
Updating its World Economic Outlook, the IMF kept its overall global growth forecasts unchanged from October at 3.4 percent for 2017 and 3.6 percent for 2018, up from 3.1 percent growth in 2016, the weakest year since the 2008-2009 financial crisis.
BREXIT BUMP
Adding to the rising confidence in the short term is evidence of the resiliency of the business environment in Britain after its vote last year to leave the European Union.
The British pound is down about 19 percent versus the U.S. dollar, giving a boost to domestic industries as imported goods have become more expensive and exports cheaper.
British manufacturing grew at its fastest pace in two and a half years last month, adding to signs that the economy ended 2016 strongly.
Even though economists expect some inflation in prices in Britain this year to make up for the higher costs, which could pressure budgets, PwC said 41 percent of British bosses were very confident of their revenue growth in the near term.
When it comes to plans for hiring, PwC said British CEOs were among the most ambitious, with 63 percent expecting to add headcount in the next 12 months, despite questions over the rights of EU citizens to work in Britain following the divorce.
Globally, more than half the CEOs said they expected to increase headcount this year, up from a year earlier.
Aside from Britain and the United States, other countries with above-average confidence include Brazil, off a very low base last year, and India, the world's most optimistic.
Despite this year's uptick, CEO confidence remains slightly lower than in 2014 and 2015, and a long way below what it was before the global financial crisis. The main difference is that now worries are political not economic.
"Economically, most clients we talk to are less worried and even some are bullish," said Johan Aurik, CEO of AT Kearney, a rival to PwC in the consultancy business. "But the geopolitical risk, everyone, their eyebrows go up. They say they don't know."
For a graphic on Global CEO confidence in business growth, click here http://fingfx.thomsonreuters.com/gfx/rngs/DAVOS-MEETING-CONFIDENCE/010031DZ354/DAVOS-MEETING-CONFIDENCE-01.jpg
(Editing by Alexander Smith)