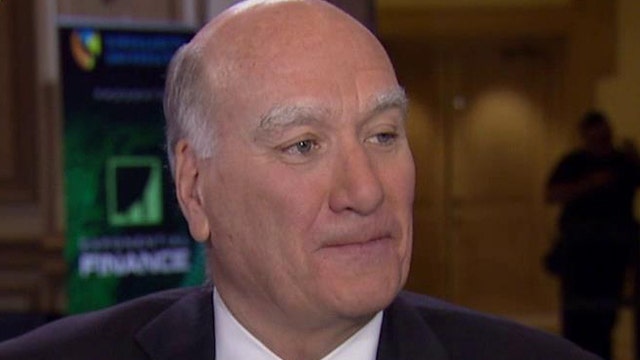 William Daley, former White House chief of staff to President Obama is a guest on Opening Bell with Maria Bartiromo. She is interviewing Daley and many others at the SALT conference in Las Vegas.
Daley kicked off the conversation, and assessed the 2016 presidential race.
"On the Democratic side, obviously Hillary is the only announced candidate and the only one who most people will expect will get in," Daley said.
"You have now I think five or six Republicans announced, and a whole bunch that are waiting to announce.  And they have yet to begun to take on each other and differentiate themselves -- not from Hillary Clinton, but from each other."
Daley continued, saying eventually, it would be like-candidates facing off against each other. For example, Florida Governor Jeb Bush's ideas verses those of  Florida Senator Marco Rubio and  Wisconsin Governor Scott Walker.
Daley said the attacks on former Secretary of State Hillary Clinton, and the focus on her by Republican candidates have to change. More than that, though, he said those candidates have  to differentiate themselves from others in their party.
"And therein begins the battle within the Republican party," Daley noted.
With regard to the Republican hopefuls, Daley believes if Bush can make it through the primary season, he could emerge as a strong contender for the White House.
Daley said he believes Marco Rubio is very young and has yet to be tested, but he has the buzz around him right now, while, on the other hand, Walker has gone a long way to convince Republicans and the primary base that he's one of them.
In terms of recent elections, most of the country is divided and usually votes along party lines, so it could be a tight race in the end.
"America is so decided you're going to have about 47%-47% on each side, and they're fighting over the middle, which is where billions of dollars are going to be spent on probably 10% of the electorate to try to convince them, to move them, those in the middle, those moderates," Daley said.
As the White House continues its focus on the economic recovery in America, so, too will voters and presidential hopefuls who head to the ballot box, which means the economy will emerge as a hot-button issue.
Daley said Clinton needs to distance herself from President Obama's economics.
"I think that Hillary's challenge is to show a growth program and a growth opportunity for the economy and for people in a much broader sense than has happened over the last couple of years." "She's going to have to lay out, a real tax reform plan that's going to stimulate the economy."