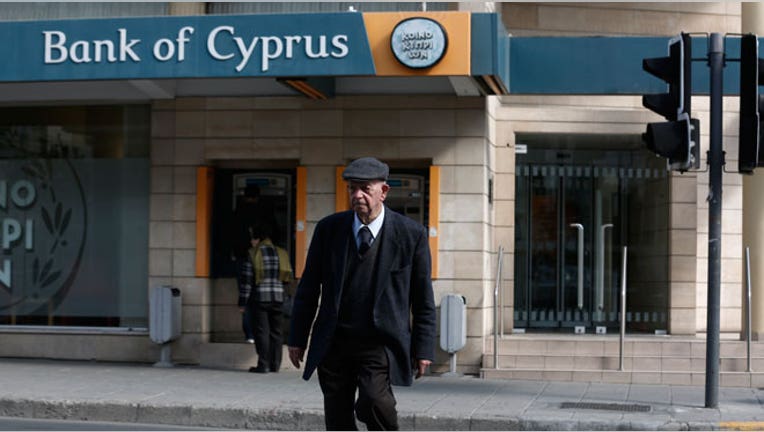 In a sign that Cyprus is moving to shrink its oversized banking system, Athens-based Piraeus Bank is reportedly set to acquire the Greek branches of the tiny island country's largest two lenders.
The news comes as Cyprus races to find a way to raise 5.8 billion euros in order to secure a 10 billion euro rescue from the eurozone. Failure to reach a deal by Monday could lead to the European Central Bank cutting of emergency financing, collapsing the country's banks.
The ruling party in Cyprus said on Friday morning that a bailout solution within the framework laid out by the European Union may be possible within hours, raising optimism a deal to avert a banking collapse will be reached before ECB cuts off funding next week.
According to AFP, the Greek divisions of troubled Cypriot lenders the Bank of Cyprus and Cyprus Popular Bank will be sold to Piraeus Bank, the third-largest bank in Greece.
The move is designed to "ensure the stability of" the banks' operations in Greece, AFP reported. Cyprus Popular Bank, also known as Laiki Bank, lowered the daily per-person limit on ATM withdrawals to 260 euros on Thursday amid reports of long lines of customers worried about the safety of their funds.
Officials at the Greek financial stability fund met on Friday and selected Piraeus to acquire the divisions of the Bank of Cyprus and Popular Bank, AFP said.
Previous reports indicated Cyprus had already been planning to split Laiki's assets into good and bad units and then merge the good assets with the Bank of Cyprus.
Officials in Cyprus have closed their banks at least until Tuesday amid an uproar caused by a bailout that would have imposed a controversial levy on bank deposits to raise the 5.8 billion euros.