Cuban Ramps up Attack on Trump as Battle of 'Billionaire Blowhards' Continues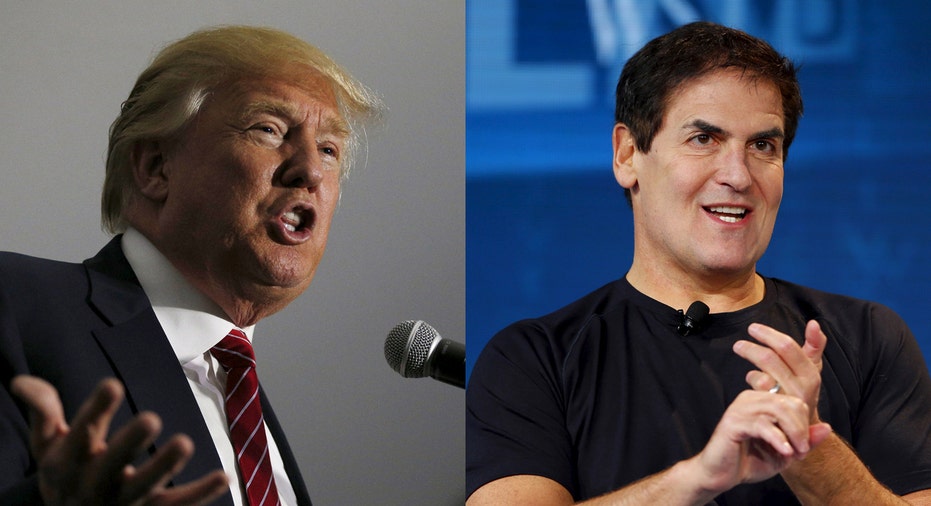 Mark Cuban on Thursday unleashed another torrent of insults directed at Donald Trump, attacking the GOP presidential nominee over his business record and his various legal imbroglios, the FOX Business Network has learned. This is just the latest salvo in Cuban's increasingly bitter feud with his fellow billionaire blowhard.
In an exclusive email to FOX Business, Cuban mocked Trump by saying "I want to be part of thousands of lawsuits and have companies I operate go bankrupt multiple times." He added, "someday I hope to go broke so I can live off an allowance from my bankers."
Though both billionaires, Cuban has had a long and contentious relationship with Trump. Cuban is an entrepreneur, owner of the Dallas Mavericks basketball team, and star of the reality TV show "Shark Tank." Trump earned his riches in real estate, branding and a reality show of his own, "The Apprentice." For years the two were friends, even if the relationship was fraught with rivalries over the size of their bank accounts and the success of their TV shows.
But after Trump won the GOP presidential nomination, Cuban stepped up his attacks, calling Trump unfit for the job of president and openly supporting his Democratic Party challenger, Hillary Clinton. At one point Cuban called Trump "bat shit crazy" and a "jagoff."
As the FOX Business Network recently reported, aides to Clinton want Cuban to help their candidate prep for the upcoming presidential debate by playing the volatile Trump in a rehearsal. Cuban has indicated he's willing to do so.
For the most part, Trump has resisted directly attacking Cuban. However, on Wednesday night as the GOP candidate was giving a major speech on immigration, and new national polls showed Trump narrowing Clinton's once substantial lead, one of Trump's surrogates went on the offensive. Following a tweet from Cuban referring to Trump as "Crooked Trump," a play on the GOP nominee's "Crooked Hillary" meme, Trump attorney Michael Cohen tweeted that Cuban was "delusional."
.@ChrisCuomo @mcuban Cuban...you are delusional. Google from Clinton travelgate to Benghazi. The reason she is deemed untrustworthy.

— Michael Cohen (@MichaelCohen212) September 1, 2016
This instigated a battle that lasted through much of the night and into Thursday morning, when Cuban tweeted: "Dang @MichaelCohen212, now the best people are saying you were fired."
In an interview with FOX Business, Cohen denied he was fired by Trump. Cohen also said "Mark Cuban has some very serious mental problems," adding: "He has real personal issues with Donald Trump and he should concentrate more on his own ventures than on Donald Trump and his surrogate…It's pure jealousy that Mr. Trump receives enormous amounts of attention and is recognized everywhere in the world. Mark Cuban had to put his name on the bottom of an Arby's commercial just to make sure people knew who he is."
Cuban responded in his own email to FOX Business, mocking Cohen and Trump. Cuban went after Trump on his business record, namely his background as a casino owner. In the early 1990s, several of Trump's casinos declared bankruptcy, while his real estate business was in such distress that Trump was nearly insolvent. This led his bankers to put him on an allowance until he renegotiated various business loans.
That was before Trump reinvented himself as a branding expert and reality TV star. Now Trump's net worth is valued at $4.5 billion, according to Forbes magazine, while Cuban's is estimated to be $3.2 billion.
"Michael is right. I've been a life-long devotee of Donald Trump and my life is a shrine to him. I only hope I can be him some day," Cuban wrote to FOX Business. "I want to be able to cover the walls of my office with pictures of myself…These would all be new experiences for me and just a few of the reasons I long to emulate Mr. Trump. Is this so wrong? Can't a guy dream? And thank Mr. Cohen for helping me confront my issues. I'm forever grateful!"
Trump spokeswoman Hope Hicks had no immediate comment on Cuban's latest attacks.