Credit MLK for Plunge in Jobless Claims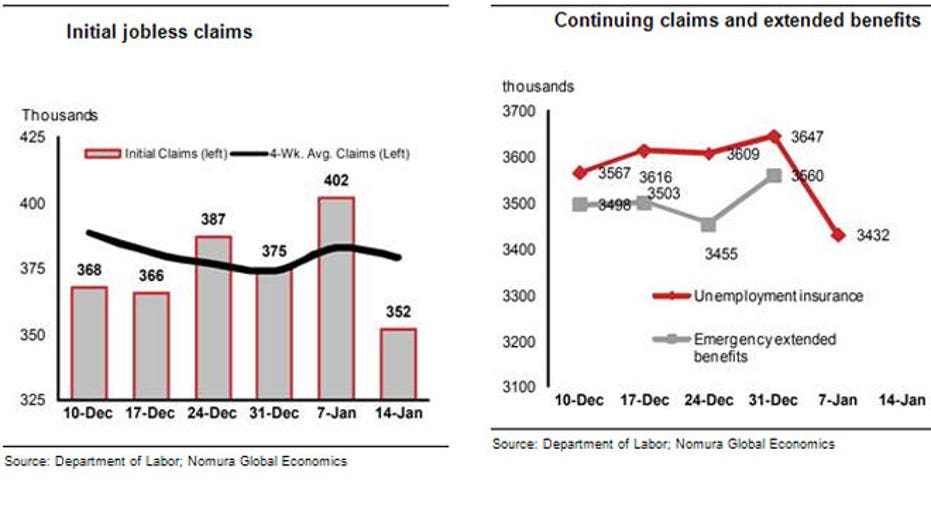 Wall Street may be celebrating the largest one-week decline in jobless claims since 2005, but think twice before giving the economy too much credit just yet.
That's because the Martin Luther King, Jr. holiday may have helped contribute to the 50,000 drop-off in applications for insurance payments last week.
Adolfo Laurenti, senior economist at Mesirow Financial, said just 25% of the credit should go toward the economy, with the rest going to one-off events.
"I think the trend is toward lower benefits and the numbers today fit into that story, but I'm not ready to say we're seeing an acceleration out of unemployment benefits" just from this week's data, Laurenti said.
Due to the MLK holiday on Monday, the Labor Department was forced to estimate jobless claims for six states, including two of the most populous ones: California and Virginia.
"These data have not been very consistent. We have seen improvement in recent week, but not really enough to justify such a big dip," said Laurenti.
There's also the usual seasonal factors, such as the holiday-shopping season hangover at retailers, to be wary of. Sure, the Labor Department attempts to minimize those events through its calculations, but it's not always successful.
"Because it is difficult to neutralize the impact of seasonal hiring/layoffs by weekly seasonal adjustment, the unwinding of temporary hiring by retailers and shipping companies has contributed to the volatility in initial claims," economists at Nomura wrote in a research note.
"It's another reason not to hang your hat on any weekly jobless claims number," said Josh Feinman, global chief economist at Deutsche Bank's (NYSE:DB) DB Advisors.
To be sure, the jobs picture does appear to be improving. The four-week moving average, which aims to smooth out the volatility in the weekly measure, continues to dip, falling to 379,000 this week from 383,000 the week before. The Labor Department said the U.S. added 200,000 jobs in December, besting consensus calls from economists.
However, the data out Thursday suggest a sharp increase in the availability of jobs that is unlikely to appear when the more closely-watched January jobs report comes out early next month.
The last time initial jobless claims declined by this much occurred in September 2005 after another one-off event: Hurricane Katrina, which caused applications to rise sharply before quickly retreating.