Corruption trial of Democratic U.S. Senator Menendez ends in mistrial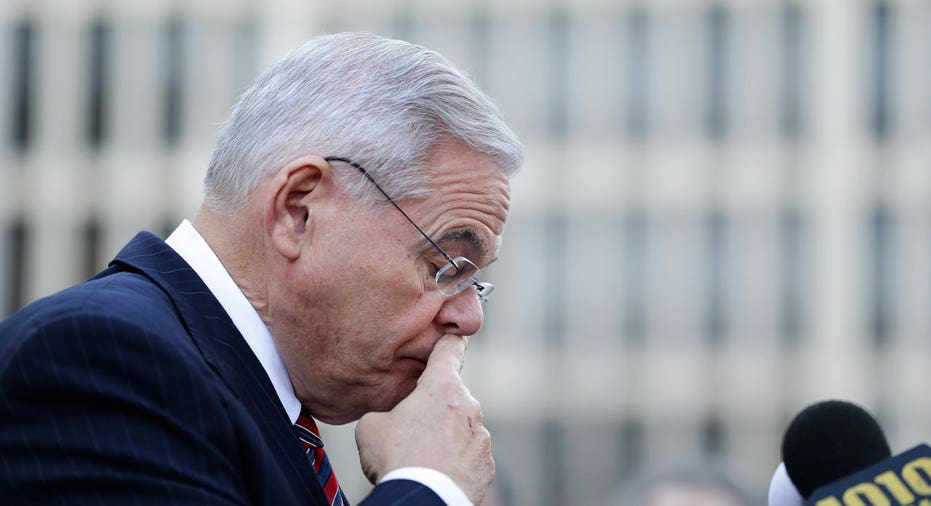 The corruption trial of New Jersey's Democratic U.S. Senator Bob Menendez ended in a mistrial on Thursday, after the jury said it was hopelessly deadlocked on bribery, fraud and other charges.
Menendez, 63, a longtime fixture in the state's political circles who first joined the Senate in 2006, was accused of accepting private flights, campaign contributions and other bribes from a wealthy patron, Florida ophthalmologist Salomon Melgen, in exchange for official favors.
The hung jury was a victory for Menendez and a major setback for federal prosecutors in what was the Justice Department's first high-profile corruption trial since a U.S. Supreme Court decision last year limited its ability to bring such cases.
It was not immediately clear whether prosecutors would seek to retry Menendez, who is running for re-election next year. In a statement, the Justice Department said it would "carefully consider next steps in this important matter."
Defense attorneys said prosecutors cherry-picked gifts exchanged between close friends to suggest impropriety when none existed.
"This is what happens when you put a real 25-year friendship on trial," Menendez's lawyer, Abbe Lowell, told reporters.
A tearful Menendez thanked God, his family and the jurors outside the courthouse in Newark, New Jersey, as well as two senators who testified on his behalf as character witnesses, Democrat Cory Booker and Republican Lindsey Graham.
"The way this case started was wrong," said Menendez, flanked by his grown children. "The way it was investigated was wrong. The way it was prosecuted was wrong. The way it was tried was wrong as well."
The senator also made clear he is still committed to his 2018 campaign.
"To those who were digging my political grave so they could jump into my seat: I know who you are, and I won't forget you," he said.
The mistrial provides at least temporary relief for Menendez's Democratic colleagues in the closely divided Senate, where Republicans likely would have pushed for resignation or expulsion if Menendez had been convicted.
The case was seen as a test for prosecutors in the wake of last year's Supreme Court ruling vacating the bribery conviction of former Virginia Governor Bob McDonnell. In doing so, the high court narrowed the grounds on which the government can prosecute officials for corruption.
The trial judge, Williams Walls, had strongly considered a defense motion to throw out the case mid-trial in light of the McDonnell decision before deciding against it.
During the 10-week trial, prosecutors accused Menendez of pressuring Medicare officials to change the agency's billing practices after it concluded that Melgen overbilled it by millions of dollars.
Melgen was separately convicted in Florida earlier this year of a massive Medicare fraud, though his sentencing was delayed pending the outcome of the New Jersey trial.
According to the government, Menendez also helped secure visas for the married Melgen's foreign girlfriends and asked U.S. officials to resolve a port dispute in the Dominican Republic involving one of Melgen's businesses.
In exchange, Melgen showered the senator with gifts such as luxury vacations and hundreds of thousands of campaign dollars, prosecutors said.