Clinton, Trump Take Conflicting Stances On U.S. Jobs Growth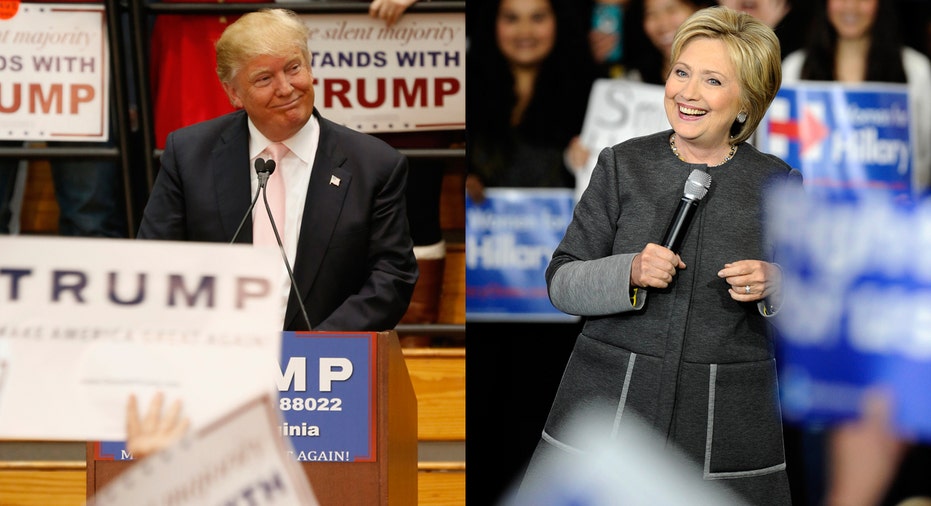 Democrat Hillary Clinton and Republican Donald Trump differed sharply on the economy in the final stretch of their race for the White House on Friday, with Clinton praising the latest U.S. jobs report while Trump dismissed it as a fraudulent disaster.
With four days left in a tight contest, the candidates hammered each other as unfit to be president as they made a late push for votes in battleground states that could decide the outcome in next Tuesday's election.
At a rally in Pittsburgh, Clinton offered an optimistic view of Friday's government report, which showed a strong rate of hiring and higher wages for workers. The economy added 161,000 jobs in October as the unemployment rate fell to 4.9 percent from 5 percent the Labor Department said.
"I believe our economy is poised to really take off and thrive," Clinton told the gathering, after being introduced by billionaire investor Mark Cuban. "When the middle class thrives, America thrives."
Trump disputed Clinton's rosy view, telling a crowd in New Hampshire the jobs report was "an absolute disaster" and was skewed by the large number of people who have stopped looking for jobs and are not in the labor market anymore.
"Nobody believes the numbers anyway. The numbers they put out are phony," he said at a rally in Atkinson.
The economy and the candidates' competing visions for the future could be critical in swaying voters in ailing Rust Belt states like Ohio, Pennsylvania and Michigan.
Both candidates planned to visit Ohio and Pennsylvania on Friday, with Trump adding a stop in New Hampshire and Clinton in Michigan. Each of those states is critical in the state-by-state quest for the 270 electoral votes needed to win the White House.
The race tightened significantly in the past week, as several swing states that Trump must win shifted from favoring Clinton to toss-ups, according to the Reuters/Ipsos States of the Nation project.
The two candidates are now tied in Florida and North Carolina, and Clinton's lead in Michigan has narrowed so much that the state is too close to call. Ohio remains a dead heat and Clinton has a slight lead in Pennsylvania.
Clinton is still the favorite to win Tuesday's election, but Trump now has a plausible route to victory, especially if there is a sharp fall in turnout among African-Americans from the levels of the 2012 election.
'A BLUE-COLLAR APPEAL'
Trump, a New York businessman and former reality TV star, has made a pitch for blue-collar workers who have been angered by free-trade deals and feel abandoned by Washington. But Trump's protectionist rhetoric - he has promised to review trade agreements - appears to be having mixed success in the Rust Belt.
Reuters/Ipsos polling from mid-October found a majority in both Ohio and Pennsylvania, including a majority of both Democrats and Republicans, agree international trade benefits Americans by keeping the cost of goods low although they also think it hurts "average Americans" by depressing wages and causing job losses at home.
Clinton appears to be leading among labor union households in both states, the poll found. She has a double-digit lead with women in both, while Trump has a more modest lead with men. Among whites, Trump has a 7-point lead over Clinton in Ohio and a 3-point lead over Clinton in Pennsylvania.
In the final stretch, the two candidates continued to paint a dire scenario of life in the United States if their opponent captures the White House. Trump said the FBI's fresh examination of emails that may be related to Clinton's use of a private email server for government work while she was secretary of state could lead to "a constitutional crisis."
"Aren't we tired of all this stuff?" he asked. "America deserves a government that can go to work on Day One."
HISPANIC VOTER PUSH
Clinton suggested the volatile Trump, who has feuded with and insulted a wide array of people and groups including Muslims, Mexican immigrants and women, was too unpredictable to trust.
"Think about what it would mean to entrust the nuclear codes to someone with very thin skin who lashes out at anyone who insults him," Clinton said.
Hispanic groups in swing states cranked up their get-out-the-vote efforts for the final stretch of the race on Friday, hoping to push the contest Clinton's way.
Lizet Ocampo, director of the Latinos Vote! program for People for the American Way, said the group has Spanish-language radio and television ads up in Nevada and North Carolina and radio ads in Pennsylvania, and will soon launch Arizona radio ads as well.
The group focuses in part on states where the Latino population might not be huge, "but even if they're a small part they can make the difference" in tight races, Ocampo said, adding the group also will kick off voter canvassing in Pennsylvania and Arizona.
The Love Bus - an old school bus repainted in various colors by nine Miami-based immigrant artists - will make the rounds in south Florida all weekend offering to take voters to the polls early in Haitian and migrant worker communities, said Ruth Moreno, state coordinator for the immigrant rights group iAmerica Action.