Clinton Not Impressed by Libya's Words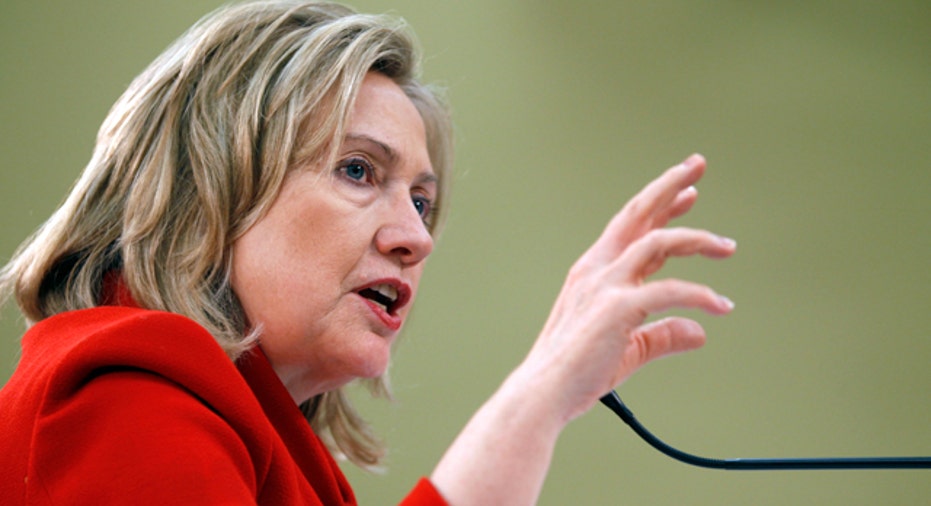 The international effort against Libyan leader Muammar Gaddafi is aimed at ousting him but will move "one step at at time" and first halt violence against civilians, U.S. Secretary of State Hillary Clinton said on Friday.
Clinton, facing doubts in Washington over new U.S. involvement in a conflict shaking the Arab world, said the world had been left no choice but to take action.
"Colonel Gaddafi's refusal to hear the repeated calls (and) up until now to halt violence against his own people has left us with no other choice but to pursue this course of action," Clinton told reporters.
The shift toward a tougher U.S. stance in favor of military action followed an extended internal debate within the Obama administration over how to stop Gaddafi from routing rebels fighting to end his four-decade rule.
Clinton poured cold water on Libya's ceasefire announcement after the U.N. Security Council on Thursday authorized tough new actions against Gaddafi's forces, and said the longtime Libyan strongman should see the writing on the wall.
"We are going to be not responsive or impressed by words, we would have to see actions on the ground and that is not yet at all clear," Clinton said.
"We will continue to work with our partners in the international community to press Gaddafi to leave and to support the legitimate aspirations of the Libyan people."
President Barack Obama planned to meet at the White House with Democratic and Republican congressional leaders and then make a statement on Libya at 2 p.m. EDT (1800 GMT).As the head of NATO said the alliance was completing plans to take "appropriate action" on Libya, Clinton said the United States and its partners would push first to secure the situation in the east of the country, where opposition forces headquartered in Benghazi have appealed for international help.
"The first and overwhelmingly urgent action is to end the violence," Clinton said.
She declined to be drawn on what the immediate next steps would be amid suggestions by French and British officials that they were getting ready to act, possibly backed by one or two Arab states.
REMOVING GADDAFI TRICKY
But Clinton repeated that the overall goal was to remove Gaddafi from power -- a much trickier proposition that could involve politically difficult decisions regarding the scope of U.S. military intervention.
"It is important that we take this one step at a time," Clinton said.
"The overwhelming vote by the Security Council I think reflects a broad understanding that, Number One: stop the violence, and Number Two: we do believe that a final result of any negotiations would have to be the decision by Colonel Gaddafi to leave," she said.At the Pentagon, officials said they were ready to act on Libya orders but declined to discuss possible operations.
With Gaddafi's forces pressing their advantage against the beleaguered opposition, the United States on Wednesday abandoned early caution over calls to impose a "no-fly zone" over Libya and pushed hard at the U.N. Security Council for an even broader mandate.
The shift came despite misgivings by U.S. military planners, already stretched by operations in Iraq and Afghanistan, and fears among some lawmakers of fresh U.S. involvement in open-ended conflict in a Muslim country.
The council's vote authorized "all necessary measures" to stop the violence in Libya which officials said could include moves such as air strikes against Libyan tanks and artillery.
Political analysts said delays in mustering international support for the intervention may have made the job harder.
"I would have given it a better than 50-50 shot three weeks ago when the rebels were on the ascendancy and Gaddafi was on the decline. I would say it's a lot tougher going now" said Peter Feaver, a professor at Duke University and onetime national security aide to former President George W. Bush.