Climate protesters carried out of Shell shareholder meeting after flash mob: video
Protesters sang 'go to hell, Shell, and don't you come back no more' as they disrupted the energy company's shareholder meeting
Climate protesters were intercepted by security staff and carried away after they attempted to rush the stage at Shell's shareholder meeting in London on Tuesday, video shows. 
Security personnel shielded CEO Wael Sawan and company directors as a flash mob of protesters hurled profanities, screamed "shut down Shell" and ran at the stage, preventing the meeting from proceeding for more than an hour. Several protesters were lifted by their arms and legs and carried out of the room at London's ExCel Conference Center.
"Go to hell, Shell, and don't you come back no more," sang the activists, who say fossil fuel companies of raking in record profits while polluting the environment. 
Ticker
Security
Last
Change
Change %
SHEL
SHELL PLC
57.49
-1.29
-2.19%
Shell reported a record $39.9 billion profit for 2022. Fossil fuel companies have posted bumper earnings as global oil and natural gas prices soared after Russia's invasion of Ukraine, driving up inflation and helping create a cost-of-living crisis.
SHELL POSTS HIGHEST PROFITS IN COMPANY HISTORY AS OIL, GAS PRICES REMAIN HIGH FOLLOWING UKRAINE INVASION
In the U.K., soaring energy bills have fueled anger against oil and gas companies and prompted demonstrations by groups like Greenpeace and Extinction Rebellion.
"Shell is continuing to drill new oil and gas fields here in the U.K. and around the world in some of the most biodiverse regions in the Philippines and in the Niger Delta," Fossil Free London protester Carina Manitius told The Associated Press. 
"So we're here to say, 'Business as usual cannot continue, and we're going to shut you down,'" Manitius said.
KEYSTONE PIPELINE OWNER GIVES BIDEN'S ENERGY AGENDA A 'REALITY' CHECK: 'REALLY IMPORTANT TO PRESENT THE FACTS'
A company spokesperson told Reuters the activists were "not interested in constructive engagement" and noted that Shell has plans to become a net-zero carbon company by 2050. 
The chaotic scene at Tuesday's meeting unfolded as a small but vocal collection of Shell's investors pushed for a shareholder resolution that demanded the company strengthen its goals for reducing greenhouse gas emissions. The investor group, called Follow This, accused Shell's current target of failing to meet standards set by the Paris climate agreement, which aims to hold global warming to below 2 degrees Celsius above preindustrial levels by 2030.  
Shell announced that only a fifth of shareholders voted in favor of the proposal and the resolution was rejected by the company's board.
DAVOS 2023: CLIMATE ACTIVISTS PROTEST THE PRESENCE OF OIL GIANTS AT WORLD ECONOMIC FORUM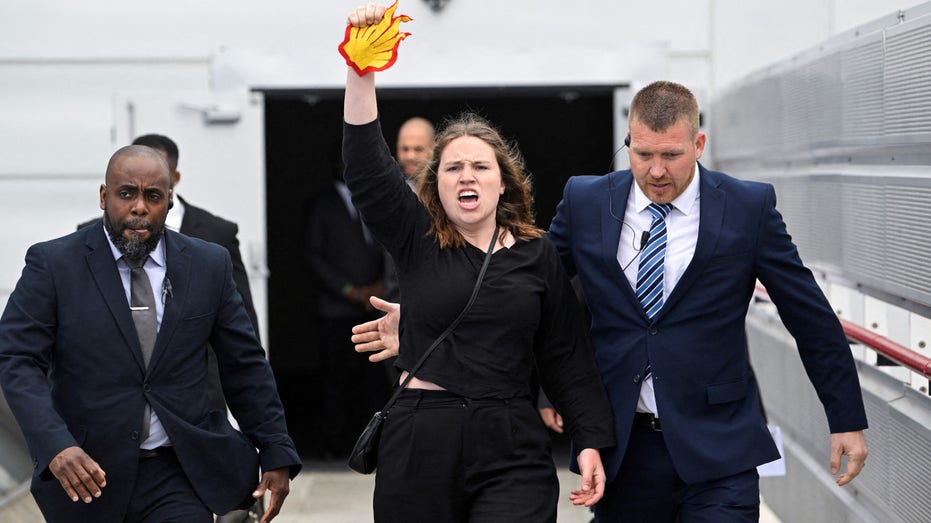 Mark van Baal, the founder of Follow This, called the vote a missed opportunity. 
GET FOX BUSINESS ON THE GO BY CLICKING HERE
"We have made it easy for investors to use the power of their votes, but many investors have yet to decouple short-term profits from long-term risks for the company and their portfolios," van Baal said in a statement. 
The Associated Press and Reuters contributed to this report.