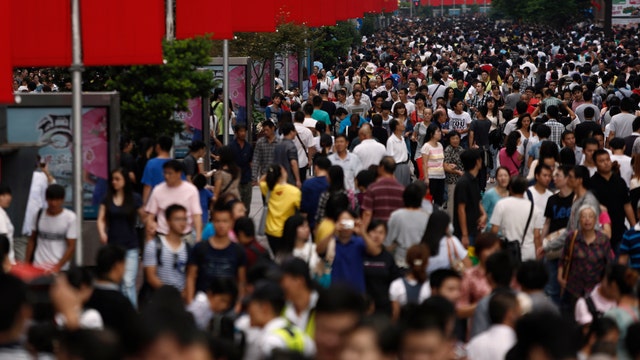 Explosive growth in Chinese consumer spending over the next decade will allow China to overtake the U.S. as the world's largest economy by 2024, according to a new report.
While some may consider that a black eye for the U.S., which has held the title as the world's largest economy for the better part of a century, it will also open up opportunities for U.S. businesses to sell their goods to an increasingly affluent class of Chinese consumers.
Chinese consumer spending is expected to nearly quadruple from more than $3 trillion in 2013 to almost $11 trillion by the end of 2013, according to analysis from IHS Global Insight, an Englewood Colo.,-based financial research firm.
"If you take politics out of the equation, it could be very good for the global economy and very good for the U.S.," said Cliff Waldman, senior economist for the Manufacturers Alliance for Productivity and Innovation (MAPI), a public policy and economics research organization in Arlington, Va.
Waldman noted that China, with a current population of 1.4 billion, has four times as many people as the U.S. "That's a strong consumer base," he said.
That growth in consumer spending is going to push China, with a current population of 1.4 billion, to the top of economic global powerhouses, the IHS report states.
Globalization is "Good for Everyone"
"More and more this is going to be a world of supply chains rather than countries," said Waldman, adding that potential innovations that will arise as China expands its import and export markets to meet the needs of its growing consumer demand will benefit global supply chains.
"A more globalized world is good for everyone," said University of Florida finance professor Jay Ritter.
Ritter said China's continued economic growth should create "win-win opportunities" for trade between the U.S. and China that could serve to "boost living standards in both countries."
"Over the next 10 years, China's economy is expected to re-balance towards more rapid growth in consumption, which will help the structure of the domestic economy as well as growth for the Asia Pacific as a region," said Rajiv Biswas, IHS's chief Asia economist and author of the report.
Science, technology and innovation are three of the "key sectors that will be crucial in helping to transform China's economy from the low cost manufacturing export-driven economy of the past three decades into a higher value-added economy, driven by domestic consumer demand," Biswas added.
IHS says Chinese consumer spending is expected to grow at an annual average rate of 7.7% annually in real terms over the next decade, turning China into "a key engine of global consumer demand and world growth."
Fueled by that growth in consumer spending, China's nominal GDP, or the value of all goods and services produced in the country, will grow to $28.25 trillion in 2024 versus a projected U.S. GDP of $27.31 trillion.
IHS predicts that China's share of world GDP will rise from around 12% in 2013 to 20% by 2025.
A Surge in Chinese Tourism in the U.S.?
If, as expected, China's consumer spending grows to $10.5 trillion by 2023, it will be three times as large as Japan's projected $3.7 trillion consumer market, according to IHS. India, with a population of 1.3 billion, is also expected to see explosive growth in consumer spending over the next decade, but that country is starting from a "much lower base," the IHS report states.
"The transmission effects of the strong growth in Chinese consumer demand are already being felt throughout the Asia-Pacific region," Biswas said.
Analysts believe the U.S. could see a surge in Chinese tourist spending as incomes in China continue to rise over the next decade and consumers choose to travel and spend their money abroad.
That dynamic is already at work throughout Asia, according to IHS. As standards of living have improved in China and incomes have increased, more Chinese can afford to travel, which has had a positive impact on tourism spending throughout Asia in the past three years.
Total Chinese tourism spending abroad rose by 26% in 2013 to $129 billion, the IHS report states using United Nations World Tourism Organization estimates, making China the largest source market for international tourism spending globally.
IHS said the impact of this rapid growth in Chinese tourism was felt in many Asian countries, especially Thailand, where Chinese tourism visits rose by 68.8% in 2013 to a total of 4.7 million visitors. Chinese tourism visits to other ASEAN (Association of Southeast Asian Nations) countries also showed strong increases, however not as dramatic as for Thailand.