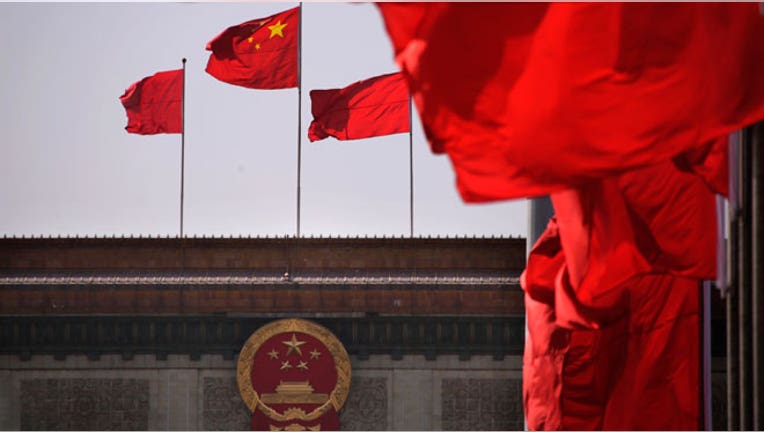 China's yuan hit a four-year low on Wednesday, falling for a second day after authorities devalued it, and sources said clamor in government circles to help struggling exporters would put pressure on the central bank to let it fall lower still.
Spot yuan in China dropped to as low as 6.4510 per dollar, its weakest since August 2011, after the central bank set its daily midpoint reference at 6.3306, even weaker than Tuesday's devaluation.
The currency fared worse in international trade, touching 6.59.
The central bank, which had described the devaluation as a one-off step to make the yuan <CNY=CFXS> more responsive to market forces, sought to reassure financial markets on Wednesday that it was not embarking on a steady depreciation.
The devaluation had sparked fears of a global currency war and accusations that Beijing was unfairly supporting its exporters.
"Looking at the international and domestic economic situation, currently there is no basis for a sustained depreciation trend for the yuan," the People's Bank of China (PBOC) said.
Foreign exchange traders later said state-owned banks were selling dollars on behalf of the PBOC, and the spot market ended at 6.3870, after rallying strongly towards the close, which will influence Thursday's midpoint.
"Apparently, the central bank does not want the yuan to run out of control," said a trader at a European bank in Shanghai.
A trader at another European bank said the unexpected devaluation had caused "some panic" in markets.
Analysts at BMI downgraded their year-end forecasts for the currency to 6.83, down 10% from pre-devaluation levels.
The yuan has lost 3.5% in China in the last two days, and around 4.8% in global markets.
Its slide pulled down other Asian currencies on Wednesday, with Indonesia's rupiah <IDR=ID> and Malaysia's ringgit <MYR=> hitting 17-year lows, and the Australian <AUD=D4> and New Zealand dollars <NZD=D4> touching six-year lows.
Indonesia's central bank pinned the rupiah's fall directly on the yuan devaluation and said it would step into the foreign exchange and bond markets to curb volatility.
POOR ECONOMIC DATA
Tuesday's devaluation, the biggest one-day fall since 1994, followed a run of poor economic data and raised market suspicions that China was embarking on a longer-term slide in the exchange rate that would make Chinese exports cheaper.
Last weekend, data showed an 8.3% drop in exports in July and that producer prices were well into their fourth year of deflation.
China's Ministry of Commerce acknowledged on Wednesday that the depreciation would have a stimulative effect on exports.
Sources involved in the policy-making process said powerful voices within government were pushing for the yuan to go still lower, suggesting pressure for an overall devaluation of almost 10%.
Data on Wednesday underlined sluggish growth in the world's second-largest economy. Factory output growth slipped to 6% in July from a year earlier, missing market forecasts, while fixed asset investment and retail sales were also lower than expected.
There was also a jump in fiscal expenditure of 24.1% in July, which reflects Beijing's efforts to stimulate economic activity.
PLAYING TO THE IMF?
The International Monetary Fund said China's move to make the yuan more responsive to market forces appeared to be a welcome step and that Beijing should aim for an effectively floating exchange rate within two to three years.
Beijing has been lobbying the IMF to include the yuan in its basket of reserve currencies known as Special Drawing Rights, which it uses to lend to sovereign borrowers, a major step in terms of international use of the yuan.
"Greater exchange rate flexibility is important for China as it strives to give market forces a decisive role in the economy and is rapidly integrating into global financial markets," an IMF spokesperson said.
The devaluation was decried by U.S. lawmakers from both parties on Tuesday as a grab for an unfair export advantage and could set the stage for testy talks when Chinese President Xi Jinping visits Washington next month, given acrimony over issues ranging from cyber security to Beijing's territorial ambitions.
Not all countries consider the devaluation a threat, however. Korea's Finance Minister Choi Kyung-hwan said it would be positive for Korean exports to China, much of which were intermediate items and not in direct competition with Chinese products.
While a weaker yuan will not cure all the ills of China's exporters, it will help relieve deflationary pressure.
Falling commodity prices have been blamed for producer price deflation, putting China at risk of repeating the deflationary cycle that blighted Japan for decades.
Growth in China has slowed markedly this year and will hit a 25-year low even if it meets its official 7% target.
Some economists believe China's economy is already growing only half as fast as official data shows, or even less.
Reporting by Pete Sweeney and Lu Jiaxin. Additional reporting by Samuel Shen in SHANGHAI and Jason Subler in BEIJING; Writing by Will Waterman; Editing by Kim Coghill and Mike Collett-White)