China Inflation, Production May Open Door to Pro-Growth Policy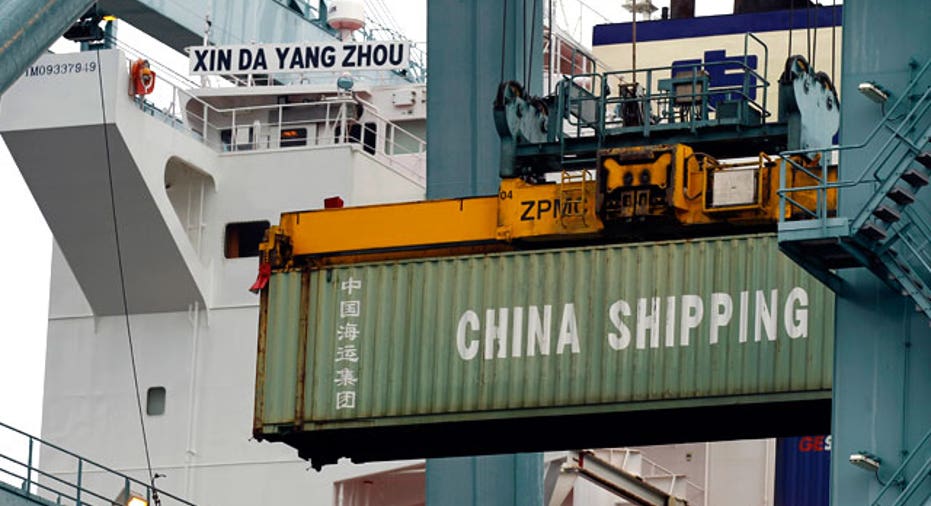 Chinese industrial output grew at its weakest annual pace in a year in October and inflation fell sharply, raising expectations Beijing will do more to support economic growth by "fine tuning" policy.
A flurry of data on Wednesday showed that China's factories are bearing the brunt of a modest economic slowdown even as consumer spending and investment in assets such as roads and other infrastructure remain resilient.
China's annual inflation rate fell to 5.5 percent in October from September's 6.1 percent -- the biggest drop in the annual rate from one month to the next since February 2009 -- and a further pullback from July's three-year peak of 6.5 percent.
Premier Wen Jiabao said prices had fallen further since October, adding to the view that the State Council will start to favour more pro-growth policies, although inflation is still too high to expect a quick cut in interest rates from the People's Bank of China (PBOC).
"All of this suggests that the balance of risk for the PBOC and State Council is likely shifting to growth and away from inflation," Tim Condon, head of Asian economic research at ING in Singapore, said.
"I don't have any (easing) in my forecast horizon. A required reserve ratio cut is a possibility, but I expect that they would continue with these fine-tuning measures."
A senior official from the country's top economic planning agency signalled caution ahead, saying inflation was likely to stay high in coming months.
China's leaders have begun talking in recent weeks about "fine tuning" macroeconomic policy to maintain economic growth, which slowed in the third quarter to 9.1 percent, its weakest in more than two years.
The inflation figures soothed investors' concerns about a sharp slowdown, supporting oil and copper prices and underpinning Chinese shares, although market direction was being largely set by events in Europe.
The 5.5 percent rise in the consumer price index in the year to September was in line with expectations from a Reuters poll.
Producer price inflation also showed a marked slowdown to 5.0 percent in October, a one-year low, from 6.5 percent in September. The median of a Reuters poll had forecast an October reading of 5.7 percent.
Bank of America/Merrill Lynch economist, Ting Lu, said the sets of figures suggested his forecast that consumer inflation would drop to 4.6 percent in December may now be too high.
FINE TUNING
Premier Wen suggested prices had continued to fall.
"Since October, overall domestic prices have been falling noticeably," Wen was quoted as saying by a government website. "Prices of pork and eggs have fallen, but prices of fruit, dairy products, beef and mutton remain at high levels."
But Zhou Wangjun, a senior official at the National Development and Reform Commission, saw inflation staying high and said it was too early for Beijing to relax policy.
"We will still maintain the prudent monetary policy and control the amount of money in circulation," Zhou said, adding that the government will boost supplies of farm products to help put a lid on price rises.
Industrial output rose in October by 13.2 percent from a year earlier, slightly below expectations for a 13.4 percent rise and the weakest pace since October 2010.
Government officials have expressed concern about weakening external demand for goods from China's factories, even though the sector is on track to expand by an annual 11 percent this year -- in line with official targets.
Exports were a net drag on China's economic growth in the first nine months of this year as the sector felt the chill of a weak global market. October trade figures are due for release on Thursday.
Retail sales rose 17.2 percent, also slightly below expectations for a 17.4 percent rise, but maintaining a steady pace of growth.
Fixed-asset investment in January through October increased 24.9 percent from the same year-earlier period, topping expectations.
Wen and other policymakers have made it clear that stabilising prices and fighting inflation are the top priority, so analysts rule out an early rate cut or reduction in bank reserve ratios.
Even after the big fall in October, inflation remains well above the government's 2011 target of 4 percent.
But in a nod to the slowdown in growth, the government has announced selective measures to support the economy.
Most evidence of fine-tuning so far has been seen through tweaks to tax policy aimed at small and medium-sized businesses and some signs that bank lending to that sector of the economy -- which supports 75 percent of China's jobs -- could be relaxed.
The next move by the government could be to tolerate more lending. Credit extended so far leaves lots of room for what would effectively be an acceleration of lending in the fourth quarter compared with the rest of the year.
INFLATION, PROPERTY CONTROLS
The premier said Beijing would not loosen policies to rein in the red-hot property market, a report from the official Xinhua news agency said. In a sign the measures may be working, property sales fell in October from a year earlier for the first time in six months.
Wen said the construction of government-subsidised housing projects would help relieve some supply strains and ease housing inflation.
Evidence that food inflation is easing also supports the case for further fine-tuning measures from the government.
Food prices, a major source of inflationary pressure in China, rose 11.9 percent in October from a year earlier, the smallest annual increase since May. But they fell 0.2 percent from September, the first decline since May.
"This indicates inflation pressure is indeed slowing," said Zhang Zhiwei, an economist at Nomura in Hong Kong, who said consumer inflation may drop below 5 percent in November.
"Lower inflationary pressure leaves room for further policy fine tuning. The PBOC has already marginally loosened liquidity by open market operations in October.
"We expect this type of fine-tuning to continue, but RRR and interest rates will be kept unchanged for the rest of 2011."
While most analysts rule out an immediate cut in interest rates, there is more debate on when the central bank might reduce bank reserve ratios. At 21.5 percent, the RRR is at a record level for big banks.
Analysts at ANZ believe the economy is deteriorating so quickly that the PBOC could imminently start to ease policy by reversing some of the nine hikes to RRR made in the tightening cycle that began in October 2010.
Annual economic growth rates have fallen for three straight quarters. Analysts forecast growth would slow to less than 9 percent next year for the first time in a decade.