ChemChina, Syngenta submit remedy proposals to EU antitrust watchdog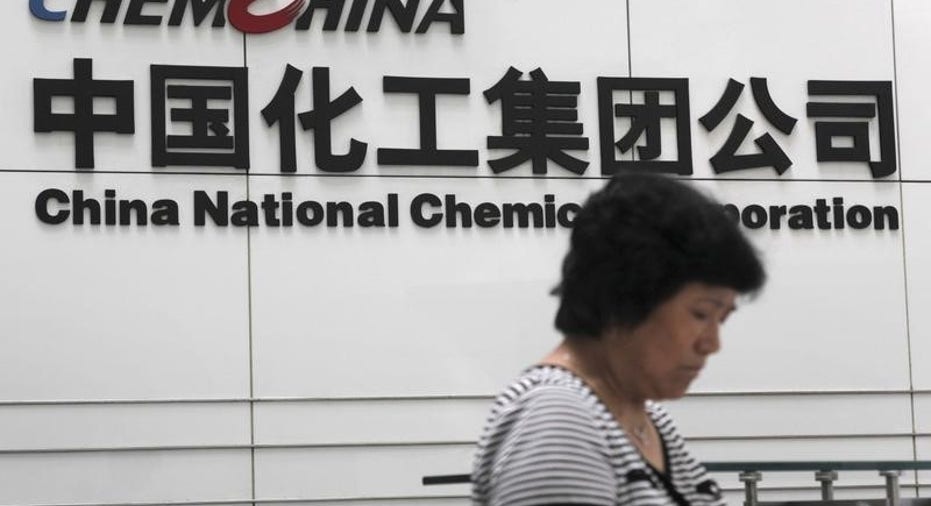 China National Chemical Corp (ChemChina) [CNNCC.UL] and Swiss pesticides and seeds group Syngenta AG have proposed remedies to the European Union's competition watchdog to address concerns over their $43 billion merger agreement.
The European Commission's website showed "commitments" submitted on Jan. 9, which typically means the parties have proposed remedies such as asset divestment or specific product pricing. It did not elaborate on the nature of the pair's commitments.
"Syngenta confirms that remedies related to the deal with ChemChina have been submitted to the EC. We will not comment further on that," a Syngenta spokesman said. "ChemChina and Syngenta remain fully committed to the transaction and are confident of its closure."
A spokesman for state-owned ChemChina told Reuters details of the remedy proposals were confidential.
The Commission began investigating ChemChina's takeover of Syngenta in October, saying they had not allayed concerns about potentially unfair competitive advantages. The deal has already been approved by regulators in several markets, including by a U.S. national security panel and Australia's competition watchdog.
The Commission's concerns are widely seen as one of the last major regulatory hurdles, with U.S. antitrust approval also pending.
Syngenta said last week the Commission had agreed to extend its review of the deal by 10 working days to April 12 to allow "sufficient time for the discussion of remedy proposals".
In its October statement, the Commission highlighted ChemChina subsidiary Adama Agricultural Solutions Ltd as one area where ChemChina and Syngenta had an overlapping portfolio of European crop protection products, including herbicide and insecticide. A merger could therefore potentially reduce competition for such products.
Israel-based Adama makes generic crop protection and pest control products. It is the largest supplier of generic crop protection products in Europe, according to the Commission.
Ioannis Kokkoris, Chair in Law and Economics at Queen Mary University of London, said divesting Adama was the simplest and cleanest means for ChemChina to address competition concerns.
"That ChemChina has not done this yet suggests it is trying to mitigate a full divestment of Adama, such as by selling a number of significant activities," said Kokkoris. "The other scenario is that it has agreed to divest Adama and is now discussing top-up remedies."
These could include commitments to continue funding research in certain products to ensure the deal does not adversely affect innovation in product development, he said.
The Commission's next step would be to test the proposed remedies against its market model, Kokkoris said.
"The companies have identified a list of products that may have caused the Commission's concerns in respective countries," a senior Beijing-based industry executive with knowledge of the talks told Reuters last week.
"Although the progress has taken slightly longer than expected, communication with the Commission has been smooth," said the executive, who was not authorized to speak publicly on the matter and so declined to be identified.
(Reporting by Chen Aizhu in BEIJING and Michelle Price in HONG KONG; Additional reporting by Oliver Hirt in ZURICH; Editing by Christopher Cushing and Muralikumar Anantharaman)