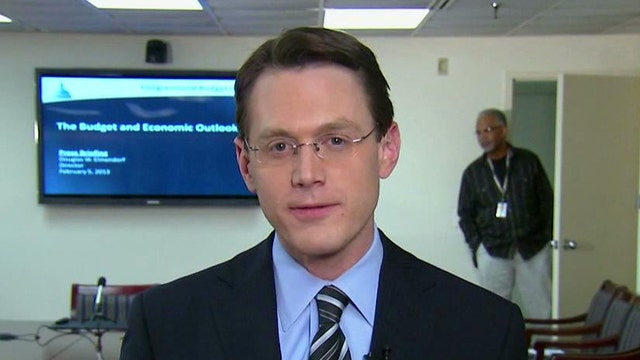 The fiscal 2013 U.S. budget deficit will dip to $845 billion after four straight years of $1 trillion-plus deficits, the Congressional Budget Office said on Tuesday, largely because of higher taxes now being paid by wealthy Americans.
The CBO analysis, which will feed into Congress' bitter debate over deficit-reduction plans, assumes that $85 billion in automatic spending cuts will launch as scheduled on March 1.
It said the fiscal tightening from higher taxes and this lower spending will slow economic growth to an anemic 1.4 percent by the end of 2013, causing the unemployment rate to edge back higher.
In the New Year's deal to avert the "fiscal cliff," tax rates on income above $450,000 for couples were allowed to return to their pre-2001 levels. But the automatic spending cuts were only delayed for two months until March 1.
The economy will start to rebound in 2014 and fill federal coffers at a faster pace, according to the non-partisan congressional budget referee.
Even if Congress takes no further actions to cut spending or raise tax revenue, deficits will continue to shrink, reaching $616 billion in fiscal 2014 and $430 billion in fiscal 2015. The 2015 gap would be equivalent to 2.4 percent of U.S. gross domestic product at that time, a level that many economists view as sustainable.
But deficits rise steadily from mid-decade, nearing $1 trilion again by 2023, according to the forecast. The 10-year cumulative deficit is forecast at $6.958 trillion.
"Deficits are projected to increase later in the coming decade, however, because of the pressures of an aging population, rising health care costs, an expansion of federal subsidies for health insurance, and growing interest payments on federal debt," the CBO said in the report.
CBO warned that U.S. debt held by the public also would continue to mount, reaching 77 percent of GDP by 2023 and rising further. This will limit lawmakers' flexibility in dealing with economic slowdowns and other challenges.
"Such a large debt would increase the risk of a financial crisis, during which investors would lose so much confidence in the government's ability to manage its budget that the government would be unable to borrow at affordable rates," the CBO said.