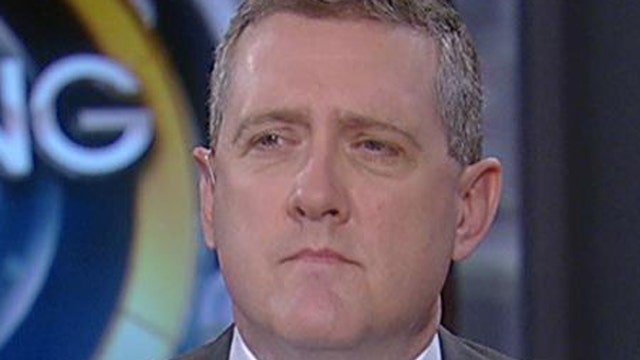 Inflation is moving in the right direction toward the central bank's 2% target, St. Louis Federal Reserve President James Bullard said Thursday, perhaps prompting an interest rate hike as early the first quarter of 2015.
When that happens, it will require a delicate balancing act by the central bank to keep inflation in check, using rising interest rates to keep prices stable, Bullard said in an exclusive interview with FOX Business Network's Maria Bartiromo on Opening Bell.
The economic contraction earlier this year – the government revised first-quarter GDP downward to 2.9% on Wednesday – gave Bullard "heartburn," he said, but was an aberration, one that markets rightly chose to ignore after the data were released.
Bullard said inflation is "turning around" and predicted a spirited debate within the Fed over the timing and trajectory of rate hikes once inflation hits that target threshold. A consensus of Fed forecasts holds that interest rates will likely start moving higher in mid-2015.
Inflation hawks like Bullard are wary of keeping interest rates too low for too long, believing low rates could lead to runaway inflation. Interest rates have been held at a historically-low range of 0% - 0.25% for more than five-and-a-half years in response to the financial crisis.
Inflation doves on the Fed, led by chair Janet Yellen, have advocated a slower, more cautious approach toward raising rates, concerned that lifting borrowing costs too early could upset the fragile recovery.
Overall, Bullard expressed optimism for the economy going forward, saying it looks "pretty good" with unemployment falling faster than predicted.
Bullard also dismissed concerns that the Fed's stimulus policies – low interest rates and massive purchases of U.S. Treasuries and mortgage-backed securities – is inviting excessive risk-taking by investors and prompting asset bubbles, particularly in stock markets.
Bullard "doesn't see a bubble anywhere in the economy" but said the Fed needs to keep an eye on the situation.